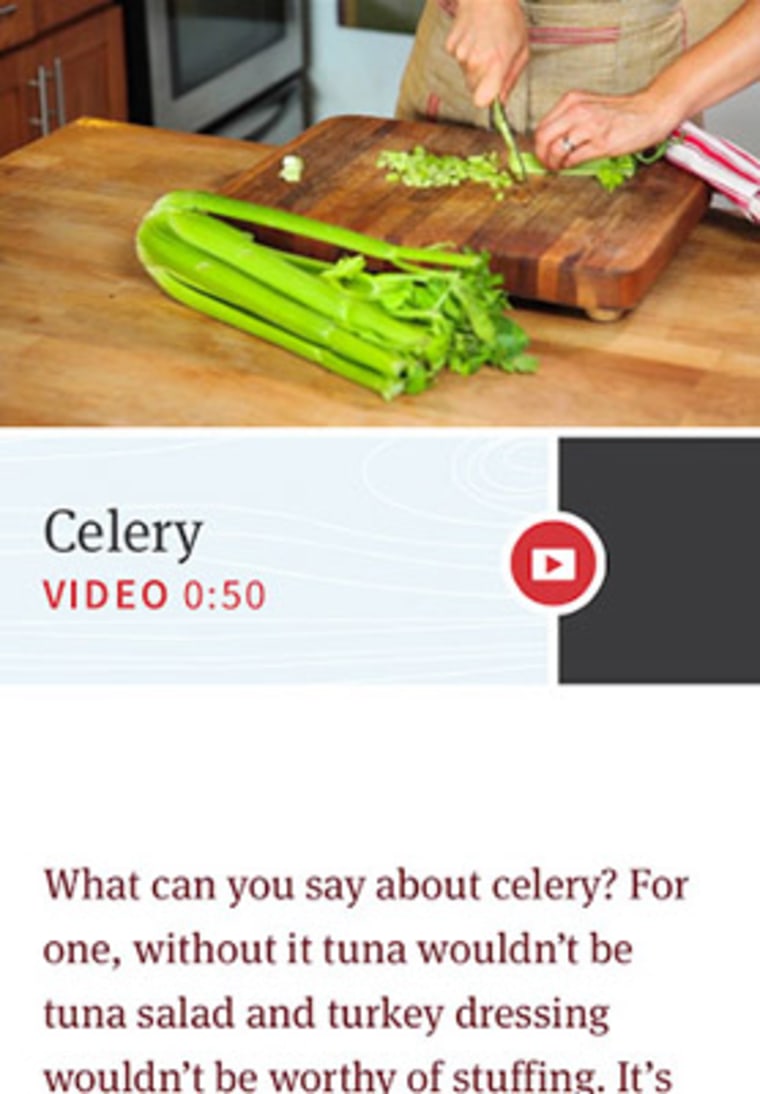 Kitchen essentials haven't changed much over the years. Home cooks still need a good knife, a solid cutting board and bottle of good olive oil.
These days, however, it doesn't hurt to have your smartphone handy. Whether you're cooking a huge holiday meal or just making dinner for two, here are 11 apps that make whipping up dinner easier than ever before.
Yummly, iOS, free
Plenty of recipe apps grab content from sites like Epicurious and AllRecipes. Few look this good doing it, or make organizing meals this easy.
Each recipe features a prominent list of ingredients, which can be added individually or as a group to a shopping list. That means no more fumbling with separate lists at the grocery store; instead, every ingredient you need for creating a three-course meal is in one place.
Scroll down the photo-heavy main feed to explore random recipes or search for something specific. It's a beautiful way to make going to the market less stressful.
Kitchen Knife Skills, iOS, $4.99
Cooking a turkey doesn't mean anything if you can't carve it at the dinner table. This app teaches amateur gourmets their way around a chef's knife, with lessons on how to dice celery, clean and gut fish, break down poultry and more.
This is stuff that is hard to teach with a written description or illustration. Instead, Kitchen Knife Skills relies on 36 concise, upbeat video tutorials given by New York City-based food writer Sarah Copeland, with plenty of close-ups that should help you avoid slicing a finger.
BigOven, iOS and Android, free
The appeal here is BigOven's database of more than 250,000 recipes. Many have a fun, informal feel to them, thanks to the fact that they are contributed by ordinary users, who also provide feedback in the form of reviews.
You can get in on the action by adding your own recipes — either by clipping them from websites, typing them, or using the app's RecipeScan feature to take pictures of handwritten recipes and upload them to your account. (The company will type up three of your recipes if you are a free user, and up to 25 if you pay $19.99 for BigOven Pro.)
Saving recipes to your menu planner can also be useful, especially if linked with your BigOven.com account, which lets you instantly create shopping lists organized by aisle for whatever date range you choose. 
Delectable Wine, iOS, free
Not a wine expert? Delectable identifies hard-to-read labels with your phone's camera. 
Once you snap a pic, the app will bring up a wine profile, complete with information on the winery, ratings and comments from other Delectable users. (Yes, it actually works). Not only that, you can buy the bottle from your phone and have it shipped to your door.
It also has a social media component. Users can follow the drinking habits of their friends and wine experts, plus share photos of bottles on Facebook, Instagram and Twitter.
Substitutions, iOS, $0.99
Dinner parties don't always go as planned. Guests sometimes have dietary restrictions, markets run out of ingredients and everyone is always looking to cut down on their fat and sodium intake.
That is why Substitutions is so useful. Grocery store run out of paprika? Try cayenne pepper mixed with turmeric. The app is filled with helpful suggestions like that, with plenty of replacements for almost anything you might not be able to find or want to eat.
Evernote Food, iOS and Android, free
Create a digital cookbook by clipping and making notes on recipes you find on the Internet or through the app, which features suggestions from big names like Bon Appetit and Martha Stewart, as well as smaller food blogs.
It all links to your Evernote account — making it easy to access dinner ideas when you are on your computer or tablet. Unlike other food apps, this one takes into account that you like to eat out every once in a while, giving you the option to save, geotag and make notes about dishes you try at restaurants. 
Food 52 Hotline, iOS, free
Have a pressing cooking question? Crowd-source the answer by asking one of the Internet's largest communities of ardent foodies. Food 52, co-founded by former New York Times food editor Amanda Hesser, started in 2009 as a website where people could share their favorite, carefully photographed recipes.
The site's mobile app lets you search for questions that have already been asked by Food 52 members (trust us, there are a lot of them) or pose your own culinary head-scratcher, which will most likely be answered by helpful home cooks or the site's resident experts, sometimes within hours if the question is marked urgent.
Timeless, iOS, $0.99
This isn't a kitchen-specific timer, but it's perfect for tech-savvy gourmets. The clean, colorful interface lets you swipe your way through multiple timers, each one with customizable tags and color schemes.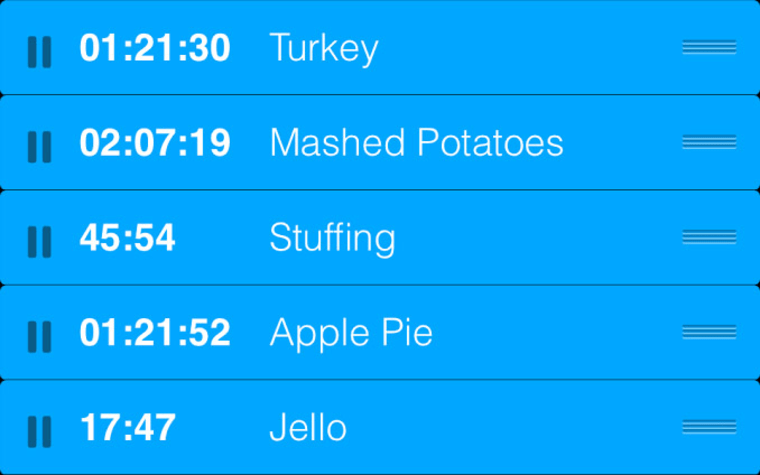 Want to cook your pot roast for four hours? All you need to do is scroll the counter up or down, and Timeless will let you know when your dish is done with both an alarm and a notice on your home screen.
If you're cooking a big meal, you can see a countdown of all of your dishes side-by-side by simply tilting your phone horizontally. It is by far one of the most intuitive — not to mention stylish — ways to keep yourself from burning dinner.
Kitchen Dial, iOS, free
The last thing you want to do when you're wrist-deep in flour is to peck at numbers on a touch screen. Kitchen Dial lets you do troublesome conversions by spinning two wheels, turning grams into ounces, teaspoons into milliliters, or whatever else your recipe might require.
It's a simple function, but this app does it with the minimum amount of hassle, which is exactly what you need when rushing around a frantic kitchen.
Bartender's Choice, iOS, $2.99
How do you know you can trust the recipes in this app? Because they're from the same people who run Milk & Honey, one of New York City's most celebrated cocktail spots.
You can browse through hundreds of recipes or give the app a rough idea what you're craving by choosing a specific liquor and style. One of the most fun ways to get a drink, however, is to give your phone a good shake and choose from the five random suggestions that bubble to the top.
Bartender's Choice also serves as a digital textbook with a glossary of cocktail terminology and instructions on how to do everything from swizzle to make your own simple syrup.
How to Cook Everything, iOS, $9.99
This isn't the cheapest or most visually stunning recipe app. But it is one of the most comprehensive, including more than 2,000 recipes from Mark Bittman's seminal cookbook "How to Cook Everything."
It's a classic for a reason. True to the book's name, Bittman covers just about every category of food with no-nonsense recipes made with easily located ingredients. Now, however, you don't have to lug a giant culinary tome around your kitchen. Instead, browse through his recipes on your phone, complete with the original how-to illustrations and a built-in timer.
Smart, easy to understand, and essential; the format has changed, but the reasons to buy "How to Cook Everything" have stayed the same. 
Keith Wagstaff writes about technology for NBC News. He previously covered the tech beat for TIME's Techland and wrote about politics as a staff writer at TheWeek.com. You can follow him on Twitter at @kwagstaff and reach him by email at: Keith.Wagstaff@nbcuni.com