LONDON — A Texas-based secure email service reportedly used by National Security Agency systems analyst Edward Snowden says it is shutting down and can't legally explain why.
In a cryptic note posted Thursday to the Lavabit website, owner Ladar Levison said the company is folding rather than becoming, in his words, "complicit in crimes against the American people." Levison didn't return a phone call from The Associated Press.
The post doesn't elaborate, but Snowden's disclosures have focused attention on how the U.S. government can secretly compel companies to hand over customer information and gag them from talking about it.
Lavabit's information may be of interest to investigators chasing Snowden's leaks. Public records show that someone going by "Ed Snowden" registered three addresses with the Dallas firm over the past four years. 
In his posting, Levison wrote, in part: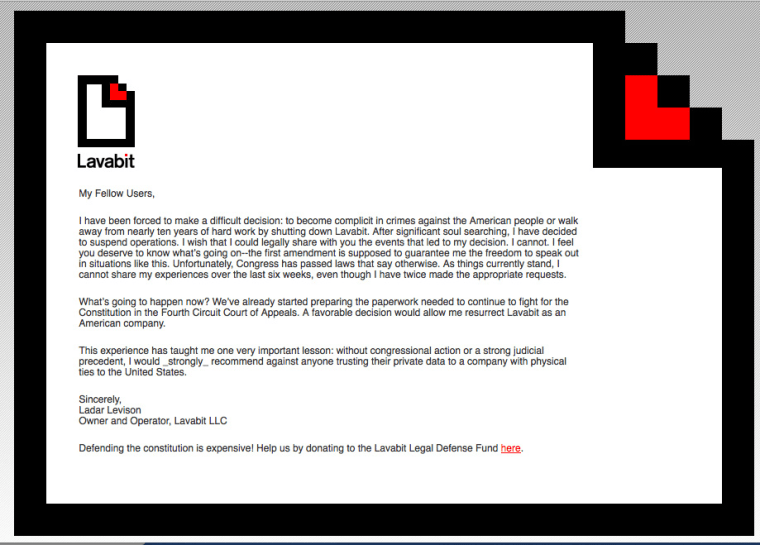 Levison said that, "We've already started preparing the paperwork needed to continue to fight for the Constitution in the Fourth Circuit Court of Appeals. A favorable decision would allow me resurrect Lavabit as an American company."
The experience he has gone through, he wrote, "has taught me one very important lesson: without congressional action or a strong judicial precedent, I would _strongly_ recommend against anyone trusting their private data to a company with physical ties to the United States."
On Friday, another encrypted email service called Silent Mail was shut down by its developers, in an attempt to follow suit with Lavabit. "We see the writing the wall, and we have decided that it is best for us to shut down Silent Mail now," wrote Silent Circle co-founder Jon Callas, in a blog post. "We have not received subpoenas, warrants, security letters, or anything else by any government, and this is why we are acting now."
Silent Circle will continue to operate other end-to-end encrypted messaging services including Silent Phone, Silent Text and Silent Eyes, but will no longer operate its mail service.

NBC News also contributed to this report. This story was updated on Friday at 10 a.m. ET with information about the closure of Silent Mail.