Almost a year to the day after Apple unveiled its MacBook Pros with "Retina" screens, the company is giving the laptops a welcome refresh — as their big brother, the Mac Pro, finally gets priced and dated.
Both versions previously got spec bumps back in February, but the new models do a little more than switch out the processor. They will also have the benefit of OS X Mavericks (available immediately for free), which adds lots of optimizations aimed at improving battery life, graphical prowess, and handy desktop tweaks.
The upgraded 13-inch MacBook Pro is slightly thinner and lighter (0.71 inches thick versus 0.75, and 3.46 pounds versus 3.57), but still has the latest from Intel, a 2.4-GHz i5 dual-core processor — but still, to many onlooker's disappointment, integrated graphics instead of a full-on GPU.
Meanwhile, the new 15-inch version doesn't change too much physically, but upgrades the processor and GPU with the latest options. The 2 GHz i7 is lower in clock speed than the other one, but don't worry, it's definitely faster.
Both laptops are equipped with the latest Thunderbolt ports and should get better battery life than their predecessors. And, happily, they're cheaper: a 13-inch MacBook Pro starts at $1299, while a 15-incher is $1999 — both available today.
But laptops aren't the only ones getting a refresh today. The Mac Pro, long neglected, finally made its real debut after being teased earlier this year at WWDC.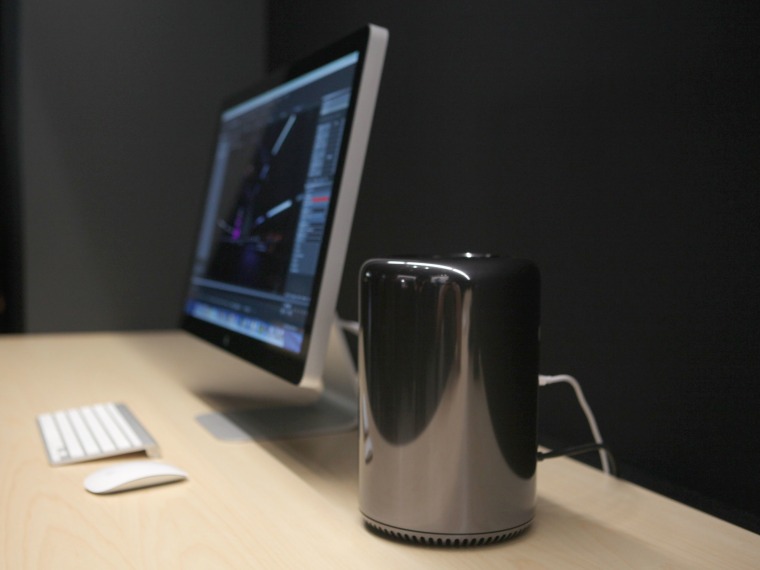 The cylindrical , shiny new Mac Pro, which resembles either a jet engine or a trash can depending on who you ask, can definitely be powered up to "pro" levels. Its Intel Xeon E5 processors go up to 12 cores if you need them, and you can have up to 64GB of RAM and 12 GB of GPU memory. A terabyte of flash storage rounds that out, although you'll need a lot more if your'e working with HD video.
And Apple assumes you will be: they made much of the fact that the Mac Pro will support up to three 4K-resolution displays, be they TVs or monitors. Bets on a 4K Apple Cinema Display, anyone?
It starts at $2999, which is less than many expected, though still high enough for build-your-own PC enthusiasts to scoff at — it's an open secret that you can get more gigs for your money by doing it yourself. This bottom-of-the-line version has 12 GB of RAM, 4 GB of GPU memory, 256 GB of storage, and will be available before the end of the year.
That's it for this event's Mac updates — nothing that blows the roof off the place, but some solid new hardware and, in the case of the 13-inch MacBook Pro, a welcome slimming of the design.
Check out the rest of our coverage of Apple's October event here.
Devin Coldewey is a contributing writer for NBC News Digital. His personal website is coldewey.cc.