Nest shook up the world of homeowners in 2012 when it updated the ugly, user-unfriendly home thermostat with svelte looks and a slick smartphone app. The company's new Protect device aims to do the same, this time with the ugly, user-unfriendly home smoke alarm.
Who hasn't spent a dismal half-hour hunting down the chirping detector, rummaging for a 9-volt battery and a stepstool, and cursing as they fiddle with the plastic shell of the smoke alarm? It's a pain, but of course we do it for a very good reason — safety.
Nest wants to keep the safety, while subtracting the trouble. The $129 Protect is packed with electronics, both for detecting dangerous conditions and for alerting the home's occupants.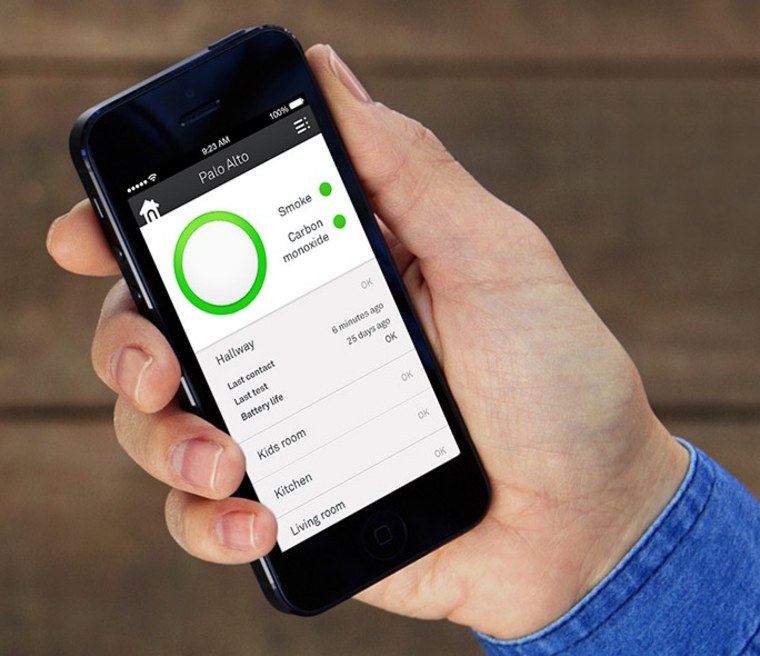 There are the usual sensors for detecting particulates, carbon monoxide, heat, humidity, and other things that may indicate a fire — or just some overdone toast. But in addition to that, it has Wi-Fi built in so it can communicate with a smartphone app, and there is even a motion detector that lets you wave to shut down a false alarm.
With all the extra goodies, the first question is whether you'll be changing the batteries on this thing even more often than before. NBC News spoke on the phone with Nest's CEO, Tony Fadell, about that.
"It's really difficult to make a Wi-Fi device that lasts for years," he said. But the company did, and the battery-only version should last for over five years of normal use. The wired version has half the batteries — three, rather than six AA lithiums — but would still last for years off the grid, to say nothing of the duration of an outage due to a storm or renovation. Although regulations prevent the "five year" claim from being used in the U.S. without literally years of testing, Fadell assued NBC News that their tests had verified the duration.
Meanwhile, the extra sensors allow the device to fill extra roles. The Protect can be set to turn on its light when it detects motion, making sure you don't stumble in the hall. And it can network with your Nest thermostat to, for example, shut off the furnace if it detects carbon monoxide in the air.
But don't expect it to catch burglars, watch the pets or answer your calls. "We want to make it a very simple-to-understand product. If we say 'Here's the Nest Protect, it's a thermostat and a smoke detector and a security system,' people might say 'Do we need that?' "
That said, the Nest itself launched as a fairly simple product, but has received updates over time to allow for integration with new systems, solar panels and so on.
Fadell, who was part of Apple's iPod and iPhone design team before he left to start Nest, compared the two products: "It took a long time for us to go from the iPod that was just music, to adding photos, to adding videos, and then to the iPhone."
In other words, no promises, but the sky's the limit when you've got smart connected devices occupying every nook in the house. You can pre-order the Protect here for $129 in either wired or battery-only versions.
Devin Coldewey is a contributing writer for NBC News Digital. His personal website is coldewey.cc.