The next iPhone is rumored to come in a gold tint — for some, that's the most exciting rumor emerging ahead of the iPhone reveal Apple is expected to host on Sept. 10. The other big (and rather likely) buzz is that there'll be a second, cheaper iPhone, the better to do battle with Apple's chief competitor, Samsung. As the annual iPhone update approaches, here's what experts and bloggers say we should expect.  
What's with the Midas touch?
Apple may not be changing the design of its iPhone 5 when it launches the phone expected to be called the iPhone 5S. But there's strong evidence that one option will be gold (or perhaps more "champagne"). That may help sell more phones in Asia, especially China, the biggest market Apple is now trying to crack, says Tim Bajarin, president of Creative Strategies and a longtime Apple analyst. 

"Gold represents prosperity and influence in China, and could help Apple gain a large number of buyers in this most important country to their future," Bajarin told NBC News.
Ross Rubin, president of Reticle Research, said a color choice wouldn't be new for Apple — just look at its iPods — but it would be new for the iPhone, which has only come in black or white. (Remember when Apple first offered a white version in 2011? People went nuts.)
"Different colors tend to have a stronger appeal to younger consumers and women," Rubin told NBC News. "Apple has also introduced multiple colors as a product line matures. They also offer a degree of personalization."
Others, such as Ramon Llamas, IDC's research manager for mobile phones, aren't "sold on gold." For one thing, it will only make the Phone even more of a object of thieves' desires. Besides, Llamas told NBC News, no matter what color your iPhone, "chances are you'll have a case over it."
An iPhone for the rest of the world
Sure, there's a good number of people who will run out to get the new iPhone, no matter what features it has — or doesn't have. In the U.S., people think of the iPhone as a $199 purchase, not a huge bill, especially compared to the ongoing cost of the wireless plan. 

But in other countries, where there is no carrier subsidy, that $199 phone costs around $649, and that's for the "least expensive" version. People footing the entire bill for their phone need a cheaper option, hence the so-called iPhone C. ("C" for "cheaper"?)
This is "something Apple desperately" needs for the unsubsidized markets "to compete with cheaper Android devices in such markets," Chetan Sharma, mobile industry consultant, told NBC News.
"This will give millions of consumers a chance to own an iPhone at a lower price," and that price will need to be between $250 and $300 or less for it to be "effective." 

"Any more than that, it starts to get out of the range of the middle class."
The iPhone C will likely have a plastic housing instead of the aluminum one on current iPhones. The plastic will be quite tough, though. The C may also be a bit thicker than the current iPhone.
Screen size
Apple went bigger last year with the iPhone 5, moving to a 4-inch screen, after having had a 3.5-inch display since the first iPhone in 2007. Even so, the 4-inch screen seems small to some, especially in an era of Goliath screens from Samsung, Motorola and HTC. Samsung's Galaxy S4, the iPhone's main competitor, has a 5-inch display. And recently. Samsung announced it will be coming out with the ginormous and almost tablet-sized Galaxy Mega with a 6.3-inch screen.

Although the shift from a 5 to a 5S implies that there's no change in the phone's physical proportions, there are rumors here and there about an iPhone with a larger screen. How much bigger? Apple's "competitors have focused on 5-inch screens and Apple could try and match them," said Bajarin. "However, Apple is really into one-hand use on the iPhone and it is more likely that a new iPhone might have a 4.7-inch screen."
Another talked-about size is 4.3 inches, according to Bloomberg, citing the Commercial Times, a Chinese language financial newspaper.
Fingerprint scanner
Apple bought fingerprint reader company AuthenTec last year, and it's believed a fingerprint scanner will be built into the new iPhone.
"A fingerprint reader by itself may not sound too exciting, but it could significantly streamline many operations, such as unlocking the phone and paying for things," Rubin said. "Apple has set the stage for this with features such as iCloud Keychain and Passbook."
Bajarin said a fingerprint scanner could definitely help "enhance security" and enable Apple to "differentiate themselves from current competitive offerings."
Not everyone agrees. "The fingerprint sensor is a neat security feature, but how many times do you need to scan your fingerprint?" Llamas said. "Have things gotten so difficult that a finger print scan is any faster or better than a simple swipe and a code?"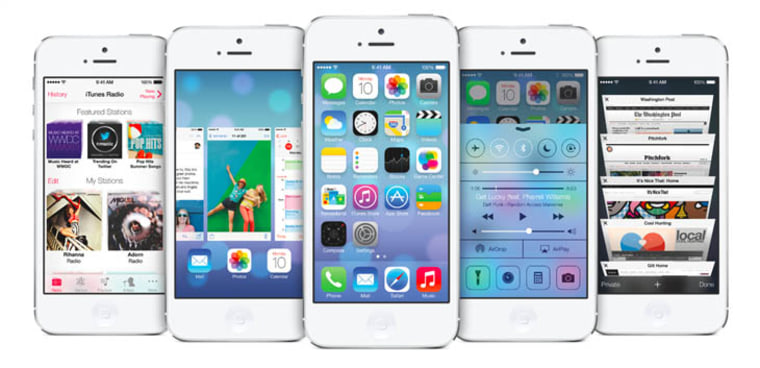 iOS 7
The new mobile operating system, announced in June, was "probably the biggest news since the [first] iPhone came out," Gene Munster, a senior research analyst at Piper Jaffray told NBC News at that time. 

iOS 7 is expected to be available preloaded on the new iPhone, and it will be compatible with iPhone 5, iPhone 4S and iPhone 4 as well (plus the two most recent iPod Touch devices).
Not only does iOS 7 bring a new visual look — flat icons and minimalist design — but it also will have a host of changes, including improved controls and notifications, better bulk email management and new ways to share files with nearby users. Another new feature will be iTunes Radio, a free Internet radio service based on the music you listen to in iTunes.

Siri, Apple's voice-based assistant, will get even smarter — and faster — in iOS 7, Apple says. Siri will respond to questions not only in voice, but with the answers in text on the screen, and will expand its pool of source information to Bing, Wikipedia and Twitter. Also, the truly busy (or lazy) person will be able to use Siri to return calls or play voicemail messages.
"Here's the most important thing for me: that iOS 7 works," said Llamas. "Last year it was the Maps debacle," referring to Apple's introduction of its own Maps app in iOS 6 — a software abomination that led to an unprecedented apology by Apple CEO Tim Cook. 
What iOS 7 needs to be, besides different, is easy to use and stable. Otherwise it risks becoming like other operating system upgrades, where users would rather stick with what they have than go forward. Llamas suggests some users might even want to wait before getting a new iPhone with iOS 7, or installing it on older iPhones.
"With a new iOS that permeates throughout the device — home screen, email, calendar, etc. — if things go wrong, there won't be much of a workaround. You can't exactly download a new operating system, like you would for an application," said Lamas. He added, "There could be bugs, and no one wants an iPhone that doesn't work."
What else? 
A faster processor and longer battery life are likely to be part of the iPhone 5. Improvements to the phone's immensely popular camera are also expected, including the possibility of a dual LED flash and a larger aperture lens.

The iPhone 5S could bring other features as well. 
"We've seen competitors add clever features to devices, including the ability to activate the phone by speaking to it, and activating the camera by shaking the phone as you're removing it from your pocket," as the new Moto X can, Rubin told NBC News. The LG G2 can answer a call "simply by holding the phone up to your ear."

Will else will Apple have to show us on reveal day? Considering what has "leaked" so far, and what Apple's competitors are doing, true surprises would be a good idea come Sept. 10 if the iPhone, still considered the signature smartphone, wants to retain that title.
Check out Technology and TODAY Tech on Facebook, and on Twitter, follow Suzanne Choney.