The latest from Nikon is a refresh of the popular D5200 that doesn't fix anything that wasn't broken, but makes a few welcome changes under the hood, such as adding built-in Wi-Fi and GPS.
The predictably named D5300 doesn't just add extra bullet points to the feature list, though. The actual picture-taking parts have gotten an upgrade as well. Its 24-megapixel sensor has lost the anti-aliasing filter — this optical filter was necessary on digital cameras for years, but recent advances in high-resolution sensors and in image processors have made it obsolete. Removing it can improve image quality, and that's just what Nikon has done.
Also updated is the image processor, which will allow the D5300 to shoot five stills per second, or video at 1080p and 60 frames per second. It's only a small step up from its predecessor, but every little bit counts.
Its articulating rear LCD has also gotten slightly larger, and the viewfinder is a bit better now as well. Again, nothing that will make D5200 owners particularly jealous.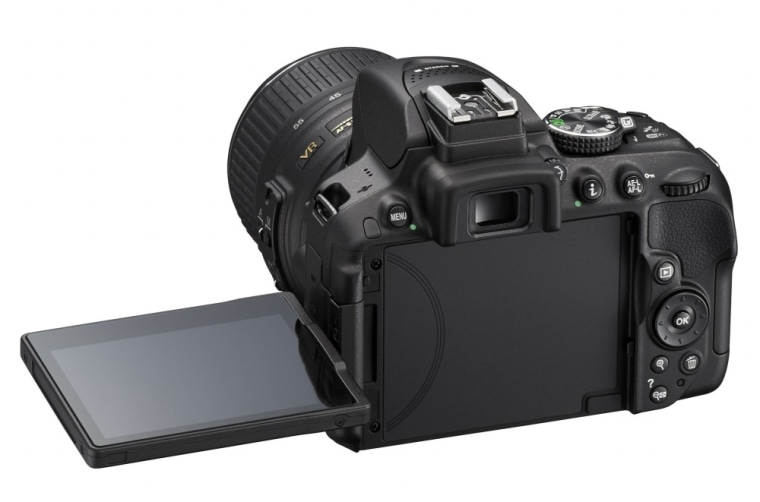 Wi-Fi and GPS, however, might come in handy. Being able to geotag your shots and sync them with Dropbox quickly becomes indispensable, and perks like being able to activate the shutter from your smartphone don't hurt either. 
At $800 for the body or $1,400 with a capable 18-140 F/3.5-5.6 zoom, the D5300 is competitive with the likes of Canon and Sony for consumer-grade DSLRs. That said, if none of the new features are calling your name, just remember: pretty soon you'll be able to pick up the D5200 for a song.
Devin Coldewey is a contributing writer for NBC News Digital. His personal website is coldewey.cc.