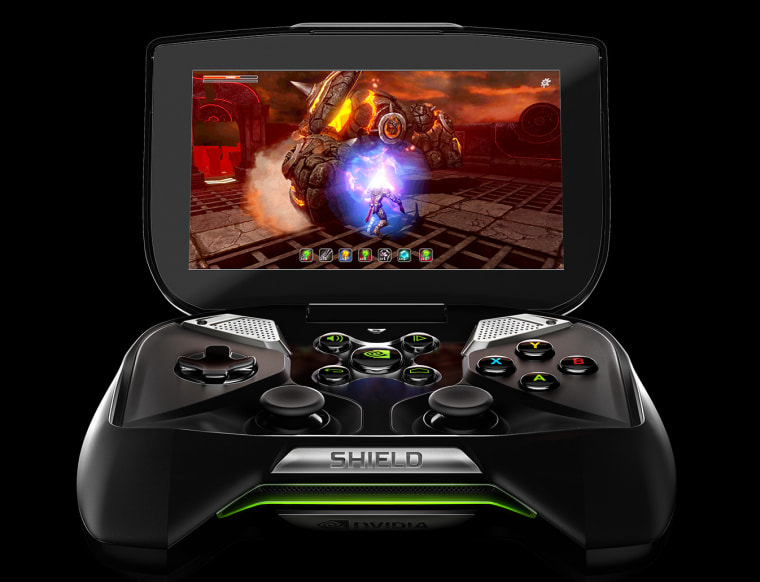 One of the biggest surprises from this year's Consumer Electronics Show in Las Vegas came when Nvidia, a tech company primarily known for its powerhouse graphics processing units and chipsets, revealed it was making a full-fledged mobile gaming device of its own to stand alongside the many devices that Nvidia's technology already powers.
After a slight name change, a month's delay and drop in price from $349 to $299, the Nvidia Shield hit store shelves this week. But what is Shield, exactly?
"We don't consider Shield a console," Bryan Del Rizzo, Nvidia senior PR manager of consumer products, explained when I first emailed him inquiring about what I thought was a new mobile gaming console through-and-through. "It's a mobile Android gaming platform that also is able to stream PC games."
The idea behind Shield was to create something that sits on the border between high-end PC gaming and its mobile counterpart on Android, so the Nvidia Shield is a mish-mash of different elements.
On one hand, it's a fancy Android platform with a gaming controller attached to it. On the other, it's a device that can interact with a PC in a manner similar to how Sony is promising the PlayStation Vita will once the PlayStation 4 comes out — Shield users, when equipped with the right hardware and in wireless range, can stream games straight from their PC gaming setup to the mobile device.
It's a great idea for anyone who wants to play "Skyrim in bed," as one early reviewer put it. And like Sony's similar promise for cross-play between the PlayStation 4 and PS Vita shows, it's an ambitious idea to bring high-end video game experiences to not-so-high-end devices.
But as with any new emerging technology, there are hiccups along the way. In addition to needing a stable Wi-Fi connection, the streaming part of the Shield's functionality relies on an H.264 encoder that's built into Nvidia's GeForce GTX 650 or higher graphics-card models — a requirement that could set you back at least another $100 if you don't have one of the company's PC graphics cards, let alone a functioning PC gaming tower in its own right. And the limitations of Wi-Fi range seems to either render this "mobile gaming device's" most promising features inert, or not allow it to be truly "mobile."
Nick Stam, Nvidia's technical marketing director, told NBC News that ideally the device could eventually be set up to stream games from GRID, its cloud gaming-esque system also unveiled at this year's CES. But for the time being, they're still focused on working out the kinks in the current streaming system.
"Not every game works perfectly," Stam said. "That's why we still have it in beta."
It might seem like a peculiar choice for an established chipmaker to wade into the chaotic and competitive arena of console development. But Nvidia could actually be in a better position than some of its leaner rivals because it doesn't really need to make much money off this device yet.
Piers Harding-Rolls, director of games at market research firm IHS Global Insight, told NBC News that the Shield could basically function as a souped-up business card for Nvidia, helping court fellow gaming companies and mobile gadget makers alike (not to mention average consumers) to its line of graphics cards.
"We expect the platform to be a niche seller at this point," Harding-Rolls wrote in an email to NBC News. "We don't expect it to sell at the level of other handheld consoles, but we don't believe that is necessarily a major issue for Nvidia, as this strategy is as much about provoking interest in Nvidia technology, engaging gamers outside of the PC sector especially in the mobile space and driving brand awareness, as it is generating direct revenue from a handheld console."
But Michael Pachter, a prominent game industry analyst at Wedbush Securities, is less optimistic about the Shield's chances of success.
"I really don't care about Shield," Pachter wrote when I emailed him asking about the device this week.
"It is not going to sell well at all, reminds me of N-Gage," he added, referring to Nokia's famously hideous flop of an attempt to make a mobile console in 2003.
Yannick LeJacq is a contributing writer for NBC News who has also covered technology and games for Kill Screen, The Wall Street Journal and The Atlantic. You can follow him on Twitter at @YannickLeJacq and reach him by email at: Yannick.LeJacq@nbcuni.com.