The "superzoom" category of small-sensor point-and-shoots with zoom lenses of 10X or greater is a strange one, but travelers and people catching shots of their kids at the Little League game love them. The new Stylus 1 from Olympus tickles that telephoto fancy while keeping serious photographers in mind.
Most superzooms tend to be slightly bulky faux SLRs, but the Stylus 1 is built very much on the svelte E-M5 model: compact but comfortable, with good build quality. Most of the dials and buttons are the same, in fact, and the nice electronic viewfinder is also on loan from the well-regarded and significantly more expensive camera.
The Stylus 1 also uses a somewhat larger sensor than your average superzoom: 1/1.7-inch versus 1/2.3-inch may not sound like a lot of improvement, but it helps in low-light situations and generally makes for better pictures. It's not as big as competitors from Nikon and Canon (the P7800 and G1 X, respectively), but every little bit helps.
It also has an impressive lens: a 28-300mm-equivalent 10.7x zoom with a steady F/2.8 maximum aperture and built-in stabilization. But most impressively, it completely folds into the body, making the camera pretty compact when not in use — not quite pocketable, but certainly more so than a DSLR or even a micro four-thirds camera with a pancake prime lens.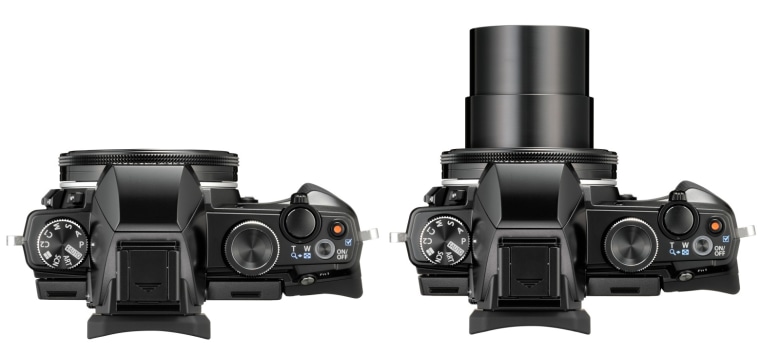 There's built-in Wi-Fi for uploading pictures and remote operation, high-speed (up to 240fps) movie recording, and a cool virtual level for making sure your shots are squared with the horizon. And most importantly for serious shooters, there are several programmable dials and buttons, making manual focus and exposure adjustment easy.
All of these higher-end perks do come with a cost: While most superzooms sell for less than $400, the black Olympus Stylus 1 will cost $700 when it arrives in December.
Whether operation and handling is as good as the E-M5 the Stylus 1 borrows so heavily from remains to be seen, and the image quality will have to be tested by specialists, but it looks like a capable camera for someone willing to spend more on an all-in-one solution that doesn't compromise with a plasticky body or lack of manual controls.
Devin Coldewey is a contributing writer for NBC News Digital. His personal website is coldewey.cc.