A small cat. A very small cat. A tiny lump of latte-colored kitty with more than a hint of Siamese, curled up against a pillow on a red velvet couch, bordello Baroque. Klieg lights illuminate the basement of Austin PR firm Fosforus like Havana at three in the afternoon.
She blinks her angelic blue eyes without raising her head, her long fur matted down by the palm grease of countless reporters … and everyone else who's incapable of walking by without petting her. If she's grumpy, who can blame her?
She is, of course, Grumpy Cat. On an Internet composed of 98 percent cats, she is currently the most famous one going — and as such, the very first celebrity cameo on the YouTube game show from Friskies, "Will Kitty Play With It?" Grumpy Cat, the 11-month old feline who is actually quite sweet and is really named "Tardar Sauce" (a colloquial spelling of "Tartar Sauce," for her color), is in town from her home in Arizona for South by Southwest Interactive, the annual Austin superstorm of emerging technology, Internet superstars, digital show cases and marketing — lots and lots of marketing.
The Friskees "Will Kitty Play With It" clip will premiere on YouTube the week of March 17 but, fittingly, it was filmed the day before the huddled masses clutch their iProducts and descend upon downtown Austin. This unlikely convergence of grassroots meme and famous cat food is the perfect harbinger for what's about to happen at SXSW: Anything and everything goes, all in one big non sequitur.
Which brings us to sex. Lots of sex happens in this "Spring Break for Emerging Tech," — so called by Qpid.me, "the must-have mobile technology for SXSW." This innovative service allows anyone looking to get lucky (but stay healthy) to either verify his or her own STD test results, or check on the STD status of others via smartphone.
"It's a known fact that there is a huge amount of 'Sex' that happens at SXSW," reads the Qpid.me pitch, cheekily reminding us that much of that much of that 'sex' is actually panels about sex and tech. Indeed, there's plenty of sex talk this year. There's Hidden Social: Where Sexual Variants Gather Online, there's Old Tech, New Tech, Same Old Sex? and, speaking of the future, there's also, Hey, Where's My Robot Girlfriend?
SXSW is also about parties. But not just any parties — you knew this was coming — parties celebrating products.
A popular music-streaming service, for example, invites you to drop by Spotify House over the next couple of days "for live music, food trucks, ping-pong, photo booth, giveaways and more." Score an exclusive invitation to Samsung's Sunday brunch and you'll enjoy the company of cast members from the beloved "Arrested Development." On hand are Will Arnett and Jeffrey Tambor, along with creator Mitch Hurwitz. (What, no David Cross?) On Sunday night, social network Path is having a party hosted by Steve Jobs wannabe and divorce lawyer speed dialer Ashton Kutcher.
The celebrity train also includes Al Gore of climate change and "Honey, I Lost the Election" fame and Newark "super mayor" Cory Booker. And, in a session that seems to be taking place in Bizarro SXSW, everyone's sci-fi fantasy boyfriend, Neil Gaiman, will interview Chuck Lorre, the guy behind "Two and a Half Men" and "The Big Bang Theory," about the creative process.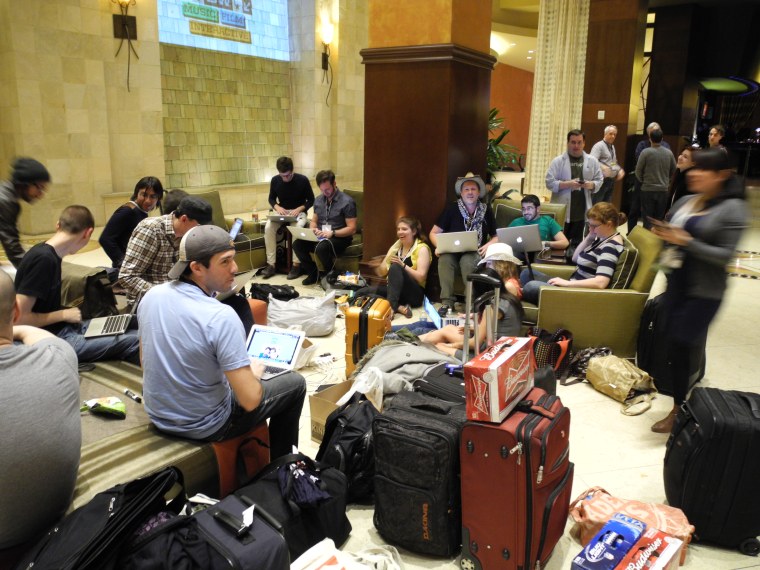 You can catch all that, if you're still alive after the launch party for Dead Social, a service which allows you to set up scheduled posts on Facebook, Twitter and other social networks following your demise ... because that's not creepy at all.

Death is a big topic, this year, possibly bigger than cyberbullying, 3-D printed firearms or a recent Internet cat video festival which may have marked the end of art as we know it. There's The Tangled Web We Leave: Digital Life after Death, Platforms for Haunting: The Talking Dead ... and the means to the end: Your Desk Job Makes You Fat, Sick & Dead.
Of course, with SXSW come the memes. The guys behind the "Texts with Hillary" Tumblr will meet with the press photographers who took the famous photos of the then-Secretary of State tweeting while wearing sunglasses. Randall of "Honey Badger" fame is arriving on Sunday, and rumor has it, everyone's favorite YouTube taxidermist, Chuck Testa, will show up, too.
It's so meme'd up in this joint, on the same day we met Grumpy Cat, we quite accidentally ran into "Scumbag Steve," the Internet meme who borrows your lighter and doesn't return it. His real name is Blake Boston ... or, as he says it, "Baaahstin." Despite wearing a T-shirt of his own meme, Blake seems like a sweet guy with an adorable accent that he claims not to be aware of.
"Spring Break for Emerging Tech"? More like "Fashion Week for Geeks." This place is as much preening ground as breeding ground, where everything new and everything that wants to be new blur together. Let's tape posters for new apps to the wall and see what sticks. That or throw money at the biggest cat on the Internet to help sell product X.
What's the best way to sum up this celebration of commercialized geekdom? Even the throne from HBO's "Game of Thrones" is here. I sat in it. Jealous much? Come one, come all, to Austin.
Helen A.S. Popkin goes blah blah blah about the Internet. Tell her to get a real job on Twitter and/or Facebook.