If life vests are so critical to survival at sea, why do they look like they did 50 years ago? One lifeguard and designer took it upon himself to make a better one — not just better at floating, but better at keeping you alive and sane — and it certainly looks more capable than what you'd find under your seat in an emergency today.
The Hydros personal flotation device was designed by Kieran Normoyle, an Irish design student who, in his experience as a lifeguard and Irish Army Reserve medic, had plenty of time to meditate on the shortcomings of existing life vests and other PFDs.
"Current life jackets are designed to keep you afloat in the water, and do not tackle any other health risks," wrote Normoyle in an email to NBC News. "Hydros promotes usability, protects against cold water shock, hypothermia, and secondary drowning, and promotes mental well-being."
How does it do all those things? There are three parts, each of which is easily donned as a shirt or jacket, with no straps or loops to figure out:
Thermal T-shirt: This shirt contains a pack of self-heating gel (like you might find in glove-warming packets) that lies over the heart and major arteries, warming the core of the body, reducing the effect of cold water shock, and delaying hypothermia.

Flotation vest: Easily slipped into and zipped up, the vest can be activated automatically on contact with water or manually. The front piece flips up to cover the head and face, protecting from rain and spray, while the lopsided design aids in rotating a person so they are face-up in the water.

Wet jacket: Made of insulating wetsuit material, the jacket will help retain warmth, even when soaked.

It may seem like a lot of pieces to take overboard with you, but unless your boat has been torpedoed, you probably have a minute to prepare or, if you're in rough seas, will already be wearing the pieces you need.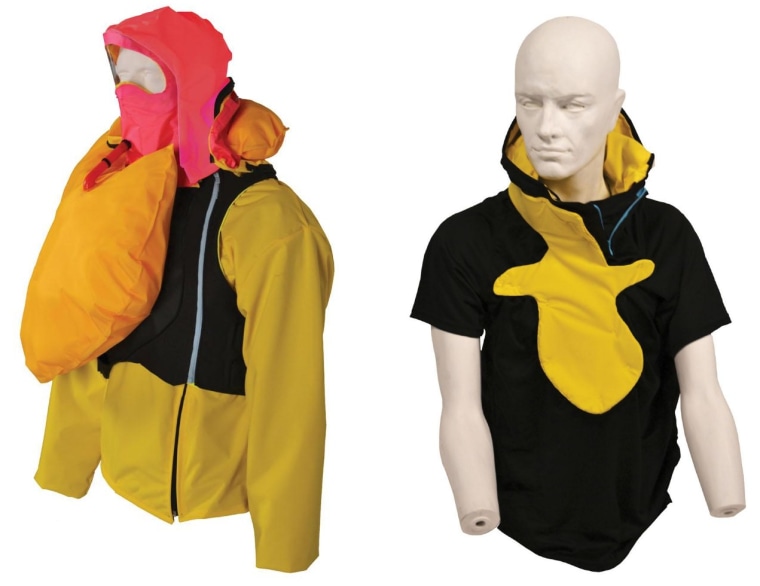 "The versatility of Hydros allows the user to adapt and upgrade the suit to the environment they are operating in," points out Normoyle. "For instance, if I am going kayaking I put on the T-shirt first before I depart; when I arrive at the location, depending on the environment, cold and wet versus warm and sunny, I can choose whether I need the jacket or not."
For any vessel on which safety is paramount, and that really ought to be all of them, upgrading to Hydros from those ordinary foam vests seems like a natural move — if they can afford it. No word on price yet, although Normoyle did say he is seeking partners to commercialize the invention.
Hydros is a finalist for the James Dyson Award, competing with about a dozen other projects by university-age inventors for a $45,000 cash prize and a little extra for their department. You can read about the other projects and the competition itself at the award's webpage.
Devin Coldewey is a contributing writer for NBC News Digital. His personal website is coldewey.cc.