Jeremy Gordon had been playing "Candy Crush" on his iPhone for about a month when he came to the realization that he had to quit.
"It was fun," Gordon, 25, a Brooklyn freelance writer, told NBC News. "It was too fun ... physically, I couldn't put it down. Like, I'd be trying to sneak in games everywhere. I'd be holding conversations with friends and playing."
Really, anybody can get hooked on "Candy Crush," and sometimes it seems everybody is. It's impossible to take a trip on the New York City subway without seeing at least half a dozen people hunched over their smartphones, sliding candies back and forth in the desperate search for another match. And try logging on to Facebook without receiving countless "Candy Crush Saga" invitations for gameplay from your friends.

The simplistic puzzle, which challenges players to match candy types on a tile-based grid, doesn't look like much compared to the epic scope of something like "Grand Theft Auto V." But even Rockstar's record-setting magnum opus doesn't command an audience anywhere near that of "Candy Crush," which reportedly brings in as much as $633,000 a day in in-app purchases — enough for its parent company, King to do away with in-game advertising entirely. 
Candy Crush" has been downloaded more than half a billion times across Facebook, iOS and Android since it's 2012 launch, King announced in November. And much like Rovio Entertainment's hit mobile gaming series "Angry Birds," the popularity of "Candy Crush" has led to a swath of branded merchandise — predictably, in the form of real-life edible candy.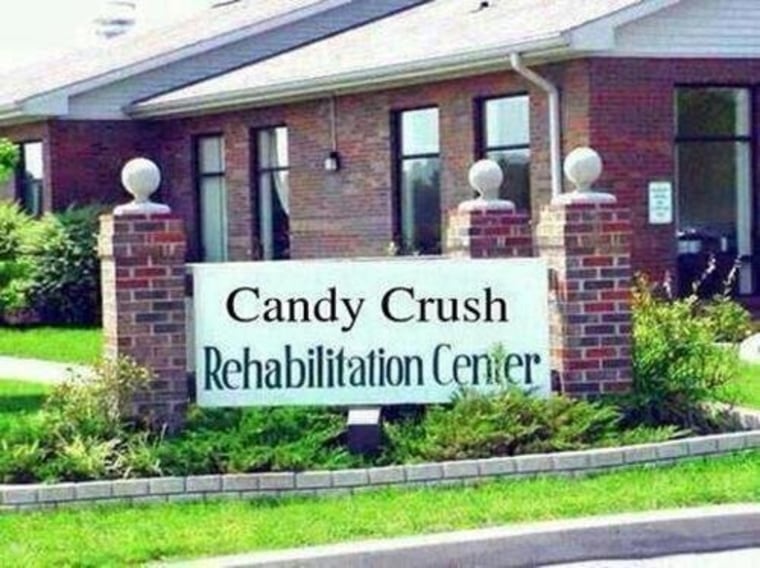 Gordon is one of the few who's had his fill. "The tipping point," Gordon said, "was wanting to be a person again." The endless challenge of "Candy Crush" became too persuasive. Gordon never wanted to spend money to get the extra moves that made beating a level easier, so instead he'd compulsively revisit levels until he found a way to beat them.
Thing is, you're only allowed a certain number of moves on each level — unless you're willing to pay up. Hovering above every board of every single level of "Candy Crush" is the "buy more turns" option, tempting you to spend anywhere from .99 cents to more than $10 a pop for extra turns in the candy land. 
Michael Demastus, 43, is a pastor living in Des Moines, Iowa, is one of the many players who chose to pay up. "At first ['Candy Crush'] was just a silly game for me that I like to conquer," Demastus told NBC News. "I started making a few in-app purchases to advance my levels. And after I found that I had spent somewhere between $70-$80, I realized I needed to quit the game altogether." 
Why "Candy Crush?"
The meteoric rise of "Candy Crush" is as puzzling as the game itself. Critics often label it a simple reskinning of the popular puzzle game "Bejewled," only with tiny candies instead of precious gems.
But Jesper Juul, a video game scholar at New York University and author of "A Casual Revolution: Reinventing Video Games and Their Players," says the multitude of similar mobile games is a good thing for "Candy Crush."
"The more games there are, the more one game needs to stand out," Juul told NBC News. "So a factor like the polish of the game is really essential." And while it might anger hardcore gamers to see the two put in the same sentence, he said that the particular polish of "Candy Crush" has more in common with a game like "Call of Duty" than you might think. "Of all the matching games I've played on mobile, 'Candy Crush' has the fastest response to your actions," Juul said. "There's a similarity between this and 'Call of Duty,' where players would complain about lag in the controller for other less popular first-person shooters."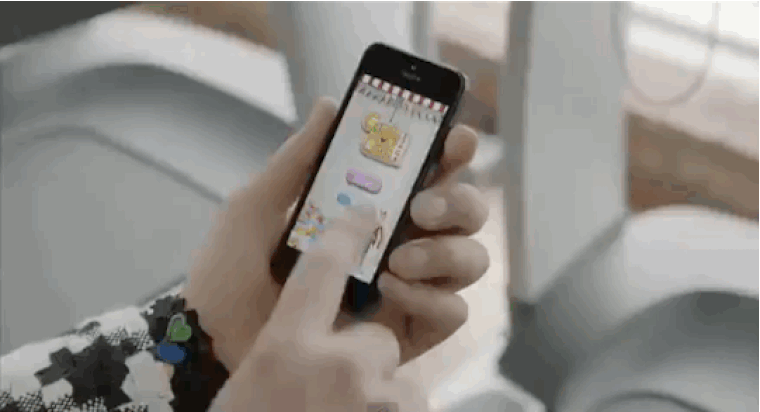 But there's something that "Candy Crush" has that attracts more players than "Call of Duty," Juul said. Even the best first-person shooters come with a high learning curve, which can be discouraging for people with only a passing interest in games. The motions required to play "Candy Crush," on the other hand, are universally understood by anyone with a Facebook account or a smartphone.
Janine Zaltsman, 25, who proudly declares that she's "one of the very first of my over 1,200 Facebook friends playing 'Candy Crush,'" never really had an interest in console games, playing only early Nintendo games like "Mario Kart" and "Super Smash Bros." 
"Candy Crush," however, has her hooked. "I kept seeing updates about it [on Facebook] and thought it looked like great procrastination for my Masters thesis," Zaltsman told NBC News. A year later, she's now at level 453 — the last board currently available on her iPhone.
"I'm competitive," she said when I confessed I'd only made it to the mid-twenties.
Sugar rush
There's no way of knowing how long "Candy Crush's" sweet ride will last. Casual gaming is littered with quick hits that devour our collective attention until we can't take it anymore. Remember "Draw Something?" Or "Words with Friends?"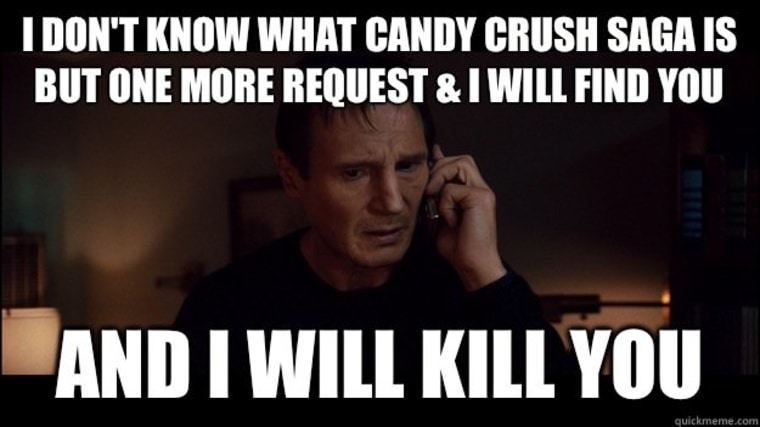 As the turbulent history of "FarmVille's" Zynga shows, a single mobile hit isn't a surefire means to lasting success. While games like "Call of Duty" and "Grand Theft Auto" might not attract half a billion players on any given day, Activision and Rockstar do some basic things with those franchises that "Candy Crush" can't — say, charge all customers money.

King "games guru" Tommy Palm wouldn't share how many "Candy Crush" players are paying customers, though he did emphasize to NBC News that 60 percent of players who made it to level 245 (currently the final level of the game) hadn't paid anything to get there.
This kind of casual consumption can make for a fraught marketplace, it's one in which Palm is confident his company will remain a leader. Next up, the mobile launch of "Papa Pear Saga," a game that already has more than 10 million players on Facebook. 

"I've been working in games for 14 years, trying to make them a bigger part of popular culture" Palm told NBC News. "For a long time, I thought it was going to be more deeply immersive, open-world games that would do this. But it turned out it had to be simpler games, not more elaborate ones, that would be the real game-changer."
Game critics contend that "Papa Pear," like "Candy Crush," is little more than a reskinning of "Peggle," another popular mobile from Electronic Arts subsidiary Popcap. And with the Xbox One and PlayStation 4 arriving this month, gamers will probably be too busy to give something as bite-sized as "Papa Pear" a second thought. But they're not the audience. "Edge," an influential British video game magazine, has already predicted in no uncertain terms that the new game "will go on make its creator millions."
Yannick LeJacq is a contributing writer for NBC News who has also covered technology and games for Kill Screen, The Wall Street Journal and The Atlantic. You can follow him on Twitter at @YannickLeJacq and reach him by email at: Yannick.LeJacq@nbcuni.com