Enjoy that turkey while you can — someday, it might be grown in a test tube.

With scientists worried that the world's increasing population could lead to a food crisis, lab-coated chefs of tomorrow have begun serving up a buffet of alternative food choices, not just for meeting food needs in the hungry developing world, but for healthier, cheaper, more sustainable eating in nations like the U.S.
Lab-grown meat, exotic protein sources, and 3-D printing all have the potential to change the way Americans eat. NBC News checked with experts about what might replace cranberry sauce and stuffing on Thanksgiving tables in just a few decades.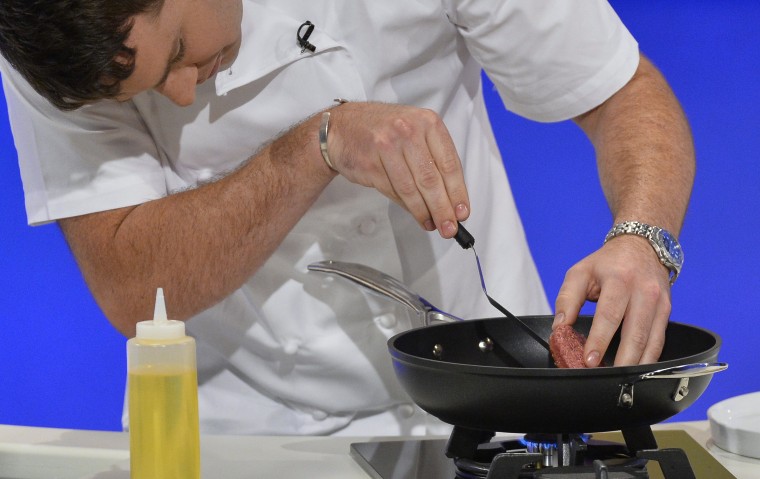 Test tube turkey?
In August, scientists and world-class chefs joined forces to cook and taste a beef patty made from lab-grown tissue. Will we be serving test tube turkey for Thanksgiving one day? "It's possible to do it," said Mark Post, professor of physiology at Maastricht University in the Netherlands, who is engineering the tissue.

While it is "easy" to grow the meat in shreds to press together into a patty, the hard part will be fashioning a bird-shaped product that can be stuffed and carved, he said.
The challenge is building plumbing through thick chunks of tissue that can nourish deep-set cells. Bioengineers who are building replacement organs like livers and kidneys in the lab for medical use are trying to clear the same hurdle.
Post says that his technique can be used to grow any kind of meat, from tuna to turkey. But, because of the environmental footprint of rearing farm animals, "the biggest game to be had is beef."
As for whether the final product will ever taste like it grew up on the farm, "I guess it's a gamble," Post said, after all his beef patty's flavor "could still be improved." How? "If we keep the cells and let them make the tissue like it is in the animal, it will hopefully create the same taste."
Bug casserole?
In a few years, don't be too surprised if green bug casserole is a Thanksgiving staple.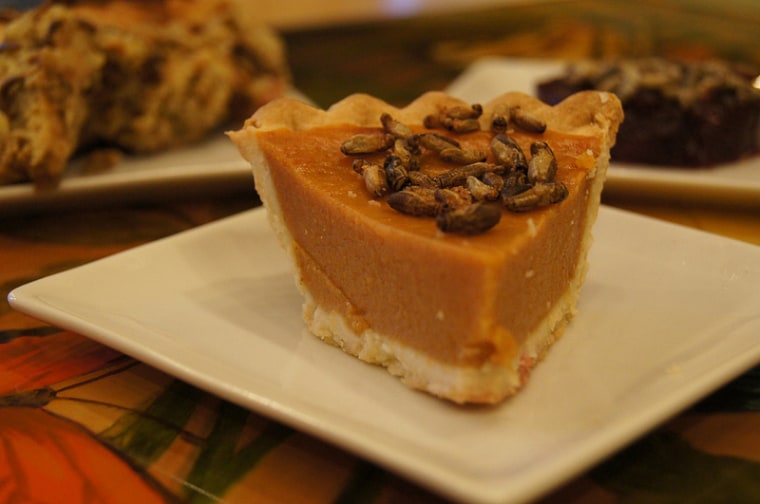 The Audubon Butterfly Garden and Insectarium in New Orleans is serving a limited edition fare of Thanksgiving themed bug snacks: mealworm-filled cornbread stuffing, wax worm cranberry sauce and a dessert of cricket pumpkin pie are on the menu.
Over 1,900 species of insects have been identified as edible, the U.N. said in a report published in May. Popular crunchy munchies include: beetles, caterpillars, wasps and ants, as well as cicadas, termites, and dragonflies.
Though an estimated 80 percent of the world eats bugs, they're still practically unknown in American cuisine.
That's changing, slowly. Last summer, Rene Redzepi the Copenhagen restaurant Noma served live ants with crème fraiche at a pop-up event at Claridge's hotel in London.
A Brooklyn startup called Exo is crafting protein bars with flour milled from slow-roasted crickets. The bars — each containing 25 insects — come in three flavors: cacao nut, PB&J and cashew ginger Moroccan spice. A Kickstarter funding campaign floated by the two co-founders that aimed to raise $20,000 ended up netting more than double that amount. Out west, San Francisco-based Chirp hopes to be "America's first producer of sustainably grown, edible insects."
3-D printed pie?
In May, NASA funded a project that's developing 3-D printing technology that can create food during space travel. Pizzas will be first up because their layered design – dough, sauce, cheese — makes it an ideal candidate for printing.
But desserts are likely to be among the printed foods we'll be eating first. In fact, you can try one today.
Fab@Home, a research group at Cornell University, started out printing layers of gooey chocolate that hardened into shapes, and has now spun off a startup called Seraph Robotics to develop its food printing technology.
At the Sugar Labs in Los Angeles, a duo of confectioners specialize in all-sugar cake decorations that they print out on a device that resembles a Xerox machine. It's likely that a layered pie, or at least a perfectly woven lattice crust popped fresh from the printer, is just a few years away.
But folks who are familiar with eating trends in the U.S. say that much of America won't be tempted by 3-D printed dessert, whether the filling is apple, pumpkin or pecan.
"Anything That Moves" author Dana Goodyear has observed that "throwback" concepts like foraging and the paleo diet are gaining ground. American food has come to be known as processed and industrial, and Americans — those that can afford it anyway — are trying to distance themselves from the idea.
"People are more mistrustful than ever of that kind of processing and technology," she told NBC News. "They want to feel closer to their food not removed from it." If technology is being explored in new ways in this country, it tends to be older ideas, like pickling and canning, that are sticking.
"The future of food does not lie in futuristic technology," she said, "it lies in the technologies of the past."
Adventurous gourmand Andrew Zimmern, host of Bizarre Foods on the Travel Channel, told NBC News that he wants the food of the future "to be curated by family farmers."
"I don't believe that the future of food is done by men in white coats," he said.
Not entirely, anyway — he does think technology has an important role to play, calling Post's lab-grown burger and the plant-based egg substitute made at Hampton Creek Foods in San Francisco "gigantic first steps."
Facing the food problems of the future might mean rethinking our relationship with technology, but also tempering our expectations of time-tested table traditions.
Yet, as Zimmern put it, "for some reason we're hung up on the turkey idea."
Nidhi Subbaraman writes about science and technology. You can follow her on Facebook, Twitter and Google+.