There are probably more 3-D printers in one place at this year's Consumer Electronics Show (CES) in Las Vegas than anywhere else, at any time. We know you want to keep up to date, so we got the lowdown on every one of them.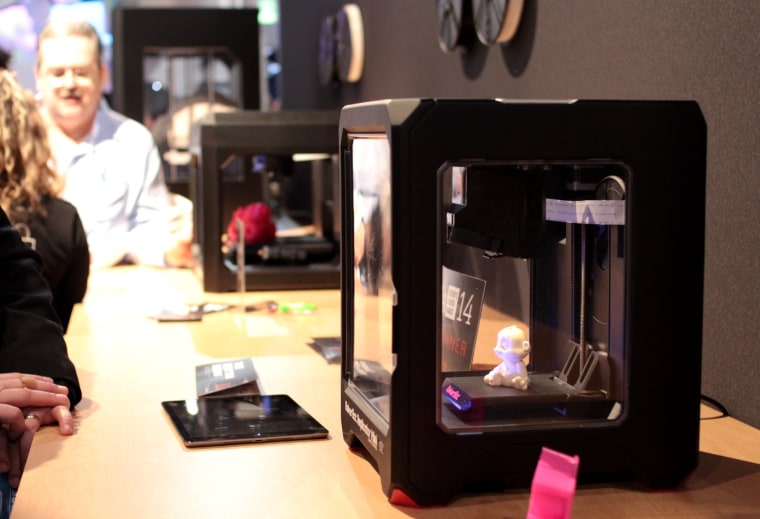 Makerbot is in the news because Monday brought the announcement of two additions to the company's lineup of printers. The Makerbot Replicator Mini provides the bare minimum for extrusion-based printing, which heats up an easily melted plastic and lays it down in lines. It lacks a screen and only prints up to 4x4x5 inches (and not quite as precisely as its big brothers), but it's lighter on the wallet at $1,375.
Meanwhile, the Replicator Z18 adds a heated chamber and prints things up to 12x12x18 inches — big enough for a helmet. But at $6,499, this is definitely the "pro" option.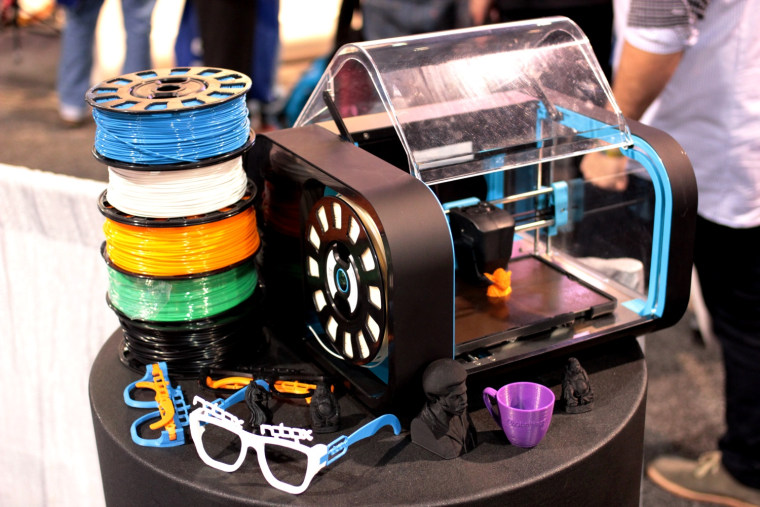 In the mid range, there's the versatile Robox for $1,400. This thing is made to be plug and play, no configuration needed — the reels of material even have built-in chips to tell the printer what color they are, what temperature the filament is, and so on. The printing head is replaceable and the company has lots of plans for modules to substitute in that would enable new printing methods, 3-D scanning, and other robot-arm activities.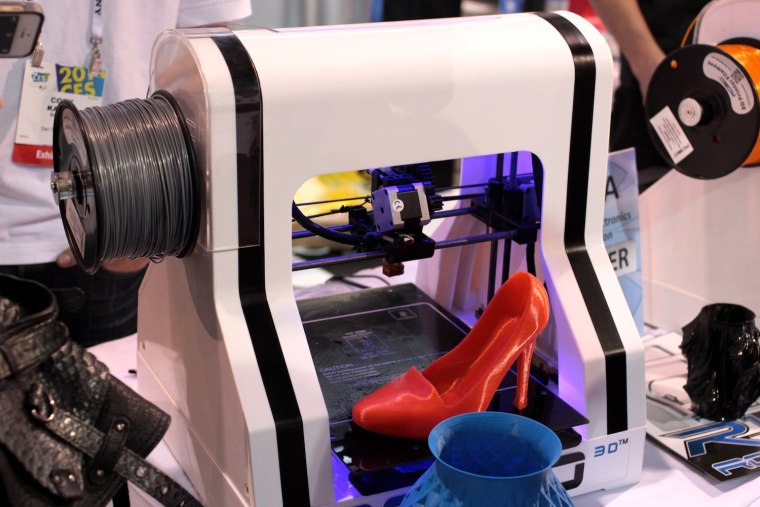 Back on the budget side of things, the RoBo 3D R1 does a lot of what the Makerbots do, for half the price. In fact, for $799, you get a printer that does bigger prints at a similar level of quality.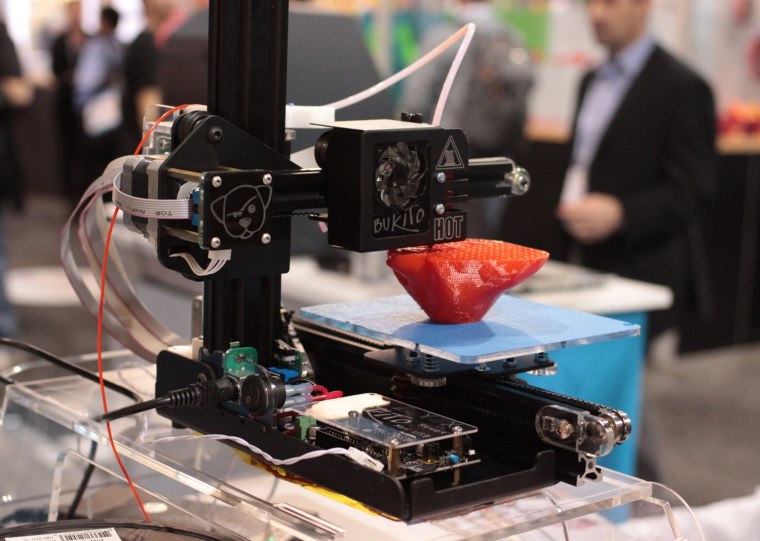 The Bukito is a portable printer, the result of a successful Kickstarter campaign. It was set up here to demonstrate Leopoly, a 3-D printing site for young folks, where you can download and tweak thousands of pre-made models using a special 3-D interface. Aspiring sculptors take note.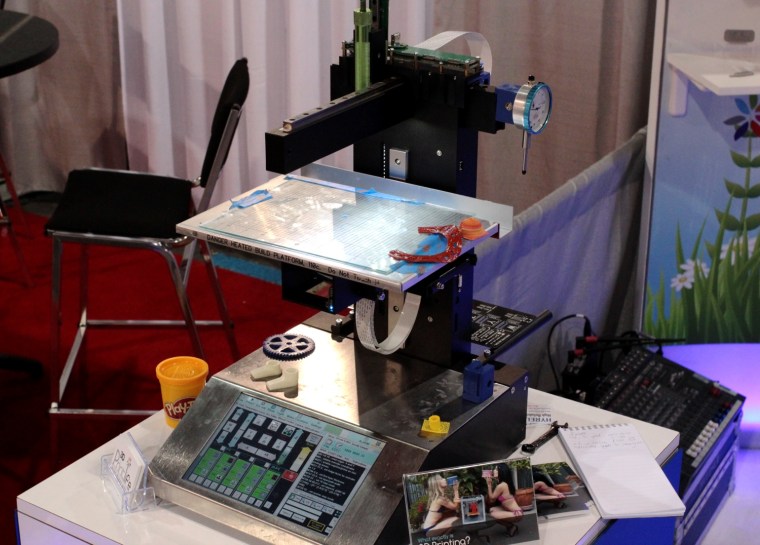 Want something with a different feel? The Engine, from Hyrel 3D, uses custom print heads to extrude a number of exotic materials, allowing flexible and even floppy objects to be printed. A tablet-sized on-device LCD makes for easy operation.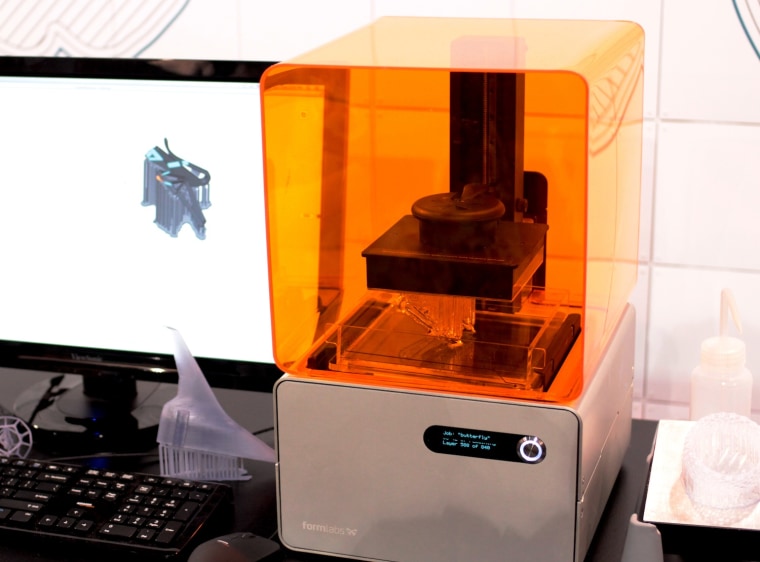 But not everybody uses melted plastic to print things. Formlabs' Form 1 is the first of three printers new on the scene using what's called stereolithography, or SL. These printers can be spotted by their distinctive orange hoods, because SL uses ultraviolet lasers to harden a light-sensitive material with literally laser precision. You'll recognize the shade from the dentist's office, where they use a similar method to fuse fillings to your teeth.
The Form 1 costs $3,299, and produces smooth and exact prints — as opposed to the ridged exterior of objects born from extruding printers. The creators also assured us their raw materials were super inexpensive.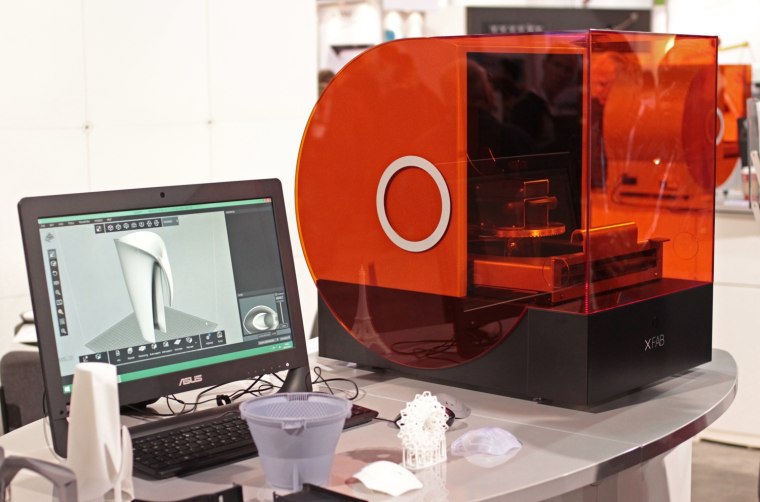 Just a few feet from the Form 1 was the XFab, which has a similar look and creates similarly good results. What's the difference? Neither company could get specific, not knowing the technical details of the other! But the XFab comes from a more established company and has several materials available to print with. A printed iPhone case was nice and flexible, while larger items were rigid or transparent. A "consumer" price is promised, but the company didn't respond to requests for more specific numbers.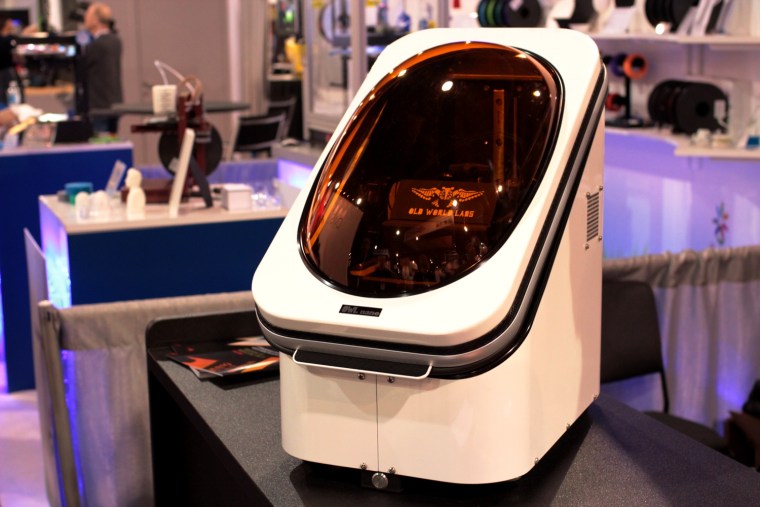 The OWL Nano, from Old World Labs, probably has the most striking design out of all the printers, and its creators claim that its precision is just as impressive. By removing the mirrors and other elements used to redirect the UV laser and putting it within centimeters of the material, precision is increased more than tenfold over the competitors — at least that's the claim. A $4,900 price tag means it's not a stocking stuffer, but cheaper than some.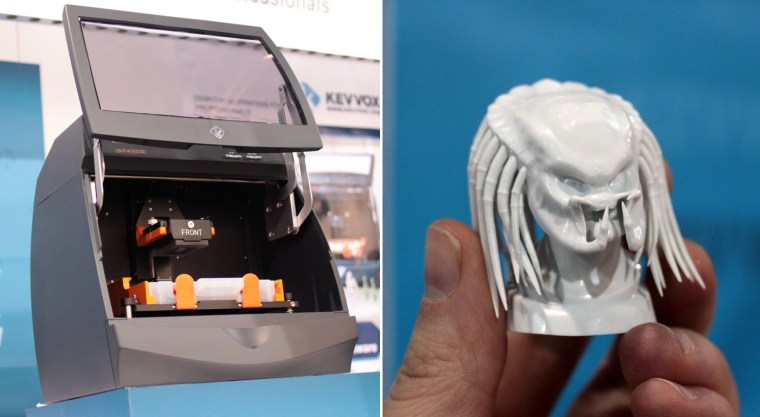 But the printer that had the most insanely detailed prints, to our eyes anyway, was the Kevvox, built from the ground up by 3-D printing veterans in Singapore. It uses a method different from the others present (though not unique), and the results are absolutely stunning. The "Predator" face was perfect, down to the points of the dreadlocks, and other demo prints (many, for some reason, featuring rather grim subject matter) were no less superb. Of course, at $17,000 to start, this is definitely a high-end device.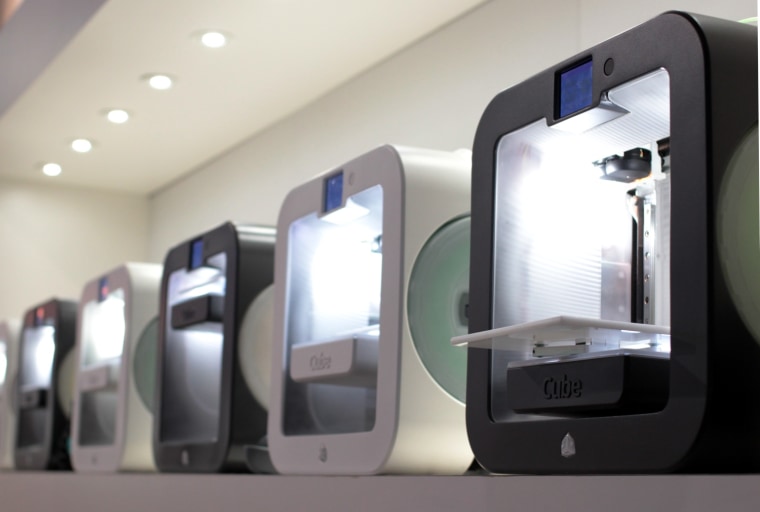 There were also several devices on show from 3D Systems; the larger ones carve down blocks to reveal the object within, and the new Cube 3 and Cube Pro do the usual extrusion thing. The compact, $1,000 Cube 3 prints objects up to 6 inches cubed (naturally) extra quick, and uses cartridges instead of big reels to load the filament materials. Its big brother, the Cube Pro, does up to 10 inches square and costs $4,000.
Conspicuously absent from the 3-D printing section at CES were the futuristic medical printers, laying down layers of cells, and proposed food printers, squirting out burrito fillings. Don't worry — at the rate 3-D printing is growing, we'll see those and more next year.
Devin Coldewey is a contributing writer for NBC News Digital. His personal website is coldewey.cc.