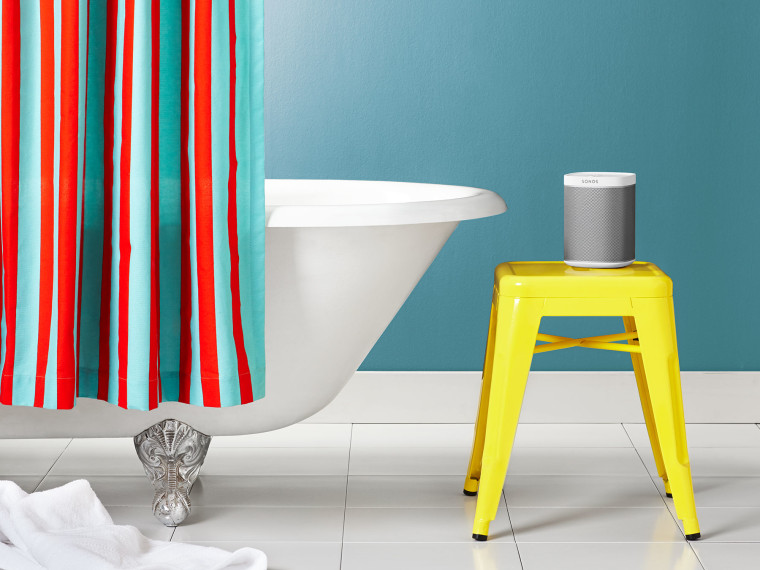 Sonos' new $199 Play:1 speaker may look like other wireless audio products out there, but don't mistake it for the rest of the herd. It's not a Bluetooth speaker, nor does it merely stream music from your phone over Wi-Fi. It's a portal to a whole Internet of audio, one that you manipulate with your favorite phone or tablet. And, for being smaller than a half-gallon milk carton, it sounds pretty awesome.
Not that we didn't see this coming: Sonos first introduced a Play:5 at $399, then a Play:3 at $299, so a Play:1 at $199 was inevitable. (There's also a $699 PlayBar designed to sit under your TV.) That $199 price tag seems to be a magic number, too: The Play:1 is the cheapest way to get started on a Sonos system, not to mention adding additional rooms to a system that you may already have. 
The Play:1 is a single speaker, meaning that the music comes out in mono. However, Sonos' system lets you add a second speaker in the same room, and pair them for stereo sound. And while, like all Sonos gear, you control it mainly through a phone or tablet, this has a new play/pause button, that gives you basic control in places like a kitchen or bathroom, where you may not want to be fumbling with an iPhone.
If you're not familiar with Sonos, this company revolutionized the home audio world a decade ago when it launched the first (rather expensive) Sonos kits: wireless nodes that you set up around the house that could play music tracks from a home computer or Internet radio. If you wanted the same song in every room, no problem, the tracks would be perfectly in sync, but you could also play different tracks in different rooms, too.
At the time, this was mind blowing. Never before could you get music in every room without drilling a bunch of holes for wires, and never before was setting up a wireless network so simple. But besides being expensive, the original Sonos set-up was cumbersome, requiring you to hook up speakers, and rely on a remote control of the company's own devising.
The explosion of smartphones and tablets, the advent of all-you-can-eat subscription streaming music services like Spotify and MOG, and improvements in audio and networking technology, have all benefitted Sonos as it has evolved. Now you can get a very sweet set-up for under a grand, and control it with an iPhone, iPad or Android device.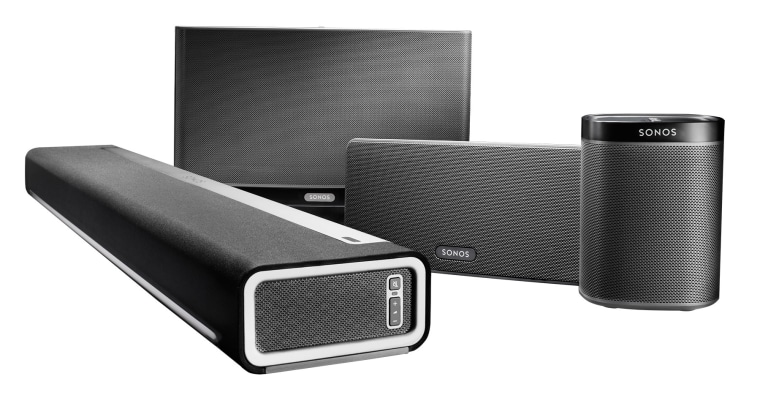 For a limited time through the holidays, Sonos will selling the Play:1 with a free network bridge. Ordinarily, when you set-up Sonos, you need the first device to be connected by wire to your home network. (This is a good thing, because it enables Sonos to talk to your devices and the Internet, but also set up a completely separate wireless mesh network for the music.) By including the normally $49 bridge, buyers can put their sole Play:1 anywhere in the house.
For the first time in Sonos' history, competition is mounting. Bose and Samsung announced similar systems just this week, in fact. But CEO John MacFarlane doesn't seem phased. In fact, when we met in New York last week, he seemed ready to face the competition, citing a decade of experience and strong retail partnerships. Sonos has a price advantage, too — both the Samsung and the Bose start at $399.
Wilson Rothman is the Technology & Science editor at NBC News Digital. Catch up with him on Twitter at @wjrothman, and join our conversation on Facebook.