Mavericks. Apple's new OS X update, named after a famous surf spot in Northern California, sounds adventurous — and maybe a little treacherous. Is your trusty Mac ready to catch the next big wave? 
Relax: It's not that risky. In the half-week that it's been available, there have been no major outcries. As long as you've backed up your computer, it's probably a good way for you to spend 45 minutes or so this weekend. After all, the free update brings a lot of iOS features to the desktop, and has some tweaks that will make power users very happy.
But before you figure out what Mavericks can do for you, let's make sure your system is compatible. Though most recent Macs are, when it comes to older models, eligibility is trickier. Lucky for you, we put the model-specific requirements in a chart that you can see below.
First, here's the big requirement: Mavericks is free provided you are on 10.6 Snow Leopard, and have updated it to its most recent edition (10.6.8). If your system is a tad older, and still running Leopard, you have to pay $20 for the Snow Leopard disc, install that physically. Then you can update to Mavericks from your Mac's App Store.
Here are the basic hardware requirements for Mavericks, along with specific features — AirPlay screen sharing, AirDrop home-network file sharing, and the all-new Power Nap notifications — that have additional system needs (click here for a larger version):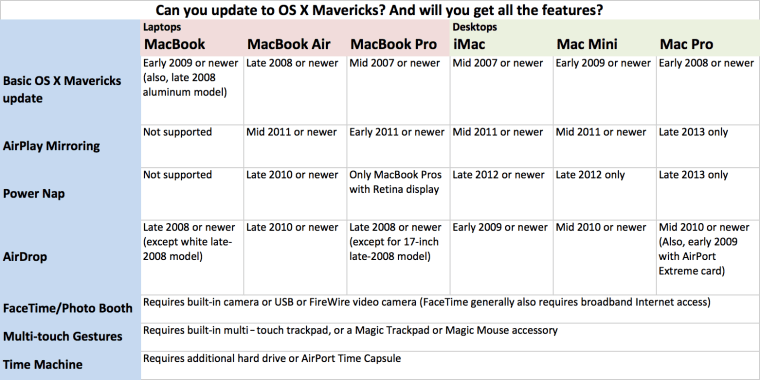 Now that you know you can update to Mavericks, it's time to figure out why you should upgrade. If you're one of those people who really love their iPhone or iPad, a Mavericks update will bring your Mac closer to your mobile devices:
Safari - The new desktop browser has a new sidebar with Bookmarks, Reading List, stories that you may have saved for later from your mobile device, and the new Shared Links column, which filters your Twitter and LinkedIn feeds for stories you might want to check out. You can retweet straight from the open window with a single click. No Facebook feed now, but surely that deal is in progress. 

Maps - Apple brought Maps to the desktop in order to make it easier for you to send routes to your phone (the way Google does with Chrome and Android), and to integrate mapping into the calendar, for smarter planning. You can see where your meetings are, and even have the calendar block off travel time automatically.
iBooks - Don't think mystery novels and cookbooks — the iBook Mac integration is most key to Apple's fledgling textbook business. In some cases, it makes more sense to use a computer to plow through reading assignments on a larger screen, highlighting and notating along the way.
iCloud Keychain - For sites that you log into or shop on at your desktop and on your mobile device, you can sync passwords safely with what Apple calls "robust encryption ... at all times." And when you're starting up a new account, the feature will suggest unique, lengthy passwords for you to use.
The other segment that benefits greatly from Mavericks is the people who push their Macs to the limit. Among the power-user advantages are:

Multiple displays - As users who plug our MacBooks into larger monitors for work, we are happy about the improvements here: You can put an app into full-screen mode in a distinct display, and the menu bar and app dock appear in whatever monitor you're using at the moment. Best of all, you can use the AirPlay feature on a $99 Apple TV to turn your HDTV into a wireless secondary display, not just one that mirrors your computer.
Finder tabs - If you move a lot of files around, you'll like this: Instead of having five Finder windows open, you can just have one with five tabs, and flip back and forth between them with your piles of files. Nothing gets hidden, and the right window springs open when you hover over its tab.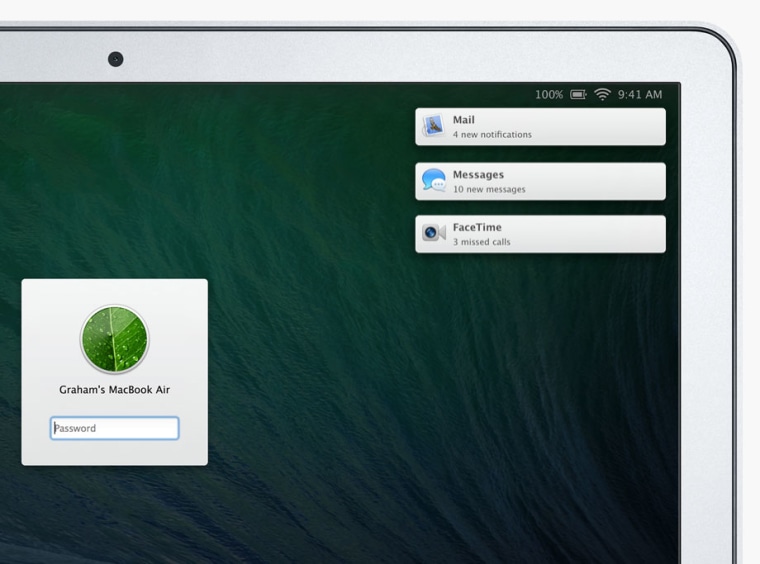 Notifications - Now you'll see battery level alerts and other system notices as notifications, and even incoming messages and FaceTime calls will appear there, where you can quickly respond. If your machine sleeps while you're away, important notifications will appear on your lock screen right when you return.
Speed improvement and longer battery life - We can already attest to Apple's claims that Mavericks makes the system faster, using techniques like "compressed memory." What's more, Apple says it added a whole hour of battery life to the latest 13-in. MacBook Air, and that other laptops will see incrementally longer battery life.

Mavericks also brings upgrades to the iLife suite, with tweaked iTunes, iPhoto and iMovie, which now lets you quickly edit and add effects to short video clips without getting into some arduous "project."
If you're ready for the upgrade, all you have to do is go into the App Store on your Mac, or select "Software Update..." from the pull down Apple menu in the top lefthand corner of your screen. You're not likely to hit any wrinkles, but if you do, have a look at these helpful troubleshooting tips from Computerworld. And if you can't get certain functions to work, have another look at that chart up top. Just because you're eligible for Mavericks doesn't mean all the features will work.

Happy software updating! 
Wilson Rothman is the Technology & Science editor at NBC News Digital. Catch up with him on Twitter at @wjrothman, and join our conversation on Facebook.