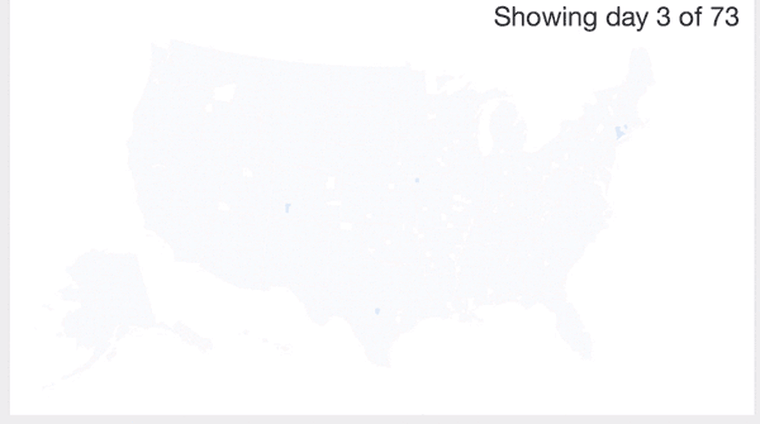 Earlier this year, the White House declared its presence on Tumblr, promising United States citizens that "there will be GIFs" — the kind that come with a "Hard G." Alas, there was no guarantee these GIFs would be what the Internet expects from its GIFs ... you know, fun?

Responding to two petitions asking that the Westboro Baptist Church be declared a hate group (and petty much blowing off three to revoke its tax-exempt status), the White House posted a GIF illustrating the country's common loathing for Westboro. The Topeka, Kan., outfit has become infamous for picketing funerals of soldiers with its 'God Hates [fill-in-the-blank]' signs, and displaying bigotry in all manner of venues.
"Together, we're more resilient than those who would try to drive us apart," reads a statement accompanying the animated heat map, which was made using ZIP codes to illustrate "all the signers of the petition 'Legally recognize Westboro Baptist Church as a hate group.'" Whether meant to placate signers of a petition the administration can't really address, or join in on the ongoing trolling of America's most hated haters, this animated offering fails to do two things Americans want from our GIFs: Inform or entertain.
It's not that the White House could have answered the hate group petitions more directly: The country doesn't keep lists like that — "that's the private organizations like the Anti-Defamation League and Southern Poverty Law Center," notes the GIF-accompanying statement on the We the People petition website. But there's no mention of any interest or influence in revoking the church's 501(c)(3) status — something the IRS can do if it turns out a tax-exempt religious organization is taking part in mostly non-religious (political) activities. Just a kitten-free GIF that tells us what we already know — people everywhere do not care for the Westboro Baptist Church, especially in its home state of Kansas and in Newtown Conn., where it threatened to picket funerals of Sandy Hook shooting victims.

Want to distract the American people from the fact that their questions haven't been adequately addressed? Do something flamboyant — like that guy who bought a house across from the Westboro Baptist Church and painted it the rainbow colors of the gay pride flag. Take a lesson from Anonymous, which "brandjacked" the Westboro Baptist Church by launching a Facebook page in its name, filling it up with inspirational Jesus quotes and cute pics of kitties and doggies with grammatically creative captions.
Seriously, Obama administration, if you're going to make GIF of hate against haters, throw in a skittering wombat or at least a flashing "LOL!" Y'all run the country! How hard can it be?
Helen A.S. Popkingoes "blah blah blah" about the Internet. Tell her she doesn't know what she's talking about on Facebookor Twitter.