If you're making the world's largest walking robot, obviously you go all out and make it spectacular. Something that can shoot flames. Otherwise, what's the point?  
After more than a decade of planning and work, the "Tradinno" project received the recognition it deserved. Listed in the newly released "Guinness World Records 2014," the 11-ton mechanical dragon, 51 feet long with a 40-foot wingspan, is the "world's largest walking robot."  
The remote-controlled megatronic behemoth is the reptilian child of Germany's Zollner Elektronik AG. Built for show business, Tradinno — its name a mashup of "tradition" and "innovation" — won't be seen on "Game of Thrones" or challenging Harry Potter as part of the the Triwizard Tournament. Instead, this four-legged, wing flapping robot will replace the aging star of Germany's oldest folk play, "Drachenstich," performed each August in the Bavarian town of Furth im Wald.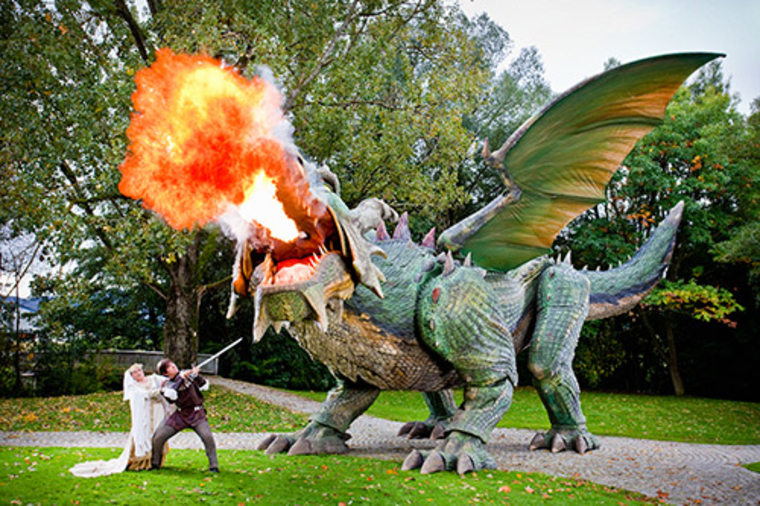 The previous dragon is a mechanical model made from a design that hasn't changed much in 35 years. It requires four inside operators, which negate any robotic status. 
"Realizing a radio remote-controlled, outdoor-capable four-legged robot walking robot in unheard-of dimensions, was what really motivated the developers and designers at Zollner Elektronik AG," the company writes. 

The dragon is "driven by a 2.0-liter turbo diesel engine ... a robot outshining all human actors," the website boasts.
Mechanics aside, Tradinno is, above all, a showbot. With polyurethane and glass reinforced plastics skin, veins that bleed 21 gallons of stage blood on cue, and liquid gas for fire-breathing pyrotechnics, the only thing Tradinno can't do — despite the wings — is fly. But then, would we really want 11 tons of flaming cyberdraconian rage swooping and diving overhead?
Helen A.S. Popkin goes blah blah blah abut the Internet. Tell her to get a real job on Twitter and/or Facebook.