The six months since Microsoft unveiled its next-generation game console haven't been kind to the tech giant. Gamers were enraged at how the company seemed to be emphasizing the Xbox One's role as a smart TV box over its potential as a gaming powerhouse. Privacy advocates were none too happy with the sheer creepiness of the new always-watching Kinect camera. And a number of high-level executive shifts — including the departure of Don Mattrick, host of the Xbox One unveiling and president of Microsoft's interactive entertainment arm — gave some people the impression of a company in disarray.
Yet after spending the last two weeks tinkering with the Xbox One, I can say that I was pleasantly surprised by just how much fun it was to play. There were a predictable number of technical pre-launch glitches that Microsoft assured me would be ironed out come launch day on Friday. But the Xbox One really is a compelling piece of hardware, complete with a strong lineup of launch games. And that's more than I could say for Sony's PlayStation 4, which arrived last Friday.
Sure, Sony has done a better job of winning over the hearts of minds of impassioned console gamers, and the PS4 was well received at release and sold more than a million units in the U.S. and Canada — its two initial markets. But the dearth of launch titles has left many reviewers praising its potential rather than its immediate boons.
If gaming is your No. 1 priority, I would still recommend waiting to see how the PlayStation 4 or Xbox One evolve to suit your particular wants. But if you're really craving a new system now — or need something to bring home to the kids — the Xbox One is your best bet. It offers a wealth of solid entertainment options right out of the box ... or, at least, after several hours of software updates and installations.
The hardware: Silent but bulky
When it was introduced in May, the Xbox One was maligned for its sheer monstrosity. For a machine meant to herald a new generation of interactive entertainment, it looked an awful lot like a 1980s-era VCR. Compared to the nimble design of its predecessor, the slimmed-down Xbox 360 — one of the most beautiful pieces of hardware to come out of Microsoft, let alone the video game industry — the Xbox One seemed particularly unsightly.
No doubt, the Xbox One is a behemoth. It's significantly larger than the PS4 in size as well as price — at $499, it costs $100 more at launch. I had to reorganize my console and TV layout just to find a place to comfortably fit it and the new larger Kinect camera.
The Xbox One controller is better in terms of its industrial design, but it's not a great leap forward like Sony's new DualShock 4. It will get the job done, but I found myself feeling oddly nostalgic for the meatier Xbox 360 controller. Microsoft reportedly spent more than $100 million revamping its gamepad for the Xbox One, and the end result just looks like a lighter and slightly smoother version of its predecessor. It bears an uncanny and unsettling resemblance to Nintendo's Wii U "Pro" controller, albeit more high-end.
Microsoft has defended its design choices, saying the Xbox One was meant to fade into the background. And it has a point — consoles aren't meant to be works of art, they are portals through which you access art. 
When it comes to actually accessing games, however, the Xbox One is once again good, but not great. I found the console's menu interface to be clunky and jumbled despite its pared-down look. Download and installation times, meanwhile, were significantly longer than anything I experienced with the PS4. Once up, however, the games all ran smoothly. The console is also remarkably quiet, even when rendering dizzyingly large picturesque landscapes in a game like "Assassin's Creed IV."
Games show a promising start
But technical questions aside, are there enough fun things to do on the device? Seeing how the PlayStation 4 launched last week with almost nothing to show for its $400 price tag, it's not an insignificant concern — especially since neither console can play last-generation games.
The Xbox One's starting lineup is my favorite surprise of the holiday season so far. The console isn't exactly brimming with new games, but it has a healthy amount. And, more importantly for Microsoft's bottom line, a good chunk of these are only available on the Xbox One so far.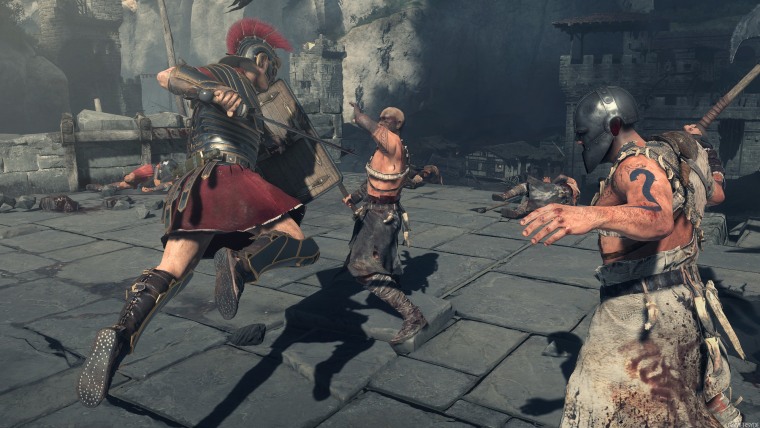 "Dead Rising 3," the new installment in Capcom's open world undead-themed series, is simple zombie-killing fun with better graphics. "Killer Instinct" is a similarly reskinned version of a classic old-school fighting game — though it's disappointing that the game only starts out with six characters to choose from. Other hits include the insanely detailed racing game "Forza Motorsport 5," "Ryse: The Son of Rome," a gory hacking-and-slashing romp set in ancient times, and the adorable sim game "Zoo Tycoon."
None of these games are groundbreaking in terms of sheer artistry. But they're clearly designed to be crowd-pleasers, and they hit all the right marks to make gamers happy. They look incredible on the Xbox One, but what makes them even more compelling is how they use the console's unique hardware in intriguing ways — particularly the Kinect.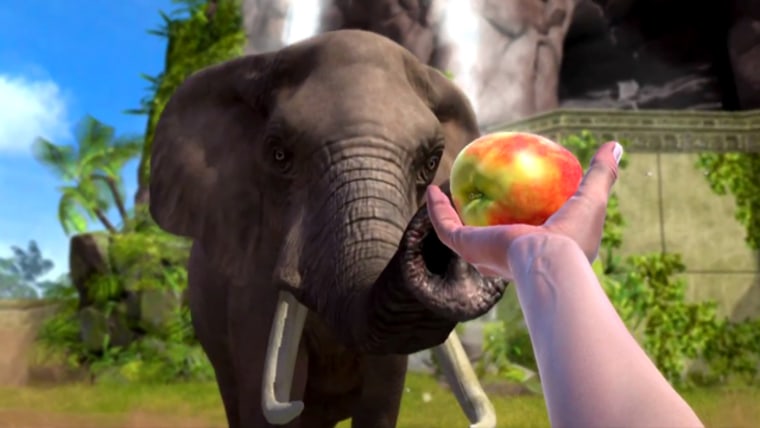 In "Dead Rising" and "Ryse," this is as simple as shouting voice commands to, say, distract a group of zombies, or order your Roman soldiers to fire a volley of arrows. In "Zoo Tycoon," you can use the camera to play with the animals in revelatory ways. I didn't really believe that the next-generation of video games was here until I winked at a virtual baby chimp through the Kinect camera ... and saw him wink back.
Is it worth it?
Still, spending half a grand (more, once you factor in the games) on a new console is a lot to ask. I don't know if I'd call any of these games a "killer app" that makes the Xbox One a "must buy." But it's a great start.
Then again, it's just a start. There were many parts of the Xbox One that were still missing in action when I sat down to write this review, including the majority of the console's online features. The Xbox One's entertainment offerings struck us as ambitious enough in their own right to merit a separate review, but only once Microsoft actually had them up and running.
Based on our early impressions, however, keeping the console on when watching TV is a double-edged sword — while it's incredibly convenient to have everything come through a single interface, you need to get the entire family on board for it to make sense. I'm guessing that gamers who are already waving their hands around to feed virtual giraffes and screaming "FIRE VOLLEY" at imaginary Roman soldiers are earlier adopters than some of their loved ones.
That said, Microsoft is bringing enough to the living room experience — Netflix, Amazon Video, Hulu, a great-looking new version of Skype, a full Web browser, and many of Microsoft's other services — that centralizing the entire living room ecosystem makes sense. 
How does it all add up? Like the legions of gamers that flocked to pick up the PlayStation 4 last week, I admired Sony's new console because of its incredible promise. Microsoft, on the other hand, has already begun to deliver on the promises it made with the Xbox One.
Yannick LeJacq is a contributing writer for NBC News who has also covered technology and games for Kill Screen, The Wall Street Journal and The Atlantic. You can follow him on Twitter at @YannickLeJacq and reach him by email at: Yannick.LeJacq@nbcuni.com