More than half of teens who use mobile apps say they avoid downloading some of them because of concerns about personal information being shared with others, including location-based data. And a quarter of teens say they've even uninstalled apps once they learned the apps might be collecting "personal information that they didn't wish to share."
The findings are from the Pew Internet Project's new report, "Teens and Mobile Apps Privacy," which says that 58 percent of all U.S. teens, ages 12 to 17, have downloaded apps to their phones or tablets.
"I do think that these findings run counter to the stereotype that teens don't care at all about privacy," Mary Madden, Pew senior researcher, told NBC News. 
Teens, she said, "are on the front lines of figuring out privacy management on mobile devices, in part because they are such voracious users of social media, and they are much more likely than adults to use their phone as their primary source of Internet access."
Location-based apps, such as Foursquare and Google Maps, for example, rely on location-based information being shared to help the user. But there are other apps that use such data for their own purposes, or for reasons not always so obvious to the user. Dictionary.com, for example, has said it collects location data so that the user can see which words users nearby are looking up. It was included earlier this year on a Carnegie Mellon University list of popular Android apps that share location-based info, a user's contacts or other "sensitive" information. 
For teen girls, location information "is considered especially sensitive," Pew said in its report. A majority of them "have disabled location-tracking features on cellphones and in apps because they are worried about others' access to that information."
In its survey of 802 teens, ages 12 to 17, and their parents, Pew found:
58 percent of all teens say they've downloaded apps to their phone or tablet.
51 percent of app users say they've avoided certain apps because of privacy concerns.
26 percent of app users say they've uninstalled an app after they found out it was collecting "personal information that they didn't wish to share."
46 percent of app users say they have turned off location-tracking features on their phones or in an app "because they were worried about the privacy of their information."

Girls are more likely than boys to disable location-tracking features, 59 percent to 37 percent.
However, this privacy concern isn't totally cause for parents to celebrate. "Some of the people" teens might be concerned about being tracked by are — perhaps not surprisingly — "their own parents," Pew noted.
"As early as 2009, the Pew Internet Project found that about half of parents of teen cellphone owners said they used the phone to monitor their child's location in some way."
Teens, Madden told NBC News, "often have to assume a certain amount of surveillance from the adults in their lives."
"Most [parents also] say they have looked at the contents of their child's phone," she said. "So, this basic underlying sense that a phone can be used to keep track of where you are and what you do is something [kids] are coming to understand at a very young age."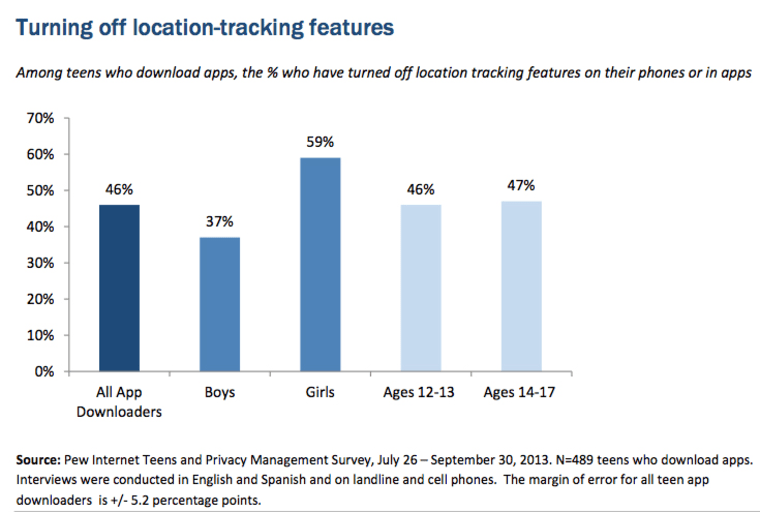 Check out Technology and TODAY Tech on Facebook, and on Twitter, follow Suzanne Choney.