It may seem impossible, but 15 percent of American adults say they don't use the Internet or email. A good third of them say the Internet isn't relevant to them; they don't want to use it or have any need for it. 
In an era where many of us have our eyes glued to our smartphones and tablets and computer screens and TVs and game consoles — sometimes all at once — it seems unfathomable that some people could live their lives without email, Facebook, Netflix, or doing such basic tasks as checking a bank account online, or printing a boarding pass from an airline's website. 
After all, survey after survey in recent years has shown that some Americans would rather give up everything from sex to showering if it means keeping Internet access.
The new finding is part of the report, "Who's Not Online and Why," from the Pew Internet & American Life Project. Here are some more of the surprising stats:
While 34 percent said the Internet is "just not relevant to them," 32 percent say their sense is that the Internet is not very easy to use." They find it difficult or frustrating to go online, and some include people who say they're physically unable to do so. Others in this group worry about issues like spam, spyware and hackers.

19 percent say the cost of an Internet connection, as well as the expense of owning a computer, is too high.
7 percent say there is a physical lack of availability or access to the Internet; another 7 percent cited other reasons not detailed by Pew.
Pew says that Internet use in the U.S. "remains strongly correlated with age, education and household income," similar to previous surveys it has done about the issue.
One of the strongest patterns we see regarding Internet use is by age group: 44 percent of Americans ages 65 and older do not use the Internet, compared with 17 percent of the next-youngest age group (adults ages 50-64). A similar proportion (41 percent) of adults who have not graduated high school are offline, as are 24 percent of Hispanics and 24 percent of those in households earning less than $30,000 per year. And 20 percent of rural residents say they do not use the Internet, significantly more than those living in urban or suburban areas (14 percent).
Back to that 34 percent, though, who say they just don't need the Internet? Many say they're not only not interested in going online, they're "too busy," or think the Internet is a waste of time. (Don't cry for me, YouTube!)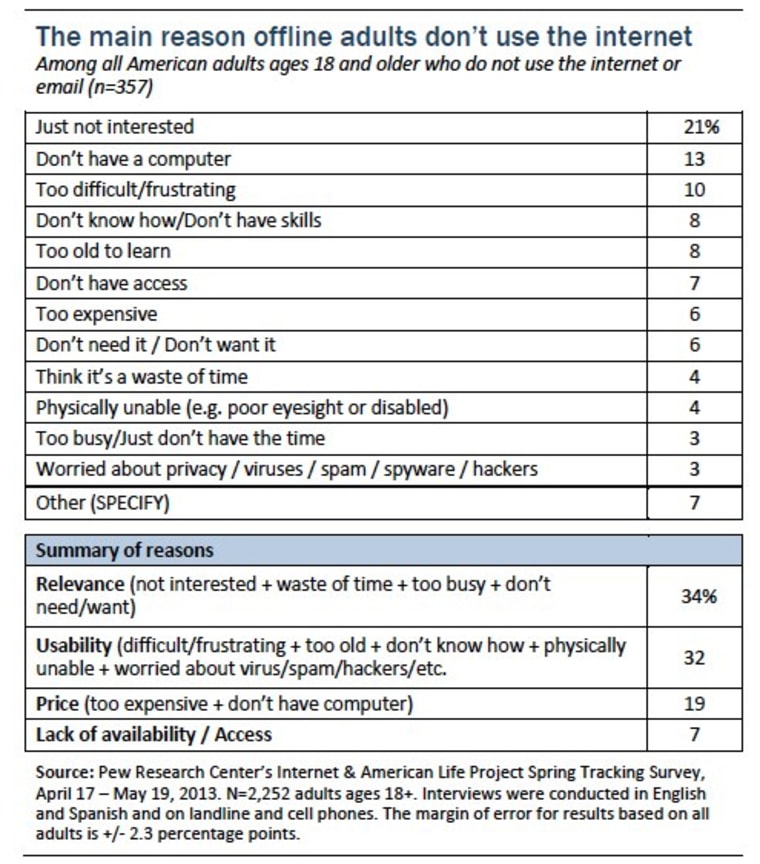 The findings in Pew's report are based on data from telephone interviews conducted by Princeton Survey Research Associates International from April 17 to May 19, 2013, among a sample of 2,252 adults ages 18 and older.  
Check out Technology and TODAY Tech on Facebook, and on Twitter, follow Suzanne Choney.