A high-tech collaboration between individuals half a world apart has resulted in a new prosthetic hand for a 5-year-old boy — and the creators are making the design free to all. Their cheap, effective, and adaptable "Robohand" could help thousands.
The effort started in December, 2011 in South Africa, where Richard Van As saw a YouTube video of Bellingham, Washington-based amateur mechanical engineer Ivan Owen. Owen had built a huge mechanical hand for fun, and the video went viral. But Van As, who lost the fingers of his right hand in a woodworking accident, immediately saw more than novelty value in the device.
Van As contacted Owen, and soon they were collaborating on a prosthetic hand — one which would not, as many do, cost thousands of dollars.
They exchanged designs and comments over email, and last November, they decided to join up in Johannesburg to work together in person on a new project: A hand for Liam, a 5-year-old South African boy born without fingers on his right hand.
A few short months later, and Liam is using his new hand to throw balls, pick up coins, and do everything else one uses a hand for, even after only a few days of actual use. And the project was only possible because of the ability to collaborate online — and a pair of 3-D printers.
When Owen had mentioned his project to 3-D printer company MakerBot , officials there promptly and generously donated two brand-new Replicator 2 printers — one for Owen, and one for Van As. With those installed, they no longer had to mail prototypes and parts to each other, a costly and time-intensive process.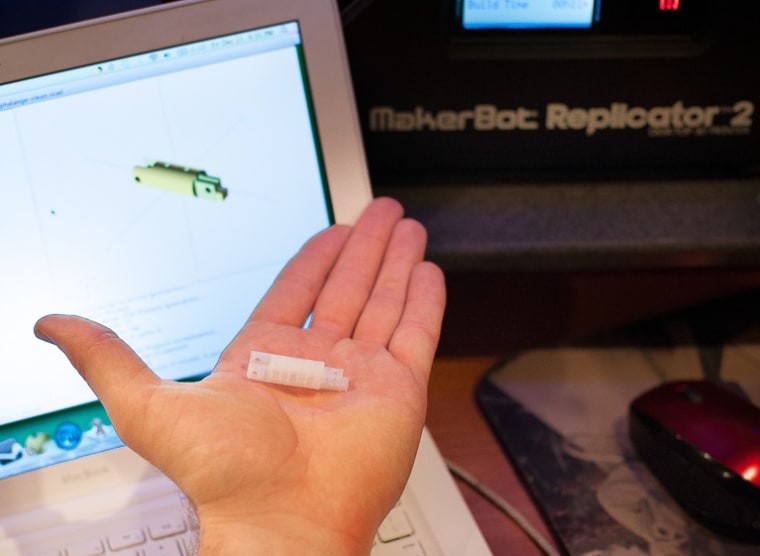 With this new ability to rapidly iterate the design, the Robohand, as they called Liam's prosthesis, quickly matured. It's made to be as simple as possible, Owen told NBC News in a phone interview.
"No electronics, no sensors, nothing," he said. "That means it's easier to maintain and costs less." That's an understatement: the whole device costs less than $150, and the two men think they can bring it down even lower.

The Robohand uses a cable system, with the angle of the wrist controlling the tension and causing the fingers to open and close. It's a proven system, used on other prosthetic limbs for decades, and Owen says using this type becomes second nature after a while.
It can be adjusted and assembled easily, parts can be replaced if they break, and best of all, anyone with a 3-D printer and some basic off-the-shelf parts can make one. Owen and Van As have put the design up for free on their website as well as Thingiverse, a website for sharing printable objects like this.
"Our vision is to make this available for people and locations where there's no infrastructure present," Owen said.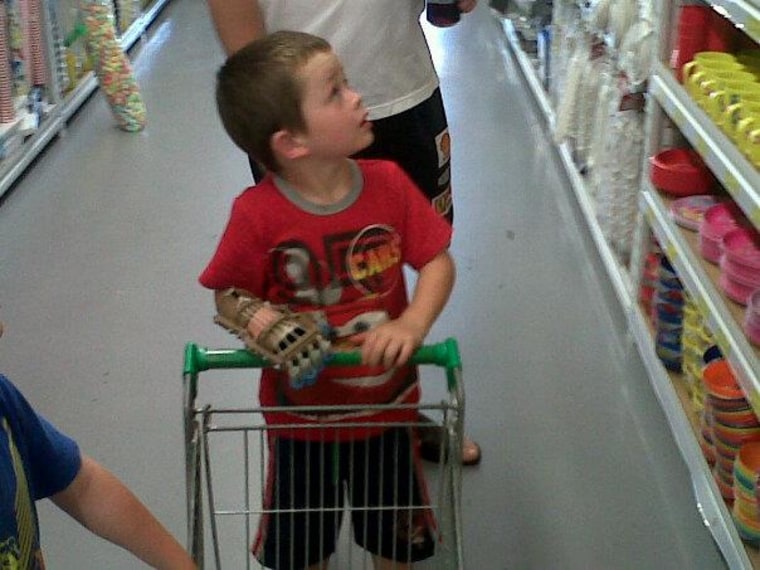 A few nuts and bolts and the cables are needed, but can be picked up at any hardware store. The most expensive and hard to make part is the "gauntlet," which has to be carefully fitted to the wrist, but beyond that, it's fairly easy to create and assemble.
Owen and Van As hope that Liam's Robohand is just the start.
"The further Rich and I have gotten into this, the more we have discovered what a large-scale problem this really is, and how little access these individuals have." It's a free-time project right now, but they envision collaborations with other designers and patients in need, and maybe even an organization to help support the users and creators of Robohand and its derivatives.
The two maintain a blog of the project's progress, with lots of videos and images. There's plenty to read, and a fundraising campaign has been started as well.
Devin Coldewey is a contributing writer for NBC News Digital. His personal website is coldewey.cc.