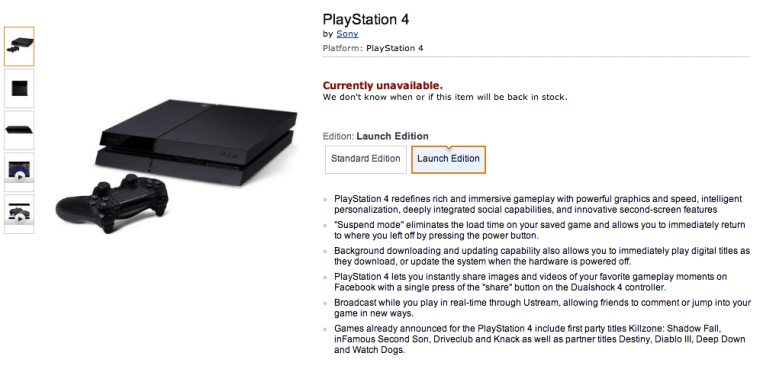 Less than 72 hours after gamers first learned what the PlayStation 4 looks like, its cost ($399), and when it will be available (Holiday 2013), the device has already sold out of special "Launch Edition" units on Amazon.
Instead, the e-commerce giant has resorted to selling the "Standard Edition," which won't become available until December 31. While Sony hasn't given a firm release for the PlayStation 4 yet, it did promise that the console would be available in time for the holiday season. The company managed to drop the starting price of the next-generation console by $100 from the relatively pricey PlayStation 3, which debuted for $499 in November 2006. But if the new console is already sold out at one of the major gaming retailers, Sony might be at risk of repeating another one of the PlayStation 3's launch mistakes — simply not having enough units to meet demand.
While the full numbers of the PlayStation 3's launch are still something of a mystery, the console's launch (particularly in North America) is widely regarded as a disaster for a company that took the next six years to fully recover. Simply put, Sony fell profoundly short in its initial supply of PS3 units, leaving even the most eager customers to scrounge around eBay in search of a device for months to come. Speaking to MSNBC a year after the launch, Sony Computer Entertainment America president and CEO Jack Tretton called the lack of launch units "the biggest miss" for his company, saying that Sony "had easily a million consumers in North America alone that wanted to get their hands on a PS3" with "roughly 200,000 units to take advantage of that demand."
Still, Amazon is just one retailer. PlayStation fans can still pre-order the new console to get it in time for launch day from other prominent electronics boutiques like Best Buy and GameStop. But if the Wii U's launch shortages last November are a sign of things to come, major consumer tech product launches will continue to be messy affairs this time around.
Yannick LeJacq is a contributing writer for NBC News who has also covered technology and games for Kill Screen, The Wall Street Journal and The Atlantic. You can follow him on Twitter at @YannickLeJacq and reach him by email at: ylejacq@gmail.com.