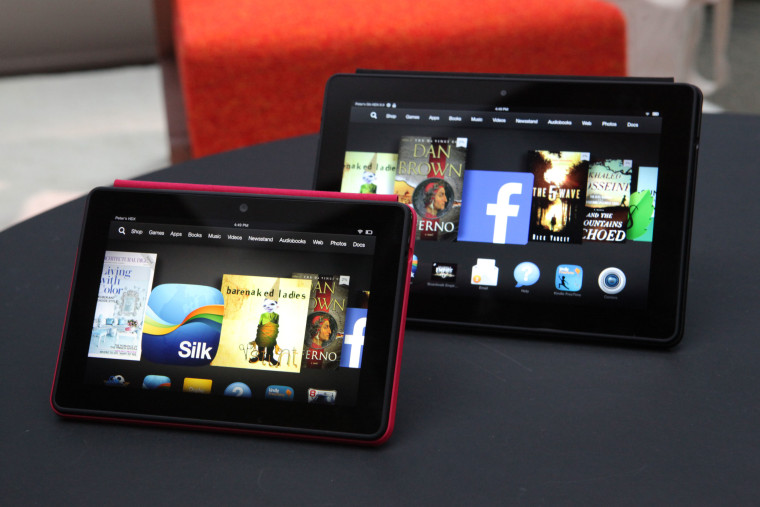 Amazon's first trick was selling a tablet so cheap, it was hard not to buy it, despite the shortcomings. Amazon's next trick was to build a second, larger tablet, to show it could compete (if not necessarily win) in the big leagues. Amazon's third trick — revealed Wednesday — is to blow past Apple and the Android rivals with flatter, faster tablets that are nonetheless priced insanely low. We've long known CEO Jeff Bezos was content to sell devices at cost — but we didn't know his company would actually go out and pay for such nice tablets. Here comes Kindle Fire HDX.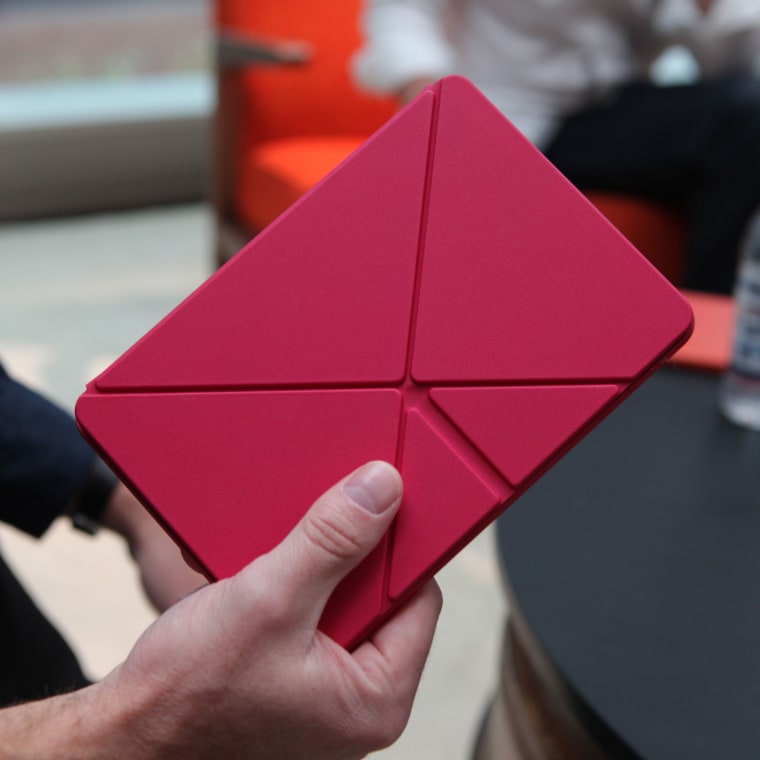 "We make money when people use our devices, not when they buy our devices," Bezos told NBC News Monday during an in-person product briefing where he showed off the two new tablets.
Major upgrades from last year's models, the 7-inch and 8.9-inch HDX models have the highest-resolution screens currently on the market, and the fastest chips ever put in tablets. But specs aren't the only step up here: new features let you send video to a smart TV or game console, enter low-power mode while reading books, download subscription movies for offline viewing — and even call for help from a live human technician if you run into trouble.
There's also a new magnetic jacket, the Origami cover — available in eight different color options, and in both leather and polyurethane — that folds up in a unique way to serve as a stable dual-position stand.
If many of these features are starting to sound a little bit like Apple's, that's surely by design. But it's also a threat to Apple's message of premium content and superior convenience: The HDX screens are much easier on the eyes than last year's iPads — the tablets' "pixel density" is better than the 9.7-inch iPad's "Retina" display and far better than the low-res screen on the iPad Mini. The ability to send video to a TV relies on the cloud, so it doesn't strain the tablet's processor like it does on an iPad. The feature also works with many TVs and set-top boxes that already have the Amazon Instant Video app, whereas iPads work only with Apple TVs. And no current iPad will let you read for 17 hours straight.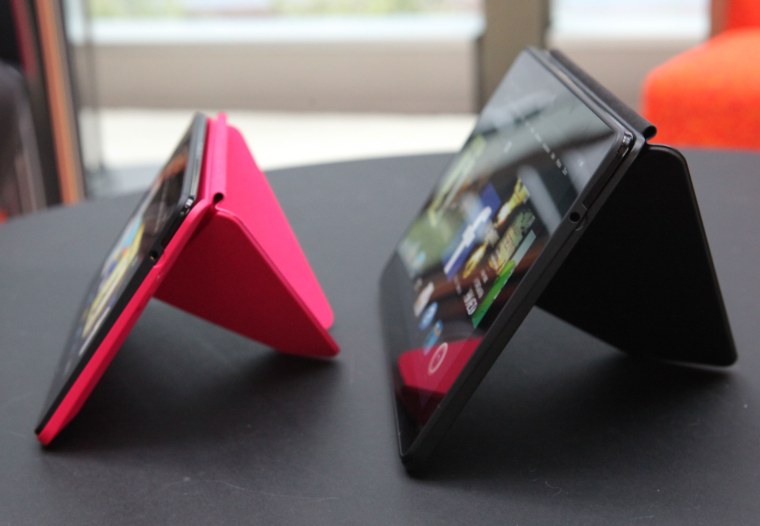 Let's not bury the other good news: The new 7-incher will cost $229 and ships Oct. 15, while the 8.9-incher — now with a rear-facing 8-megapixel camera — will cost $379 when it ships on Nov. 7. 4G versions of the two will be available for $100 extra, and now buyers will have a choice of adding service from AT&T or Verizon. (The Origami covers range in price from $45 to $70, based on size and material.)
Bezos said that Amazon is selling these at "roughly break-even" pricing, because the company makes money on its content sales. But assuming that's still too pricey, last year's $199 Kindle Fire HD will now sell for $139, and become the entry-level Kindle tablet.
(While things are looking very upbeat for Amazon right about now, a review of the tablets may turn up negatives not seen during the first pass. Also, Apple hasn't yet announced what's up its sleeve for this fall.)
Consumers, consumers, consumers
Sure, Amazon is cranking up the capability of its super-flat touchscreen computers — your last laptop probably didn't have a 2.2GHz quad-core processor, but both of these do. Still, that doesn't mean the company is any closer to emphasizing creative use of its tablets. 
If the Android camp is about customization, and Apple's message is inspiration, Amazon's content-forward user interface shows that it's still betting on consumption — books, videos, music, but also gaming and the Web.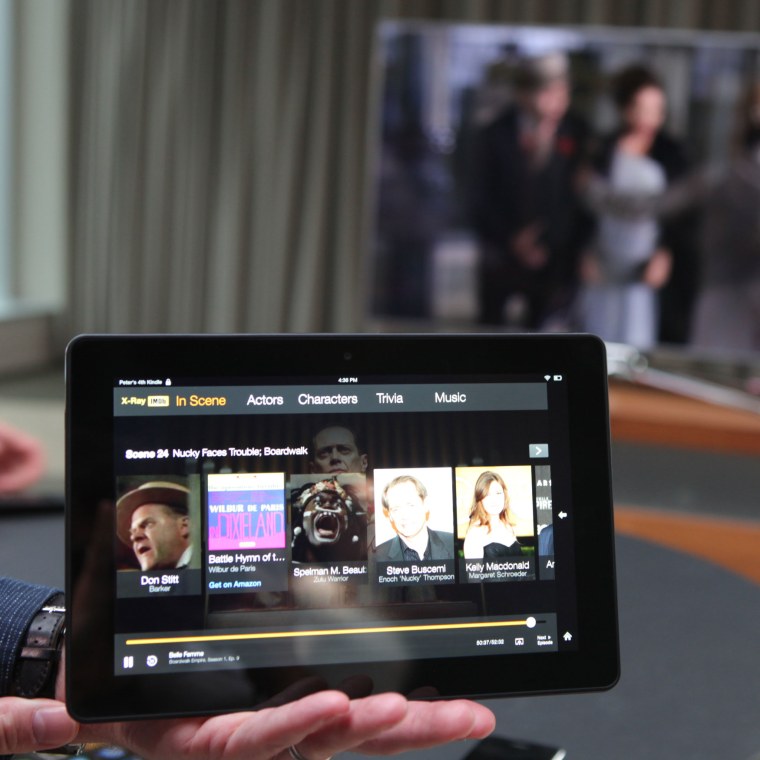 Aside from tossing video to your TV — which you can do from the new tablets provided you have an up-to-date Samsung Smart TV, Xbox 360 or PlayStation 3 (with more devices compatible soon) — there are loads of new content perks. The X-Ray feature on movies now has a "music" category, so you can find out exactly what song is playing at any point in a video, and then buy it. (Let's face it, the biggest ongoing complaint that can be had about Amazon's consumer-electronics play is how aggressively retail-motivated it is. On the flip side, at least you're the customer, as opposed to Facebook and Google, which are in the business of selling you to advertisers.)
Speaking of X-Ray, and music, there's now X-Ray for Music, which brings up song lyrics and other data based on what you're playing. It's a cool feature — jump to your favorite line in a song, and the music skips ahead. And while X-Ray's movie data is crowdsourced through Amazon's IMDB website, Bezos said that Amazon pays music publishers for the right to display song lyrics here. "This is the legit thing," Bezos said. "Sometimes you just pay."
Perhaps the best new video perk for Prime customers is the ability to download titles for offline viewing. This means no more frustration about not being able to pre-load subscription content for a long car or plane trip. (Maybe Netflix will take a page from this book, and build a similar feature into its tablet apps.)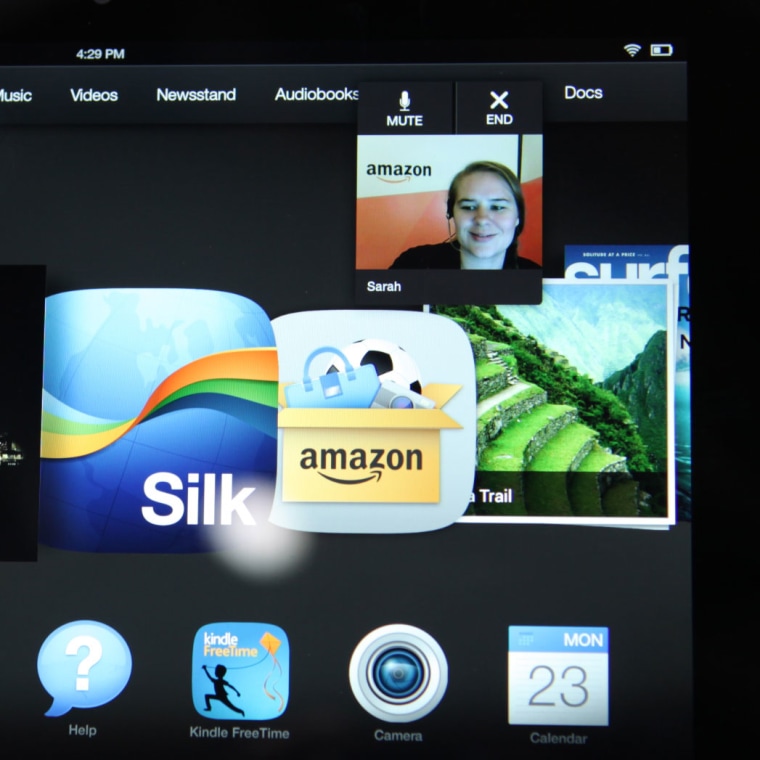 Mayday, Mayday
If you get lost in all of the new features, just send a finger-tap distress call to "Mayday." The little lifesaver icon launches a pop-up real live human helper, who can take charge, drawing arrows and circles to guide you around your devices, or even taking control if you just can't sort it out. Though it's not totally their mission, the Mayday consultants may even help with your Amazon shopping. 
Mayday comes with every new tablet and requires no subscription, not even Amazon's $79-per-year Prime service. And though the concierges can hear you, and control your screen, they can pause screen sharing when you enter passwords or other sensitive information, and of course they can't see you.
"It's one-way," Bezos says of the video portion of the Mayday chat software. "That preserves bandwidth for the important half of the connection, and also, you don't have to worry about what you're wearing or not wearing," Bezos deadpanned, before breaking into laughter.
Unlike, say, Apple's app store partners, which run the widest gamut from productivity to creativity to media consumption, Amazon's closest third-party partnerships tend to be with game companies. Nevertheless, the company noticed that its devices are gaining popularity in the office, and started to dial up its tablets' business functionality. The latest Kindle Fire software includes better support for secure corporate Wi-Fi networks, an improved Exchange-based email app, the ability to print documents to a wireless printer, secure intranet site browsing and more. Thanks to their increased horsepower, the new HDX tablets will also get secure hardware encryption.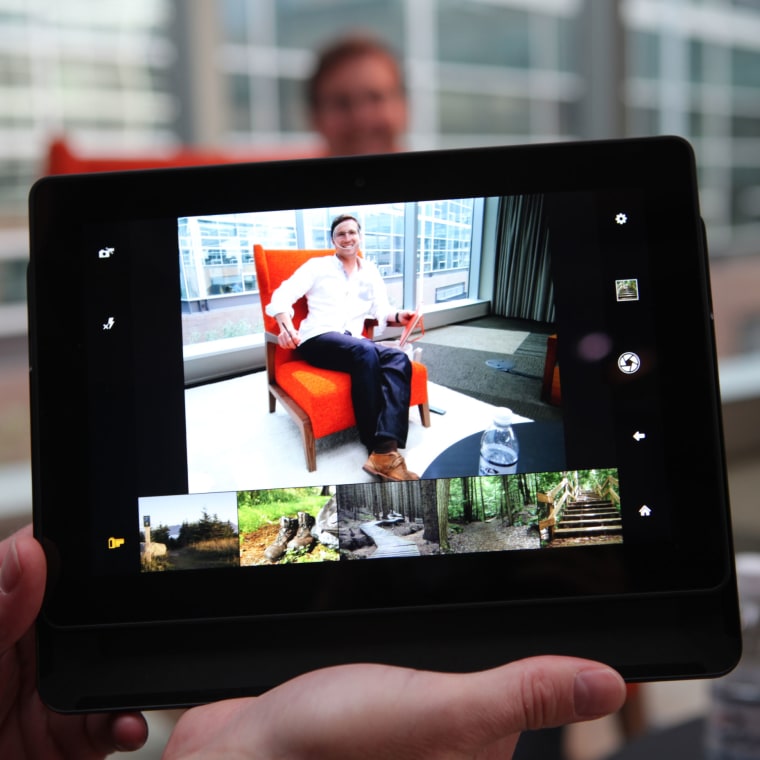 And about that horsepower: Under the hood, both new Kindles run the Qualcomm Snapdragon 800 processor, power-wise a notch above the Snapdragon S4 Pro found in Google's 2013 Nexus models. And they all start with 2GB of RAM, double that of their predecessors.
In other respects, the two tablets match up fairly closely with Google's. Both the Google Nexus 7 and Amazon's 7-inch HDX have 1920 x 1200-pixel displays, while both the Nexus 10 and the 8.9-inch HDX have pixel counts of 2560 x 1600. (Since the HDX is smaller than the 10-inch Nexus, its pixel density is an unprecedented 339 pixels per inch. That's a number that'll make a few tablet nerds faint.)
You don't have to buy one
Ironically, a key element to the Kindle sales pitch is that while Amazon wants you to own their e-readers and tablets, they don't necessarily care if you buy the new ones. On a recent visit to a beach in Florida, Bezos said, "I saw people using many old generations of Kindle and I don't have to be discouraged by that. Nobody has to be on the upgrade treadmill." Then he put it another way: "We're indifferent to the actual transaction of selling the device."
What this means is that many of the features rolling out with the new devices will appear in previous models as well — not to mention on apps running on the competition's tablets. Just look how aggressively Amazon has kept up its iPad Kindle Reader and Instant Video apps, all the while trying to one-up the iPad in hardware. This apparent platform "indifference" is what makes buying Amazon content so easy -- but when you buy enough Amazon content, little advantages that appear in its hardware suddenly seem magnified.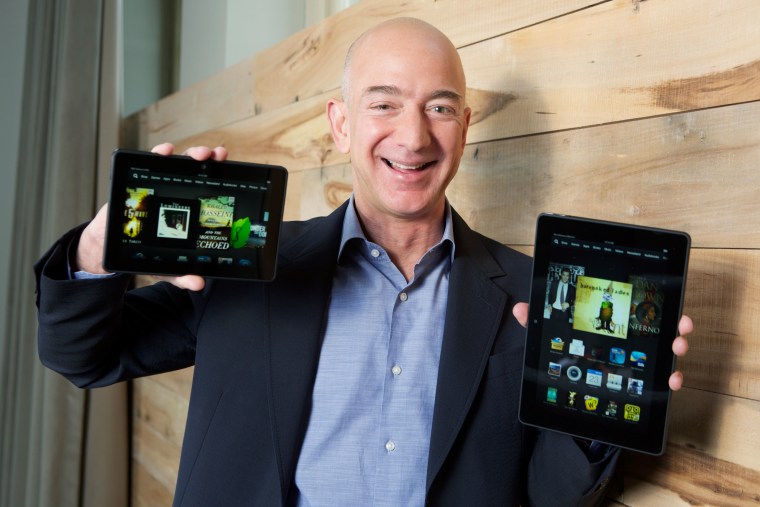 Because of this, the pressure is once again on Amazon's competitors to give better reasons for continuing to buy new devices. Google has a hard time in general, because it's much newer to the paid content business than Amazon and Apple. But yes, Apple, what will this third and best generation of Amazon tablets mean for the iPad?  
In a post-PC world, you may want an iPad in order to run Microsoft Office, Traktor DJ, Adobe Photoshop Touch and Cisco WebEx Meetings. But when it comes to buying a second device, why would you buy an expensive iPad when Amazon sells a cheaper tablet with high performance and little or no compromise? After all, you can use either to enjoy your Amazon-bought books and videos.
Apple likely will release a "Retina" iPad Mini by the end of October, but will the company also reduce the price by $100? How long can Apple charge its premium pricing with so fit a competitor as Amazon nipping at its heels?
Wilson Rothman is the Technology & Science editor at NBC News Digital. Catch up with him on Twitter at @wjrothman, and join our conversation on Facebook.