Although the explosive success of Google's Android operating system over the last couple years means that it's No. 1 in nearly every market, the battle for the global smartphone market is far from finished. Android, iOS and Windows Phone are fighting tooth and nail — and finding success in unexpected places.
In the third-quarter sales numbers from Kantar Worldpanel, it's clear that it's more or less a two-horse race in the U.S., Australia and Great Britain. Android takes up a bit more than half of all sales, iPhone is about a third — 40 percent in Apple's home turf, the U.S., less elsewhere.
But leave the English-speaking countries and things get a bit more unpredictable: the other countries in Europe, for instance, are far more Android-heavy. In Spain, Android accounted for an incredible 90 percent of all smartphones sold. Germany, France and Italy showed similar but not quite so serious trends.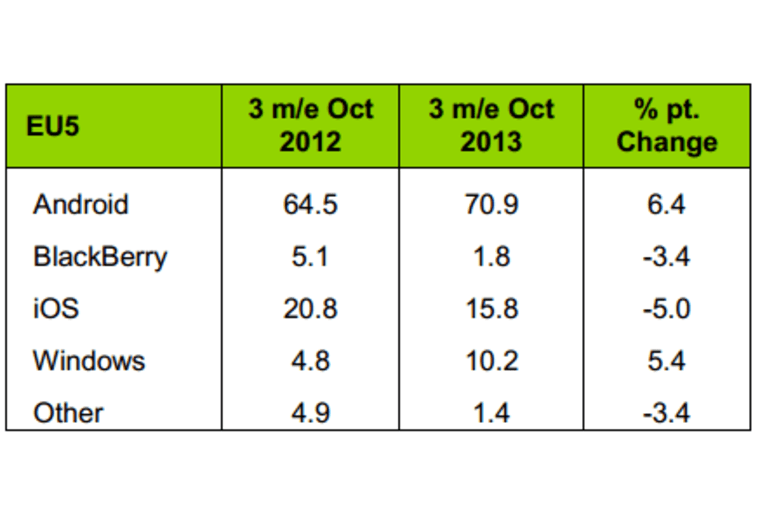 Microsoft is staging a comeback: For the first time, it accounted for more than 10 percent of all smartphones bought in the largest European countries. In Italy, it makes up 16 percent — leapfrogging iOS, which fell from 18.5 percent at this time last year to just 10 percent now.
But don't worry too much for iOS: In Japan, where the iPhone 5S and 5C were recently made available on the country's largest carrier, 61 percent of all phones sold last quarter were Apple's latest. And in Spain and Italy, the new iPhones weren't launched until the end of October, meaning those countries will see an iOS boost in the next report.
Of course, the huge emerging markets of China, India and Africa are just starting to enter into these equations — so even if Google or Apple locks down one country for good, its work is far from done.
Devin Coldewey is a contributing writer for NBC News Digital. His personal website is coldewey.cc.