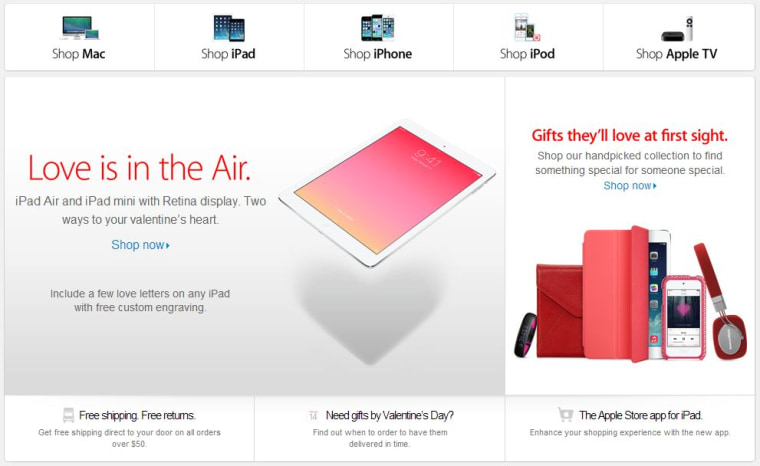 When Steve Jobs unveiled the Apple TV in 2007, experts wondered if it could do for television what the iPod did for music after taking the market by storm in 2001.
Suffering from a lack of content, Apple TV was deemed a "dud." In 2010, the company released a new version built to compete in the streaming age. It didn't flop, but it didn't dominate the market either, becoming just one of many options inlcuding Roku and Microsoft's Xbox 360. 
Today, it looks like the iPod is dying, but the once-maligned Apple TV could be getting a second life after it was given a spot next to the Macs, iPads and iPhones on the Apple Store Website. 
"That is some pretty valuable real estate on their website," Gene Munster, managing director and senior research analyst at Piper Jaffray, told NBC News. "If they considered Apple TV as a hobby, which is how they have described it in the past, hobbies don't deserve top-of-the-fold treatment."
This comes on the heels of rumors from Mark Gurman of the Apple blog 9to5mac that a new Apple TV was on the horizon, with features possibly including an integrated wireless router, games that could be played with an iPhone or iPad, and an Apple interface for controlling current cable boxes.
But Munster thinks Apple could be thinking even bigger than just a set-top box. The change to the Apple's website, along with comments from Apple CEO Tim Cook during this week's earnings call that the company would "absolutely" introduce a new product category in 2014, makes Munster think that an Apple television set could be unveiled sometime this year. 
"The question isn't whether Apple is working on a TV," he said. "It's when is it going to see the light of day."
If that is the case, promoting the current Apple TV could be a way of getting consumers ready for the long-rumored Apple TV set. The company's competitors have a head-start, with Roku announcing its own TV set at this year's Consumer Electronics Show (CES) and Samsung already selling a popular line of smart TVs. 
The profit margins on TV sets, usually around 20 percent, are less than the 38 percent Apple is used to, Munster said. But ultimately the lure of TV could be too strong for the company to sit on the sidelines.  
"Your computer screen has been conquered, the screen on the smartphone in your pocket has been concquered by iOS and android, but TV is still an open field," he said. "There still a lot of usage of TV. If you want to be relevant consumer electronics company, you need to make a play on TV."
Keith Wagstaff writes about technology for NBC News. He previously covered technology for TIME's Techland and wrote about politics as a staff writer at TheWeek.com. You can follow him on Twitter at @kwagstaff and reach him by email at: Keith.Wagstaff@nbcuni.com