On Monday at Apple's annual Worldwide Developers Conference in San Francisco, CEO Tim Cook hosted a keynote that saw the unveiling of a sharp new Mac Pro, new MacBook Air models with better battery life, a streaming Internet radio service and the next operating system for the Mac. But the biggest news of all was most certainly iOS 7 — the next version of Apple's mobile operating system — which will bring a whole new experience to iPhone and iPad.
iOS 7 - a complete redesign
After chugging through OS X and new Mac news (here below), Tim Cook cued up a video showing the new iOS, and each shot was met with audible excitement. As we expected, the icons are all flatter, but the system isn't "flat." As you move the device in your hand, it tracks your motion, so there are planes interacting with each other. Translucence aids in the illusion.
Notifications are available from the new lock screen. There's a Control Center that lets you get basic stuff, like Bluetooth or Airplane Mode, by just swiping up from anywhere, including other apps. There's even a flashlight option in the Control Center.
As you can quite imagine, the core apps have been redesigned. Calendar, email, weather, they all have this flat, black and white look, characterized by super thin Helvetica font, and accented by bold primary colors. (If you're thinking that sounds a lot like Android and Windows Phone, I'm not going to argue with you.)
Mobile Safari has a really flat look as well, with a wild "cover flow" like tab scrolling ability, so you can flip through a bunch of open pages really easily. There's also "shared links," a Flipboard-like way to look at stuff your social friends are sharing.
AirDrop lets you share files within a network among iOS devices and Macs. "No need to wander around … bumping your phone," says Apple software honcho Craig Federighi.
The Photo app is a major focus of the redesign. You can scan photos in all kinds of views, zooming out to see teeny thumbnails. You can apply filters quickly instead of doing painstaking edits, and you can share to AirDrop or Photo Stream. (Bonus: Now other people can share into your Photo Stream — a big deal for moms and dads, just trying to get pics to the grandparents.)
Siri now has voice options — you can choose a man if you don't like the lady. It also integrates Wikipedia and Bing search results right inside. Apple Internet services chief Eddie Cue says that Siri for the car — a larger-screen version designed with many eyes-free options for drivers — will be available in 2014 models.
You know that pesky red circle that always hangs out on the App Store, telling you how many apps you need to update? It's gone: iOS 7 will update apps automatically. (About time, am I right?)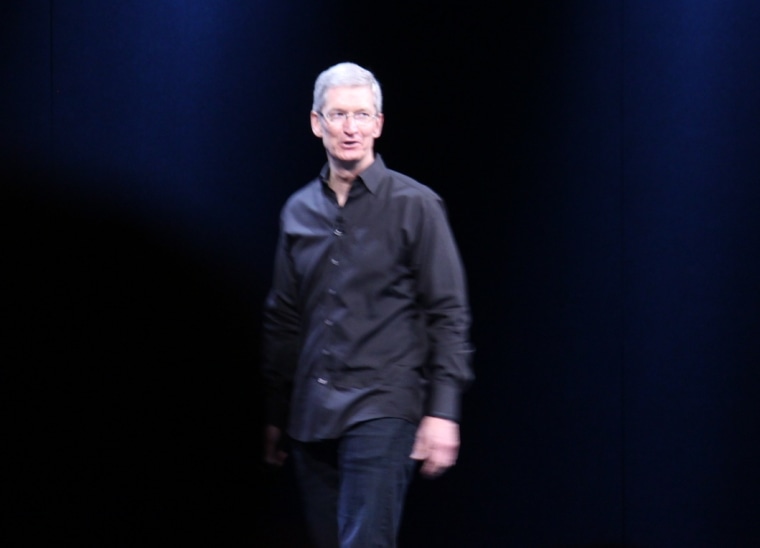 The Music app will contain iTunes Radio (previously speculated as iRadio) a free streaming music service similar to Pandora. It'll be on iOS 7 devices, and will have ads. But if you subscribe to iTunes Match ($25 per year), it's free. Mac and Apple TV get iTunes Radio, too.
iOS 7 will be available this fall for the following devices: iPhone 4 and newer, iPad 2 and newer, iPad Mini and iPod Touch 5th gen and newer. No more 3GS support, and we never expected it on the original iPad.
OS X Mavericks details
Earlier in the keynote, after a demo of AnkiDrive, a "video game for the real world" that involves race cars shooting each other (crazy!), Cook transitioned to the Mac, and OS X. Federighi first took the stage, teasing OS X Sea Lion — "OK maybe not" — then introducing OS X Mavericks. No more big cats.

The new Mac OS gets some tricks from the Web, such as tagging and window tabs. It also has new support for multiple monitors, meaning that things can be opened in full-screen in one monitor without messing around with the other screen. The lack of this irked a lot of people, and compromised the full screen mode that Apple previously boasted about. When you use the Mission Control feature, you can manage all kinds of open apps in a new visual way.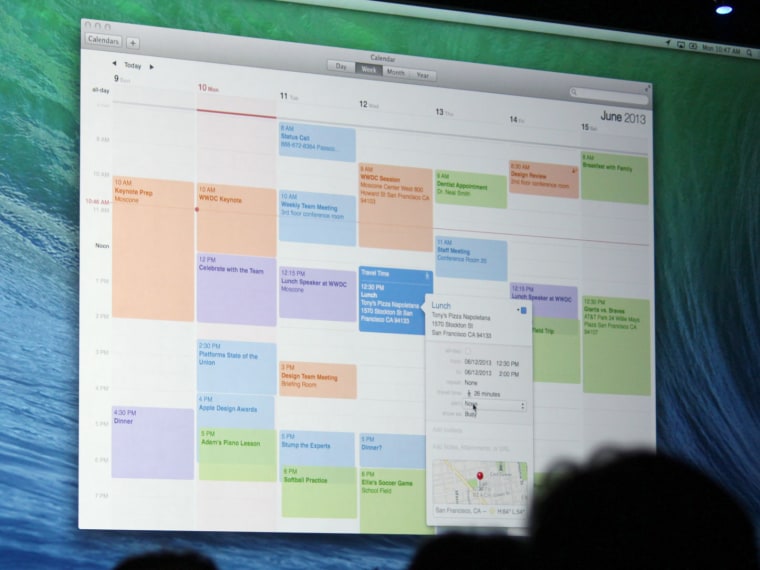 Mac OS X Mavericks will also include an iCloud Keychain for managing all your passwords (it even suggests crazy hard ones); the ability to reply to iMessages and other notifications right when they pop up, without having to go into an app; a redesigned calendar that has no stupid fake leather whatsoever; and Maps and iBooks — two of my least favorite Apple programs.
Federighi also talked about all kinds of under-the-hood power features — "compressed memory" "GPU video scaling" "timer coalescing" — that will lead to better battery life on MacBooks and a 1.4X speed improvement.
There are also some new features in Safari, including more jargony stuff that will improve its responsiveness. Accelerated scrolling, across the whole system, is "super fast, super smooth" in Safari.
OS X Mavericks preview goes to developers Monday; customers get it "this fall."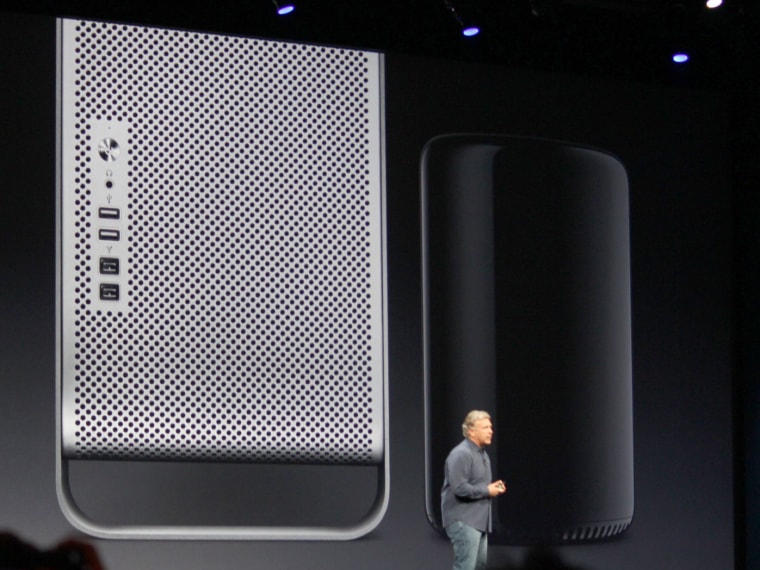 New MacBook Air; sneak peek of Mac Pro
Phil Schiller got on stage to talk about Macs. The new MacBook Airs, though they look the same, will have "all day" battery life, thanks to Intel's new Haswell processor. They're available today.

And Schiller gave everyone a sneak peek of the "Assembled in the USA" Mac Pro desktop computer, a totally redesigned system that's tiny compared to its predecessor, yet monumentally more powerful.
The new system is super fast, with flash memory 10X faster than the previous model's hard drive, Thunderbolt 2 connectivity for external drives and monitors, dual workstation GPUs giving 2.5X better video performance than the last generation, and supports 4K-resolution displays. Pretty hot, especially give then fact that it's a gnome next to the current-gen tower.
For continuing coverage of Apple news, be sure to visit nbcnews.com/tech and follow Wilson on Twitter at @wjrothman.