Two iPhones, one called the iPhone 5S, the other the iPhone 5C. Goldish-champagne and maybe even graphite as possible color options, in addition to the usual black and white. Screen size? The same — this time, anyway.
Though Apple is mum ahead of its press event Tuesday at 10 a.m. P.T., this is what many are predicting, based on leaks and rumors out of the supply chain. In addition to the iPhones, we may see a few other goodies from the Cupertino company, too.
We'll be covering the action live, of course, but for now, here's an at-a-glance look at the latest:
Cheap, colorful — and aimed at China
The iPhone 5C is likely to be the event's main attraction, in part because of its predicted low price. Some of us think the "C" stands for "cheap" or "China," its prime target market, though it could also stand for "color," because of the variety of its hues that will likely be available.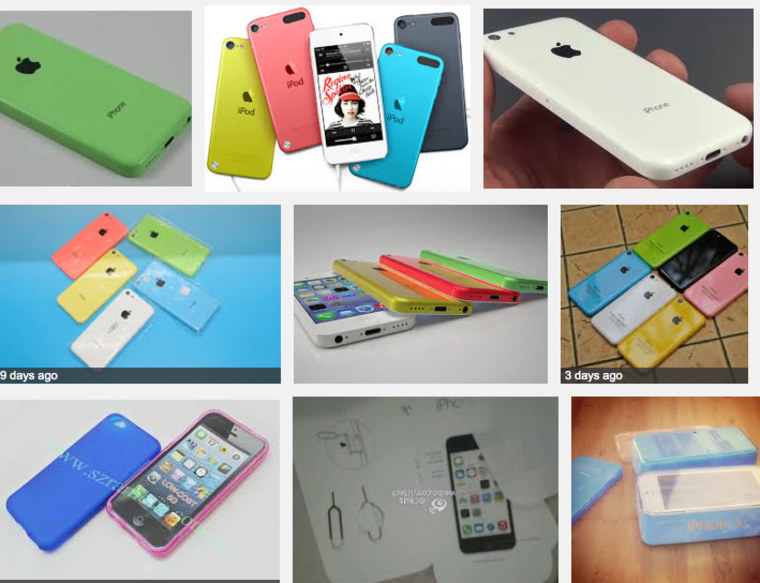 A less-expensive iPhone is welcome, especially in countries outside the U.S., where carriers do not subsidize the cost of new phones if customers get a two-year contract. Apple will also hold a press event on Sept. 11 in China, reportedly to introduce the new iPhones and an arrangement with China Mobile, the world's largest wireless carrier with more than 740 million customers. 

The iPhone 5C "will give millions of consumers a chance to own an iPhone at a lower price," and that price will need to be between $250 and $300 or less for it to be "effective," mobile analyst Chetan Sharma told NBC News recently.
The iPhone 5C, likely housed in a tough, plastic casing, may come in a variety of bubblegum-like colors. Those colors — which may be reflected in Apple's press invite, above — will set the phone apart from its more expensive sibling which would have the iPhone's usual aluminum casing. 
Going for the gold
The new flagship iPhone, the predicted 5S, will get more color options too, if rumors prove correct. It's likely to come in a gold or champagne-like aluminum finish, and maybe also a graphite gray color, in addition to the current black and white options.

Why gold? Analysts told NBC News that the gold option is in high demand in Asia, where it is a symbol of prosperity.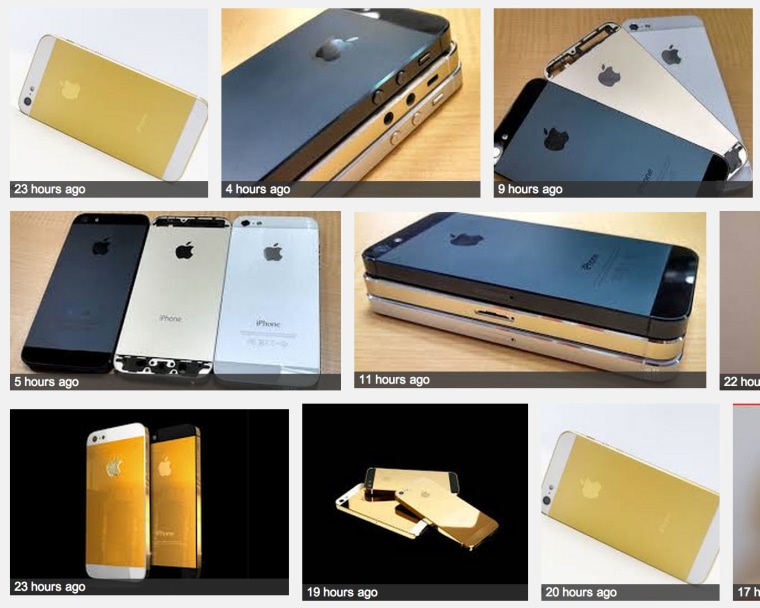 Some have referred to the gold color as "champagne," and though it might be accurate, Apple can't use the word without potentially facing angry reactions from French winemakers. The Interprofessional Committee for Champagne Wine "has made clear its intention to challenge Apple if it dares to invoke the iconic French brand," according to The Local, a website that shares "France's news in English."
Color options aside, the iPhone 5S will bear a nearly complete resemblance to the current iPhone 5. There will be some under-the-hood improvements and new features, however.
A fingerprint scanner may be integrated into the new iPhone's home button, to help enhance security. While that has been reported previously, an Australian teen took it a step further and recently shared what he claims is the fingerprint scanner component that Apple will use.
Examination of the purported iPhone 5S bodies indicate that it will also likely have a better camera flash (one that uses two LED lights instead of one) and a larger battery.
In the U.S., the new iPhones likely will be available Friday, Sept. 20, based on Apple's history of selling phones a week and a half after their unveiling.
What about a big screen?
While the iPhone 5 itself had a substantially larger screen than its predecessor, it's still the smallest screen in its price class by at least half an inch. Since the 5S is externally identical to the iPhone 5, you can cast out any hopes that it'll have a screen larger than the current 4 inches, despite clear demand for something larger. 
Those seeking a big screen may be in luck next year, though. Rumor has it that Apple is prototyping iPhones with screen sizes ranging from 4.8 inches to 6 inches. A 6-inch screen would be only one inch less than the iPad mini's current screen size, and would compete with the Galaxy Mega, a "phablet" with a 6.3-inch screen that was recently announced by Apple's chief hardware rival, Samsung.
New iPads? Apple TV?
In line with late co-founder Steve Jobs' "one more thing," there may be other new products rolled out by Apple on Tuesday.
Both the iPad and iPad Mini are due for an annual update. It was last October when Apple unveiled the first Mini. Though the 7.9-inch tablet has many fans, it doesn't have a "Retina" display. Without better pixel density, the Mini is at risk of being compared negatively to its cheaper, slightly smaller, rivals the Kindle Fire HD and Google's Nexus 7, both which have much better screens (though shabbier battery life).
The 9.7-inch iPad may be in for a revamp. It's had the same body design since early 2011, though the innards have been upgraded twice since then. One recent video shows an even narrower and thinner iPad, so there may be hope for a new iPad before the end of the year. It's likely that won't come Tuesday, however, as the fast-selling iPads generally merit their own Apple press event, especially if there's been a hardware redesign.
Another possible sighting Tuesday would be an Apple TV. No, not the long-rumored television set, but an update to the $99 living-room accessory. Will it finally have an open app platform? Will it get a price cut to make it competitive with Google's new $35 Chromecast? All of this remains to be seen, but hopefully we'll see it soon.
No matter what Tuesday brings, we'll be in Cupertino, at the Apple campus, to tell you about it, so be sure to check nbcnews.com/tech at 1 p.m. ET/10 a.m. PT, and follow NBC News' tech editor Wilson Rothman, who'll be tweeting from the event, on Twitter. See you then! 
Check out Technology and TODAY Tech on Facebook, and on Twitter, follow Suzanne Choney.