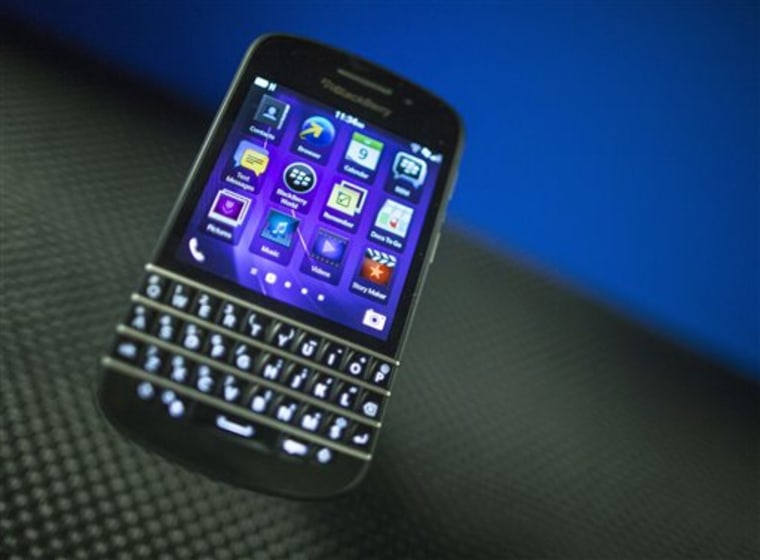 For years, I had a BlackBerry and maybe you still do, too, even though you're in the slim minority now amid all those huge phablets, Samsung Galaxys and slick iPhones.
BlackBerry's days may be numbered with the company's news that it may be looking at a sale, joint venture or other options. The struggling smartphone maker said it has formed a committee to "explore strategic alternatives to enhance value and increase scale in order to accelerate BlackBerry 10 deployment," its latest operating system, maybe for other purposes than phones.
Perhaps it's time to give up the stout smartphone and join the rest of us in the 21st century whose digital lives are about so much more than a great keyboard for email, or even a phone for a phone call.
As in the great tradition of many groups whose names start with "SomethingSomething Anonymous," it may be time to admit it: You are powerless over technology and its changes. And you must change along with it, or be left behind. 
While the BlackBerry may seem like your version of a mobile "blankie," basically it's getting "Zuned out," Chetan Sharma, mobile industry analyst, told me Monday, a reference to Microsoft's once-moderately successful but ultimately failed digital music player.
Letting go is hard, but take it from me, I know what it's like. I loved my BlackBerry because it was so powerful, so sturdy, so reliable and oh, that keyboard! So comfortable, so accurate. 
For a very long time, the BlackBerry was out of reach cost-wise for many of us. Certainly for me. At the newspapers I worked at, only the top-level folks carried a BlackBerry, and of course, the companies paid for it. Status wasn't about getting an office; it was about getting a BlackBerry. Then you were somebody. 
As BlackBerry started introducing more models with more price-friendly ranges, I bit. I bought. I quickly understood the "CrackBerry" moniker and why it was so true. 
The BlackBerry felt good to hold and good to use, especially for phone calls and emails and text messaging. Its legendary BlackBerry Messenger messaging program was ahead of its time. I actually enjoyed responding to emails using the phone because of that keyboard, which was crisp and efficient. 
Even when the iPhone came out in 2007, I resisted buying it — for more than a year. I realized that it was the most important phone yadayada ever yadayada to be released yadayada. Wary of hype and still enamored of the BlackBerry's keyboard, I clung to it like a savior — until I saw the writing on the screen. And it wasn't BlackBerry's.
By 2008, with the introduction of an Android phone by Google, and Apple's start of the App Store for the iPhone, real smartphone choice was finally available to consumers. And BlackBerry was looking a little tired, especially as the Web became more important on mobile.
For a few years, I carried both a BlackBerry and an iPhone. I wasn't alone; a small percentage of tech-obsessed types did the same thing for awhile. It was like hedging our bets; sticking with the trike while also testing out the bike with training wheels. The bike with training wheels quickly proved its value and ease of use over the trike, wheels or no wheels, keyboard or no keyboard.
While I continued to drag two phones around, it was painfully obvious which one I wasn't using very much, if at all, after a matter of months. The iPhone was the go-to device. The BlackBerry started irritating me when it came to checking websites on the go, its pokiness a problem that even its fine, rubbery keys couldn't outweigh. Then it got its final insult from me: I put it in a drawer that rarely got opened, then moved it to a box in the closet, where it remains today.
Even with BlackBerry's new operating system this year, and device redesign, it is too little too late. 
BlackBerry "ignored the market, they ignored their customers," Sharma said in an email. "The brutal smartphone market doesn't give too many second chances, especially after not reacting to the changing trends in a timely manner."
Brutal indeed. While I have felt guilty for casting the BlackBerry aside, I have not looked back. And you, dear BlackBerry users, will find yourself doing the same thing once you've pulled the BlackBerry's plug. You really can. And you really will.
Check out Technology and TODAY Tech on Facebook, and on Twitter, follow Suzanne Choney.