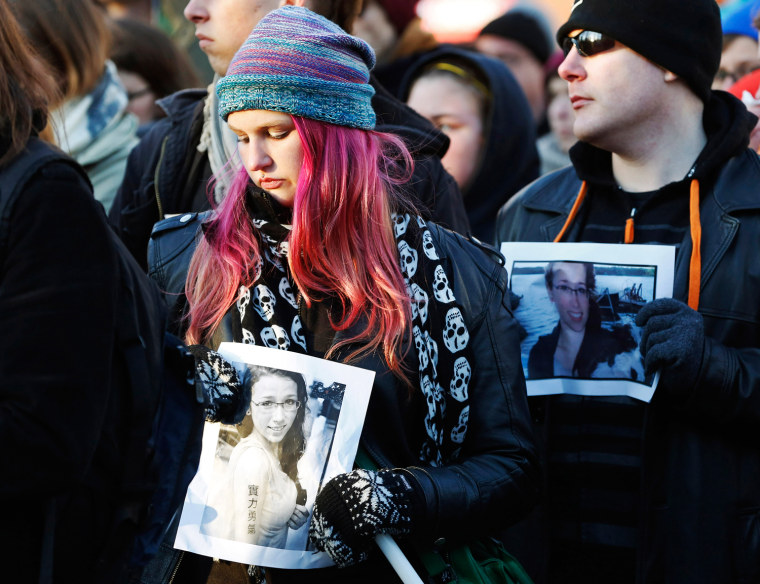 The 17-year-old victim of one of the most horrific cyberbullying incidents in the past year made news again almost six months after her death when her photo appeared in an online dating ad on Facebook. 
Canadian teenager Rehtaeh Parsons was reportedly gang-raped at a friend's house when she was 15. Photos of the alleged assault by teenage boys were shared on the Internet, spreading throughout her high school and town in the days after the event. This April, after several years had passed, Parsons attempted to take her life, ended up in a coma, and died when she was taken off life support.
Her father, Glen Canning, who blogged extensively about the years of suffering his daughter endured, drew attention to her photo in a third-party online dating ad in a post titled "Possibly the worst Facebook ad ever."

"I am completely bewildered and disgusted by this," he wrote. "This is my daughter, Rehtaeh. They have her in an ad for meeting singles. I don't even know what to say."  

"Find Love In Canada!" reads the ad, which Facebook has since removed. "Meet Canadian girls and women for friendship, dating or relationships! Signup now!" 
"This is an extremely unfortunate example of an advertiser scraping an image and using it in their ad campaign," a Facebook spokesperson said in a statement. "This is a gross violation of our ad policies," adding, "We apologize for any harm this has caused."

The online dating site's misuse of Parson's image is likely a coincidence, though an ugly one, given the widely shared photos of her alleged assault. Parsons, who was reportedly intoxicated at the time of the incident, said she remembered little of the encounter. The fallout of the resulting photos however, became unbearably stark. After receiving a barrage of texts and Facebook messages calling her "slut," blaming her for what happened and requesting sex, she finally told her parents. 
A year after the incident, the Royal Canadian Mounted Police closed the case, calling it a "he said, she said" incident, the family told CBC News. What's more, the photographs wouldn't be considered a criminal issue, even though Parsons was underage. 
The family moved to another town, but the harassment continued. "Every text, every negative thing she would read to me. It was hard," her mother, Leah Parson, told CBC News. "She tried and she kept trying."
Outrage following Parsons' death, and comparisons to similar cyberbullying related deaths, led the police to reopen the case. Currently two men involved in the incident are facing child pornography charges for distributing the images. 
There is little recourse for Parsons' family for her photo used in the online dating ad. After Facebook removed the ad and banned the third-party dating site, Parsons' father Canning told Canada's Globe and Mail, "I am happy with that but still very upset this happened."
Helen A.S. Popkin is Tech & Science Deputy Editor at NBC News Digital. You can find her on Facebook and Twitter.