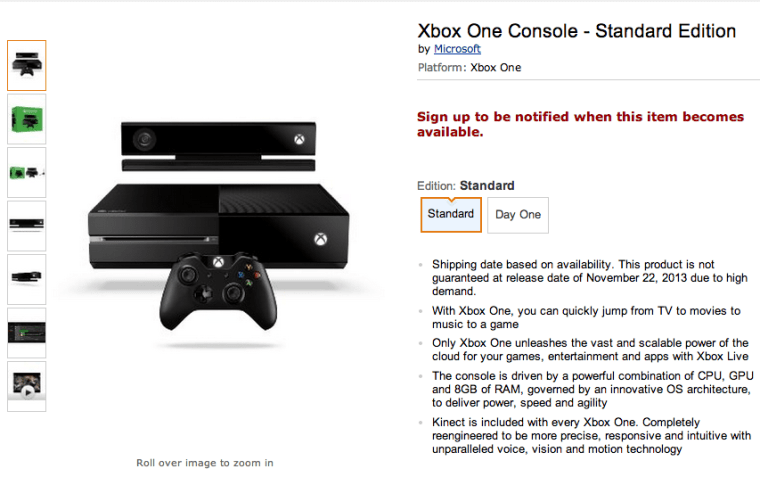 There are always a couple of gadgets that are in such high demand (or short supply) that, no matter how hard you try, you can't seem to nab in time for the holidays. This year, it's the PlayStation 4 and Xbox One, Sony's and Microsoft's next-generation video game consoles.
Both of the consoles launch later this month — the PlayStation 4 comes out Nov. 15, and the Xbox One arrives a week later on Nov. 22. If you missed all the next-gen furor and didn't pre-order yourself a console, what are your chances of getting one between launch and Christmas? Unless you want to try your luck — and your patience — by waiting at a brick-and-mortar store on launch day, you will not get a console, according to most major U.S. retailers and the console manufacturers themselves.
Pre-order units are now sold out at pretty much every major consumer electronic outlet including Walmart, Best Buy, Target and GameStop. Even the e-commerce giant Amazon, which was previously allowing customers to place orders for the two consoles even after it couldn't guarantee when, exactly, the orders would be shipped, has now stopped allowing people to place orders for either device.
"Reservations are currently closed for both the PS4 and the Xbox One and demand is high," Jackie Smith, a spokesperson for GameStop's corporate communications, told NBC News. "In fact, our 'first to know' mailing lists for next-generation consoles have more than 2.2 million subscribers!"
The case was pretty much the same when NBC News spoke to representatives from Target, Best Buy and Walmart. For eager fans willing to forego sleep in order to reserve themselves a last-minute spot on the list, Target spokesperson Erica Julkowski told NBC News that the company will make "limited quantities" of the PS4 and Xbox One available online at Target.com "in the early morning hours" of Nov. 15 and 22, respectively.
There's still hope
For the majority of hopeful gamers, however, it looks like waiting in line is the best bet. Representatives from Target, Best Buy, GameStop and Walmart all said that there will be additional PS4 and Xbox One units at specific retail locations beyond the amount pre-ordered and reserved for the store in question. How many extra consoles will be at which stores, however, is anyone's guess.
"We do have inventory for launch day," Sarah McKinney, a spokesperson for Walmart U.S., told NBC News. "It will be very select across our stores nationwide."
"There's nothing you can do to guarantee them right now," McKinney added.
Like other major retailers had been doing in preparation for launch, Walmart opened up an additional round of pre-order units for both consoles last week beginning on Tuesday. McKinney wouldn't specify exactly how many additional units were made available except to say that the number was "in the thousands." By Wednesday, the PlayStation 4 units were already sold out. The last Xbox One units, meanwhile, were snatched up over the weekend.
If you're dying for a new console — any new console — Nintendo assured us there will be "an ample supply of Wii U systems and games ... to meet the holiday demand" this year. But for gamers eager to get their hands on the newest consoles, both Sony and Microsoft told NBC News that they should expect shortages.
"Consumer reaction to PS4 has been phenomenal," Sony wrote in an emailed statement to NBC News. "Our retailer partners have combined for over 1 million pre-orders worldwide to date, so it's clear that people can't wait to get their hands on PS4. We will try our best to meet all demand needs, but it's very possible that demand will outstrip supply at launch."
Microsoft told NBC News that while the company "will be able to fulfill all official pre-orders and will have units available at retail" in the console's 13 launch markets on Nov. 22, it can't promise much after that.
"Based on early demand projections we are already anticipating that Xbox One will be sold out this holiday," a Microsoft spokesperson wrote in an emailed statement. "We are encouraging consumers interested in Xbox One to pre-order now or shop early as we anticipate selling every unit we deliver to retail this holiday."
Of course, the thing that Microsoft overlooks is the fact that even if Xbox fans wanted to, they couldn't pre-order the One at this point. For the gamers still angling for a place at the table this holiday season, it's looking more and more like there's only one option available: Get in line on launch day.
"Luckily our stores are open 24 hours," Walmart's McKinney said, "so you don't have to be waiting out in the cold!"
Just get there as early as humanly possible, or the wait might not be worth it.
Yannick LeJacq is a contributing writer for NBC News who has also covered technology and games for Kill Screen, The Wall Street Journal and The Atlantic. You can follow him on Twitter at @YannickLeJacq and reach him by email at: Yannick.LeJacq@nbcuni.com.