About two years ago, a 24-year-old woman went under a surgical knife for rhinoplasty — a nose job. In early 2013, when she happened to look at her plastic surgeon's new website, she saw a blast from the past: Her old nose. A legal complaint filed by the woman's attorney alleges that the surgeon posted "before" and "after" photographs of the woman's face on his website without her consent.
"[Plastic surgeons] are very excited about putting pre- and post- op photos on their websites," Bryan Swerling, the attorney representing the plaintiff, Catherine Manzione, points out to NBC News. Doctors with different specialties — he offers oncologists as an example — wouldn't do such a thing.
"[Plastic surgeons] show [potential patients] photos of other patients in their offices," Swerling said. "And what happens is, right before they have surgery, [patients] are generally confronted with a form [giving permissions for their photos to be used]."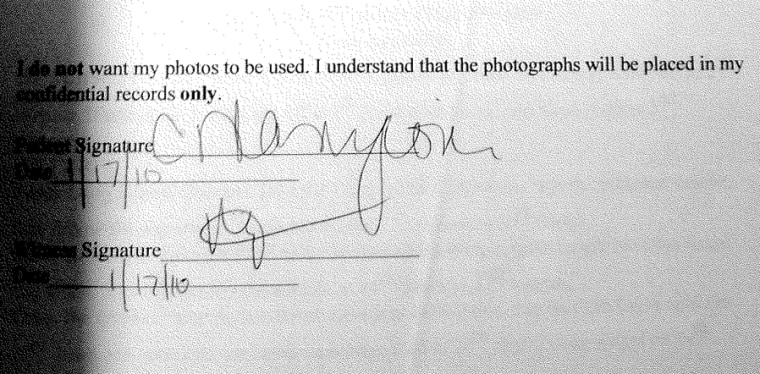 When Manizone was presented with such a form by Dr. Grigoriy Mashkevich, though, the woman specifically signed the section indicating that she did not give the doctor permission to use her pre- and post-op images, said Swerling. Nevertheless, Mashkevich used four photos — two pre- and two post-op — of Manzione on his website.
As a result, Manzione was "greatly distressed and humiliated ... exposed to public ridicule ... and greatly injured in her reputation," reads the complaint filed with the New York State Supreme Court.
Swerling said that, at one point, Mashkevich's staff contacted his client to apologize about the use of the photographs, claiming that they were posted due to a mistake made by a Web developer. "This is not a doctor releasing photographs, this is a doctor releasing medical records," Swerling reminds, pointing out that the Web developer had to be provided with those photographs by Mashkevich's staff in the first place.
Despite repeated calls to Mashkevich's office, NBC News has not been able to reach the doctor or his legal representation.
"Photographs may be protected health information (without any other identifying information) if they are 'full face' pictures or the equivalent," Rachel Seeger of the Health and Human Services Office for Civil Rights explained to NBC News, though she was not able to comment on this particular case.
The complaint filed by Swerling asks for $18 million in damages, but the attorney said that such an amount shouldn't be the subject of attention when it comes to this stage of the legal process. "When an attorney writes a complaint, he has to leave himself some wiggle room," he said. Some of the causes of action (and their associated damage claims) can be thrown out at some point, sometimes even leaving only one cause and a much less substantial amount.
Swerling said that he settled in a case similar to Manzione's in April. "An older woman" who'd had plastic surgery in the early '90s, when the use of pre- and post-op images on websites wasn't even addressed in the forms she signed, found her images — just as Manzione did — on her plastic surgeon's website later on. Swerling wasn't able to disclose what the settlement amount was, but the case dragged out for about a decade, he said.
Want more tech news or interesting links? You'll get plenty of both if you keep up with Rosa Golijan, the writer of this post, by following her on Twitter, subscribing to her Facebook posts, or circling her on Google+.