Around 9:30 on the night of May 1, 2011, an Air Force Predator that had been in the air for 18 hours began losing altitude, finally crashing near a U.S. base at Jalalabad, Afghanistan.
The soldiers who brought the craft back to camp had to cut off its wings so it would fit in their vehicles. Cause of crash? Engine failure, clogged oil filter.
Five years earlier, over American soil, a similar incident occurred. A Department of Homeland Security drone on a routine border patrol was destroyed after nosediving into hilly scrubland near Nogales, Ariz. Investigations revealed a number of causes: pilot errors, display failures, poor design.

Big drones actually crash a lot. Official statistics on large unmanned aerial vehicle (UAV) accident rates vary, but drones are 30 to 300 times more likely to crash than small civil aircrafts, according to one estimate. According to a 2005 Department of Defense report, every 100,000 flight hours saw 191 AAI Shadow UAVs destroyed or in need of drastic repairs, compared to just four manned F-16s.
Drones suffer from the usual aircraft mechanical and pilot failures, but they also grapple with uniquely drone-ish issues: They're harder to launch and land, and lost communication links pose a problem. But as drones spend more time aloft, operators and craft manufacturers have had a chance to find and iron out kinks in the machinery. Most drones today are of the larger military variety, but that'll change. In 2015, regulators will begin granting permits to a wider array of small drone operators in U.S. airspace. Fortunately, they'll have detailed obituaries of hundreds of lost UAVs to help inform their safety guidelines.
Why do they fail?
Because they don't carry a human life, drones are sometimes pushed harder than piloted planes. In one instance, a Reaper drone was running perilously low on fuel as it neared its destination, but controllers felt that the target was important enough to sacrifice a drone. So they kept going, Peter Singer, a senior fellow at the Brookings Institution told NBC News, citing a private Air Force briefing.
In another instance, a drone ran out of missiles. "But they really wanted the target, so they turned that system into a kamikaze," Singer said.
Like manned aircrafts, UAVs can run out of fuel or encounter mechanical failures, John Hansman, an aviation researcher at MIT, told NBC News. Though such problems aren't drone specific, they are significant — a DoD survey showed that 57 percent of accidents until 2005 were caused by flight control issues or engine or transmission problems.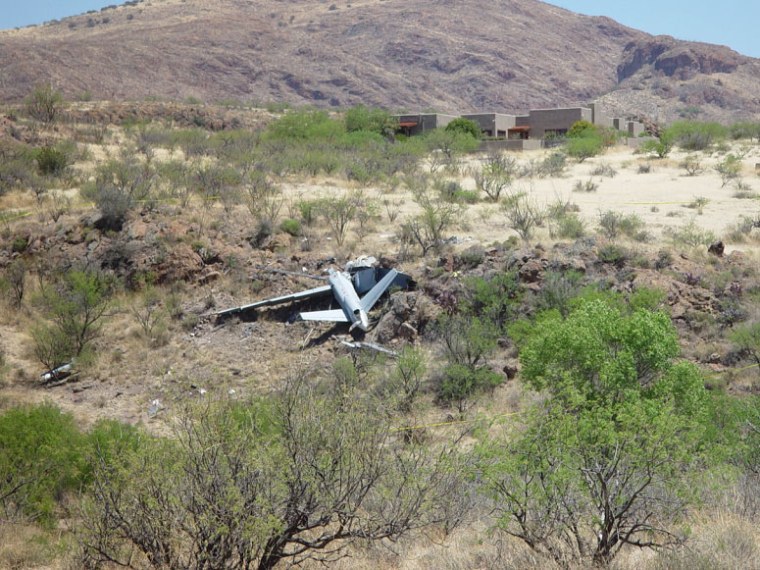 The same DoD survey said 14 percent of failures involved lost communication links. "Even if things move at the speed of light over fiber optics, there's still a delay," Singer told NBC News.
It's getting better
These days, takeoffs and landings are controlled by a local crew within sight of the craft, while in-air maneuvers are controlled by mission control at a base in the U.S. To help drone pilots, researchers like MIT's Missy Cummings and Raza Waraich are studying ways to develop control systems and environments in which drone operators can operate more efficiently.

The unmanned craft are getting smarter, too. AeroVironment's small military drones can return to their launch point or land at a safe spot if their communication link falls silent, company spokesman Steve Gatlin told NBC News.
A tall tree or hill can interrupt the link, so some AeroVironment drones are programmed to climb in altitude and reestablish that link. If General Atomics' Predator or Grey Eagle UAVs lose contact, they can navigate to different air space and try connecting again. If that doesn't work, the crafts navigate back to the operating base. The Grey Eagle can even land itself.
Air Force stats reflect these improvements. In 2005, for every 100,000 hours of flight time, 22 drones cost the Air Force $2 million or more (each!). By 2012, that number fell to 3.5 per 100,000-hour interval, Air Force Safety Center spokesperson Masao Doi told NBC News via email. According to General Atomics, the original Predator now encounters 8.5 mishaps every 100,000 flight hours.
What about smaller flying robots?
The military tends to fly big UAVs, but the drones that may soon dot the skies over local municipalities are smaller, weighing under 55 lbs. For now, safety data on civil drones is scarce, Gerald Dillingham, a civil aviation expert at the Government Accountability Office told NBC News.
In preparation for a more drone-friendly U.S. airspace, the Federal Aviation Administration is working with the DoD. They signed an agreement in 2011, in which the DoD agreed to share military drone data on safety with the civilian regulatory agency.
Meanwhile, the FAA has begun collecting accident reports from companies that apply to test their drones domestically, and will set up six test sites within the U.S. to help establish the airworthiness of smaller UAVs.
"It's still not black and white," Dillingham said about applying data from military crashes to civilian safety concerns. However, "I do still say that some information is a lot better than no information."

More on domestic drones: Anticipating domestic boom, colleges rev up drone piloting programs
Nidhi Subbaraman writes about technology and science. Follow her on Twitter and Google+.