It was getting dark, and the sheriff of Nelson County, N.D., was in a standoff with a family of suspected cattle rustlers. They were armed, and the last thing anybody wanted was a shoot out.
U.S. Customs and Border Protection, which monitors police radio chatter, offered to help. Their Predator was flying back to its roost at the Grand Forks Air Force base and could provide aerial support. Did the sheriff want the assist?
Yep.
"We were able to detect that one of the sons was sitting at the end of the driveway with a gun. We also knew that there were small children involved," Sheriff Kelly Janke told NBC News, remembering that tricky encounter in the early summer of 2011. "Someone would have gotten seriously injured if we had gone in on the farm that night." He decided to wait.
The next day, the drone gave them an edge again by helping them choose the safest moment to make a move. "We were able to surprise them … took them into custody," Janke said. They also collected six stolen cows.
Rodney Brossart, the arrested farmer, sued the state, in part because of the cop's use of a drone. But a district judge ruled that the Predator's service was not untoward.
When advocates express concern about government drones threatening people's privacy, the Brossart case is one they bring up. It's one of the first instances of a flying robot doing a cop's dirty work, and this kind of intervention is likely to be more and more commonplace, as the FAA fulfills a congressional mandate to increase its granting of drone permits — certificates of authorization, or COAs.
Cops and flying robots
At the moment, there are only 327 active COAs, all held by these organizations, and all for unarmed crafts, of course. A tiny sliver of these permits are in the hands of law enforcement agencies, and from them, we're seeing the first glimpses of drone use in policing and emergency response.
"The FAA has approved us to cover a 16-county area," Sheriff Bob Rost of Grand Forks County, N.D., said of their COA. "To look for missing children, to look for escaped criminals and in the case of emergencies." In the spring, they will use two mini-copter drones — a trusty DraganFlyer X6 and an AeroVironment Qube — to check on flooded farms.
The police department in Arlington, Texas, also recently got FAA clearance to fly their drones after two years of testing. The two battery-powered Leptron Avenger helicopter drones won't be used for high-speed chases or routine patrol, the department explains. In fact, the crafts will be driven in a truck to where they're needed, and when they're launched to scope out incidents, local air traffic control will be informed.
In Mesa County, Colo., the police department has used drones to find missing people, do an aerial landfill survey and help out firefighters at a burning church. For them, it's seen as a cost-cutting technology.
"It's the Wal-Mart version of what we'd normally get at Saks Fifth Avenue," said Benjamin Miller, who leads the drones program in Mesa County, comparing drones to manned helicopters that would otherwise give police officers help from the sky.
In Seattle, the police department received an FAA permit — but had to give back its drones when the mayor banned their use, following protests in October 2012.
Protests and red tape
"Hasn't anyone heard of George Orwell's '1984'?" the Seattle Times quoted a protester as saying. "This is the militarization of our streets and now the air above us."
Protesters, not just in Seattle, seek more legal definition of what a drone can or can't do, and debate whether or not current laws sufficiently protect citizens from unauthorized surveillance and other abuses.
New York City mayor Michael Bloomberg thinks of police drones as an inevitability — "We're going to have them," he recently said in a radio interview — while those on the police (and drone) side say the fears are unfounded.
"This hysteria of [a drone] hovering outside your backyard taking a video of you smoking a joint, it's just that — hysteria," said Al Frazier, an ex-cop from Los Angeles who is now an assistant professor of aeronautics at the University of North Dakota, and a deputy at the Grand Forks sheriff's office.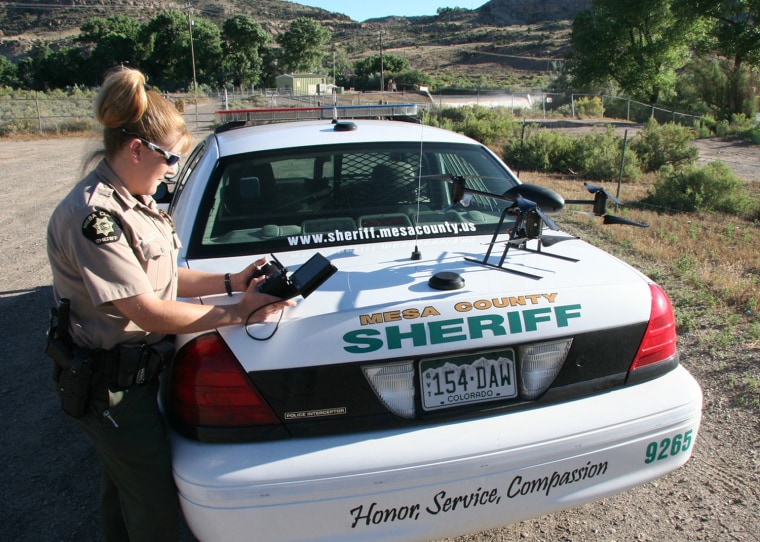 The reason the sky isn't lousy with drones already mostly has to do with red tape. The FAA's highly restricted drone application for government agencies is supposed to take about 60 days, though unofficially, we're told it's much longer. COAs are also very strict about where, when and by whom a drone is flown.
"I think there are many agencies who would like to use [drones] for public good, but they're stymied by the process," Frazier said.

That's likely to change — and soon. Last February, Obama signed a mandate that encourages the FAA to let civil and commercial drones join the airspace by 2015. This will take new regulations from the FAA for safe commercial drone flight, and it may take some convincing of local anti-drone activists (who sometimes don't differentiate between drones great and small). It may even require the passing of a few new privacy laws.
Folks like Frazier and Miller don't see the permit process getting easier any time soon but eventually — inevitably — and for better or worse, your local police department will get its drone.
Nidhi Subbaraman writes about technology and science. Follow her on Twitter and Google+.

Related:
The drones are coming ... but our laws aren't ready
Anticipating domestic boom, colleges rev up drone piloting programs