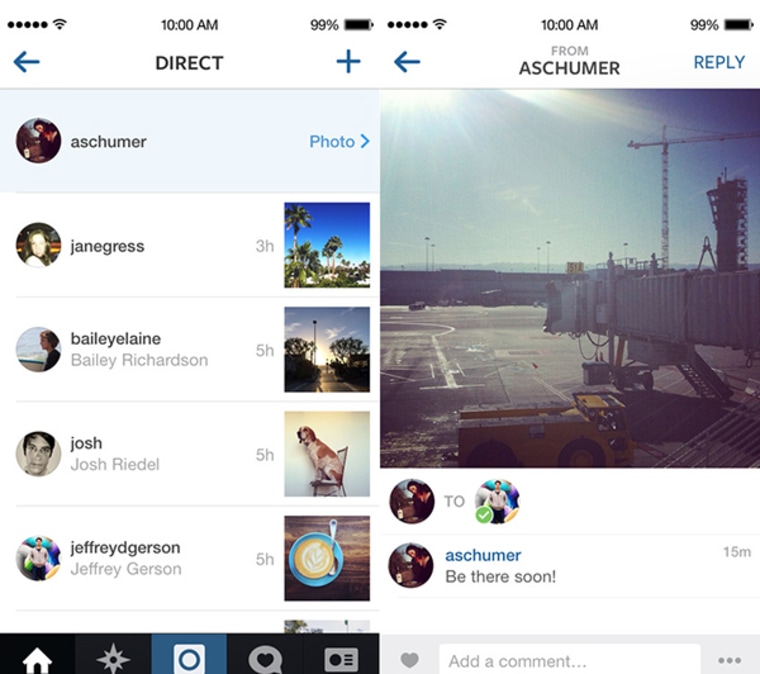 Watch out Snapchat. On Thursday, Instagram announced a brand-new private messaging system that lets users share photos and videos with their friends. 
Called Instagram Direct, the feature allows people to send photos back and forth along with written messages. Now, when you take a picture, you will have two options: Share with all of your "Followers" or up to 15 specific people with the "Direct" option.  
After updating the app, you will see an icon in the top right corner of your screen telling you whether or not someone has sent you a photo.
Instagram Direct will include some real-time features as well. Once someone views a photo, the sender will see a checkmark — something that will transform into a heart if the recipient "Likes" it. You will also be able to see people comment on private photos as the conversation happens. 
After being rebuffed by Snapchat despite a $3 billion offer, Facebook, which owns Instagram, appears to have made a major move in the private photo-sharing game. Snapchat also lets people share images with friends, although the pictures disappear after being viewed, making it popular with young people who want to share funny (or illicit) moments that won't make the rounds on social media. 
Unlike Snapchat, Instagram Direct won't let you draw or write messages directly on photos. Users will only be able to send private pictures to people they follow or to people who follow them. If you ignore someone's photo, you will never be bothered by that person again, although people with massive followings could see a mountain of unopened images sitting in their inbox.
The Instagram Direct update is available for iOS and Android now. 
Keith Wagstaff writes about technology for NBC News. He previously covered technology for TIME's Techland and wrote about politics as a staff writer at TheWeek.com. You can follow him on Twitter at @kwagstaff and reach him by email at: Keith.Wagstaff@nbcuni.com