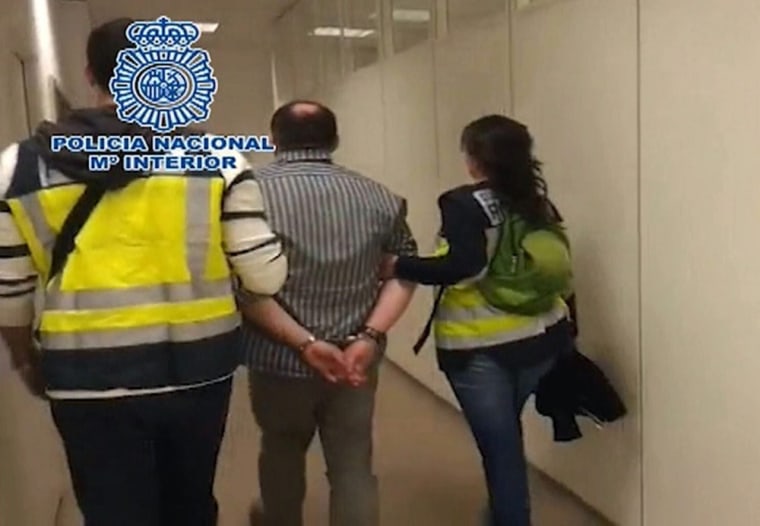 Liberty Reserve was the financial glue that held together a massive worldwide network of cybercriminals, but the network that enabled $6 billion to change hands has been ripped apart, U.S. prosecutors said Tuesday, leaving thousands of criminals wondering where the money is.
One of the world's most widely used digital currencies, Liberty Reserve was used as a secret money system for credit card thieves, identity thieves, Ponzi scheme peddlers, hackers for hire, child pornographers, even drug dealer websites, federal officials claim in an indictment unsealed Tuesday in Manhattan federal court. The virtual money system allowed perhaps a million criminals to anonymously move money around the world.
The scope of the crime is "staggering," federal officials allege in the indictment: Liberty Reserve had a million users and serviced 55 million transactions since 2006. Some are calling this the largest money laundering prosecution in history.
"(Liberty Reserve is) a criminal business venture...designed to help criminals conduct illegal transactions and launder the proceeds," the unusually colorful indictment says. "(It was) a financial hub of the cyber-crime world."
The founder of Liberty Reserve, Arthur Budovsky, is now in custody in Spain, while co-founder Vladimir Kats was arrested in Brooklyn; other men named in the indictment are still at large around the world. The Liberty Reserve website now reads simply: "This domain name has been seized by the U.S. Global Illicit Financial Team."  Meanwhile, alleged criminals with "deposits" at Liberty Reserve already are screaming on other websites that their money has been unfairly seized.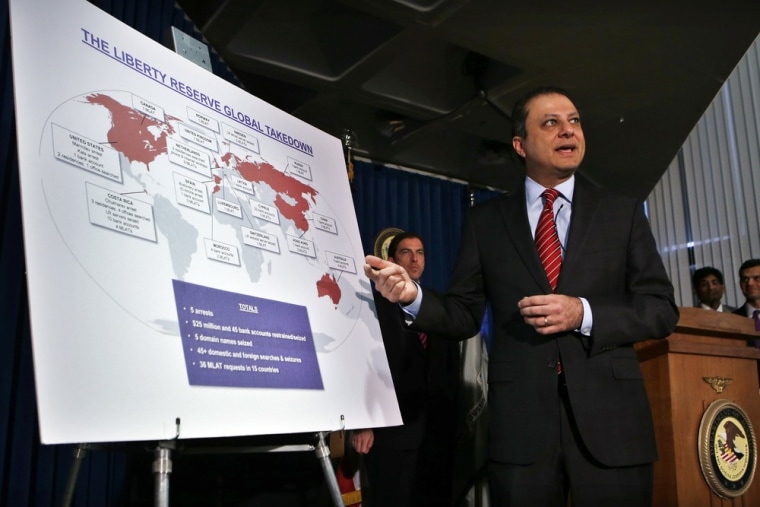 "The only liberty that Liberty Reserve gave many of its users was the freedom to commit crimes," said U.S. Attorney Preet Bharara. "The global enforcement action we announce today is an important step towards reining in the 'Wild West' of illicit Internet banking. As crime goes increasingly global, the long arm of the law has to get even longer."
Account holders at Liberty Reserve, which was founded in Costa Rica in 2006, were not required to provide proof of their identity when opening an account. Essentially, anyone with an e-mail address could begin moving money within the Liberty Reserve system, making the transactions untraceable and attractive to cybercriminals. 
Criminals had so much faith in the anonymity of the system that some used obvious fake names like "Russia Hackers" or "Hacker Account," the indictment says. 
Liberty made handsome profits by providing the service, charging a 1 percent fee for each transaction, plus an additional 75 cent "privacy fee," according to court documents.
Budovsky has been accused before of facilitating crime through an electronic financial network. He operated a so-called "exchanger" called Gold Age, which was part of the ill-fated eGold system, shuttered in 2009 after concerns about fraud. Exchangers give account holders a chance to convert virtual money into real, or vice versa. Budovsky was indicted in 2006, with federal officials alleging at the time he had illegally transmitted $30 million through Gold Age. While serving probation, he left the U.S. for Costa Rica, and founded Liberty Reserve.
Liberty Reserve also relied on a series of exchangers; no account holder could do business directly with Liberty, adding another layer of anonymity for users. The exchangers were located in Malaysia, Russia, Nigeria, and Vietnam, according to the indictment. But users didn't have to rely on the exchangers to profit. Customers could swap Liberty Reserve currency with each other; the virtual currency was also accepted by some electronic merchants, such as websites where visitors could "shop" for stolen credit card numbers to purchase.
When Costa Rican officials began expressing concern that Liberty Reserve could be used for money laundering, the firm set up a website that allegedly allowed state banking officials to review transactions in real-time. But it was a ploy: the data used for the site was fake, however, U.S. officials say.
By 2009, Costa Rican officials began seizing some Liberty Reserve assets, grabbing $19 million before the rest of the funds were moved to places like Spain and Hong Kong, and the main operations were shifted to Cyprus, where the service continued operation until this weekend.
Cybercrime expert Brian Krebs, who reported on the demise of Liberty Reserve on his blog on Saturday, said Liberty Reserve users are horrified by the potential loss of the money in their accounts. One told him he stood to lose $25,000. Others seemed in denial that the site had been shut down by government investigators.
"Only update this thread with positive news," wrote one. "Only thing I want to hear is LR will be back soon."
Cyber-criminals have other ways to exchange money, but Krebs said Liberty Reserve was probably the most accepted form of payment in the computer underground. It's shuttering could disrupt electronic criminal activity, but Krebs said other virtual money systems will probably pick up the slack.