As the strife in Egypt continues, Twitter is testing out a translation service that lets users worldwide read the tweets of high-profile Egyptians in the users' own languages.
"Watching Egypt? We've included some highly followed accounts in the region in our Tweet text translation experiment," read a post that appeared Wednesday on the official Twitter for News page. The post added that the experiment will "allow you to see Tweets translated on user profiles, in your timeline and in search."
For more than a year, the Twitter has been testing translation software in general, and is currently using Microsoft's Bing Translator for the service. The Egypt tweets translation is Twitter's most high-profile translation effort so far.
It's still too soon to know how reliable the service is. If you want to try another means, Movement.org is one site that has suggestions, including using Google Translate and other browser extensions and scripts that can also do Twitter translation.
As of Friday, Twitter listed 63 prominent Egyptians, including ousted Egyptian president Mohammed Morsi, and organizations with interests there as part of its @Egypt2013 page. If you would like to try this out, go to the page and follow the person or group you're interested in.
Once those tweets are in your feed, they will still be in Arabic. Hover your mouse over the tweet, though, and to the right of the person's name, you'll see a hyperlink for "View Translation." Click that, and the tweet will appear in English.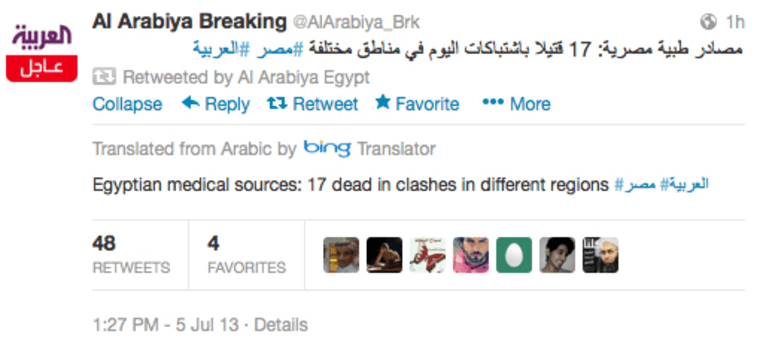 Check out Technology and TODAY Tech on Facebook, and on Twitter, follow Suzanne Choney.