A run-of-the-mill LinkedIn user agreement update has revealed that the professional networking site has been an unwilling host to the world's oldest profession.
On Monday — as part of what a LinkedIn representative described as a standard simplification to its policies — the site added this eye-catching clause to the section titled "Don't undertake the following":
Even if it is legal where you are located, create profiles or provide content that promotes escort services or prostitution.
Prostitution, legal or not, has never been allowed on LinkedIn, Hani Durzy, LinkedIn's director of corporate communications, told NBC News. Describing the salacious attention brought by the staid social network's terms revision as "a baffling non-story," Durzy emphasized that nothing at LinkedIn has changed. "We took the opportunity to make it clear that local laws are not relevant to what we will or won't allow."
Attention leads to curiosity, however. And whether or not it's permitted by law or by LinkedIn user agreement, promotions for prostitution and escort services are indeed visible on LinkedIn. At least they were before Tuesday's media onslaught.

NBC News used obvious keywords to quickly find dozens of listings for escort services in the United States and United Kingdom, along with plenty of questionable entries for "sensual massage" and sex-themed "independent entertainment professionals." Not all the listings were even thinly veiled, either. We also found "courtesans" and "working girls" proclaiming their employment at legal brothels operating in the U.S.
For example, Sonja Bandolik described herself on LinkedIn as a "courtesan at Dovetail Ranch Brothel," which she told NBC News is a bit out-of-date. (She's currently madam at the Alien Cathouse near "Area 51.") "There's no place for judgment in my bedroom," reads her profile, which offers a link to her "sex menu" at an outside website.
As LinkedIn's rules now clarify, even legal prostitution violates the user agreement.

This is news to Dennis Hof, owner of several legal Nevada brothels, including the infamous Moonlite Bunny Ranch, and LinkedIn member since 2012. "What's the problem? We have a license to do this," said Hof, whose employees also have LinkedIn accounts. "Our business is as legal as theirs. We're the good guys. We have no reason to be knocked off."
Hof, who says he's the highest taxpayer in Lyon County, relies on social media — and publicity — to spread the word about his business, since advertising prostitution in Nevada is illegal, even where prostitution is not.
"LinkedIn needs to realize they don't need to filter out legal businesses in America," he said. "These are businesswomen, and some of them are making mid-six-figure incomes." Hof hopes LinkedIn doesn't try to remove his account, or the accounts of his employees.
"If it's OK to do that, is it OK to drop Dairy Queen too because it serves too much fat and calories? Is LinkedIn going to be the moral arbiter, and drop Coca-Cola or anybody who works for a cigarette company? Where do you stop with that?"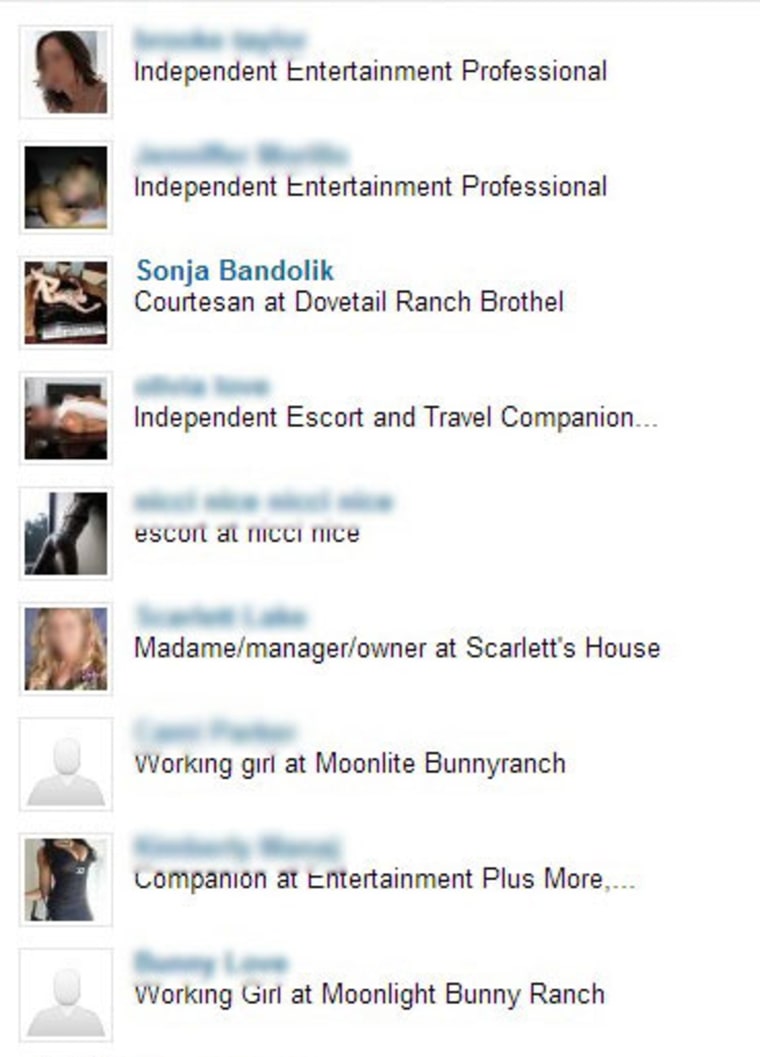 Exactly how LinkedIn identifies and deals with users who violate LinkedIn's terms of service — and whether the terms update would be followed by an active purge — isn't something Durzy was willing to share with NBC News.
"We have 225 million members, and we get billions of page views every quarter. There's lots of activity happening on the site. Like most social networks and platforms, we rely on our community bringing things to our attention," he said, adding that employees also comb the site for egregious activity.
"I'm not saying we're going to do a purge, though we very well may," he said. "In a nutshell, as we become aware of profiles that violate our policies we will take the appropriate actions. Does that mean shutting them down on day one? Or giving our members the benefit of the doubt, and telling them that's a violation and you've got change it? There is no hard and fast rule. We take the appropriate action as necessary."
When NBC News did a spot check later in the day, we observed that LinkedIn may have begun a process of making self-proclaimed prostitutes harder to find, or even removing them from the site altogether.
"In the last 12 hours, we've been made aware through the news cycle of various profiles and some actions may have been taken against profiles that violate our policies," Durzy said when NBC News asked about the missing profiles, but he wouldn't specify how many profiles had been removed. "That's policy in action."
Helen A.S. Popkin is Deputy Technology & Science editor for NBCNews.com and TODAY. Follow her on Twitter and Facebook.