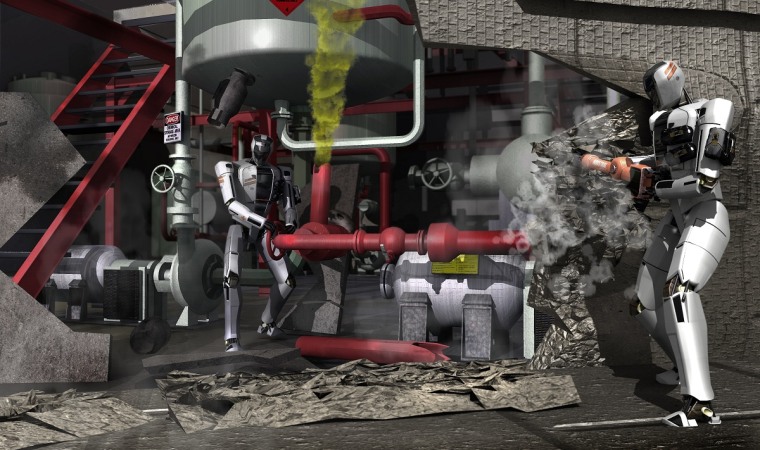 If, in a few years, a tsunami cripples a nuclear reactor akin to the Fukushima disaster in Japan, human-like robots with super-human capabilities may be sent to the rescue. At least, that's the goal of a challenge put out by the Pentagon's futuristic research arm scheduled to kick off in earnest next month.
The DARPA Robotics Challenge will get underway with the announcement of contract awards in October. Funded and unfunded teams will first pit their bots against each other in a virtual competition scheduled for 2013 to test robot software. Actual real-world competitions are scheduled for December 2013 and 2014.

For now, speculation is increasing as to what sorts of robots and computer algorithms we'll likely see that are able to achieve the program's goal of operating in dangerous, human-engineered environments using tools and equipment that were designed for humans.
For example, the robots will need the smarts and dexterity to drive a vehicle such as a fire truck; run on rough, sloped terrain with loose dirt and rocks; move material such as a fallen tree limb to enter a doorway; climb a ladder; break through concrete; find and fix a leaky pipe; and replace a cooling pump.
One obvious contender is the headless humanoid robot Petman from Boston Dynamics that was seen earlier this year racing up stairs, running on a treadmill and doing pushups. In fact, a modified version of Petman will be given to some teams in the competition as a platform for their software.
Other robots up to the challenge may include those under development by Dennis Hong and colleagues at Virginia Tech, such as the firefighting humanoid SAFFiR developed in partnership with the Office of Naval Research.
While these robots, and the robotics challenge, are intended to help save humans in disaster situations, their abilities and the challenge's backer does raise an eyebrow about their use on the battlefield as well.
"I'm not naive," Virginia Tech's Hong told the Daily Beast. "Robots for me are tools to help society. I don't weaponize them. But once a technology leaves our lab, there's no way to control how people can use it."
— via Daily Beast 
John Roach is a contributing writer for NBC News Digital. To learn more about him, check out his website. For more of our Future of Technology series, watch the featured video below.