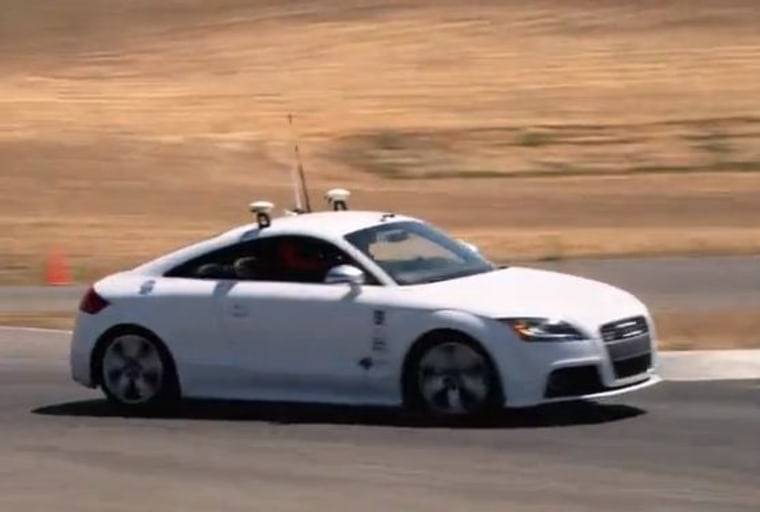 Robot chauffeurs of the future will be safer drivers thanks to their predecessor being run through the paces on a twisty California racetrack.
The self-driving car, an Audi TTS code named Shelly, recently topped 120 miles per hour and completed the 3-mile Thunderhill Raceway course in less than 2 minutes and 30 seconds.

While that's a few seconds slower than the best human drivers, the tests suggest the algorithms that tell the car when to brake, accelerate and how to steer are on the right track to make all cars safer.
The car is the product of a collaboration between Chris Gerdes' Dynamic Design Lab at Stanford University and the Volkswagen Electronics Research Lab.
This research may ultimately lead to fully autonomous cars that do all the driving, freeing us to text away as we cruise down the road.
In the shorter term, the findings could aid on onboard co-pilot technology that, for example, helps drivers navigate icy roads.
The math involved in getting a spinning wheel to grip the pavement is very similar to recovering from a slide on a patch of ice, the Stanford engineers explain. 
To further improve the performance of the car, the team will outfit two professional drivers racing on the track August 17-19 with biological sensors, including scalp electrodes, to figure out which maneuvers require the most brain power.
The biological data will be paired with mechanical performance data from the car – a 1966 Ford GT40 – which Stanford has kitted out with feedback sensors similar to those on Shelley.
"We need to know what the best drivers do that makes them so successful," Gerdes said in a news release. "If we can pair that with the vehicle dynamics data, we can better use the car's capabilities."
For more information, check out the video below.
John Roach is a contributing writer for NBC News Digital. To learn more about him, check out his website. For more of our Future of Technology series, watch the featured video below.