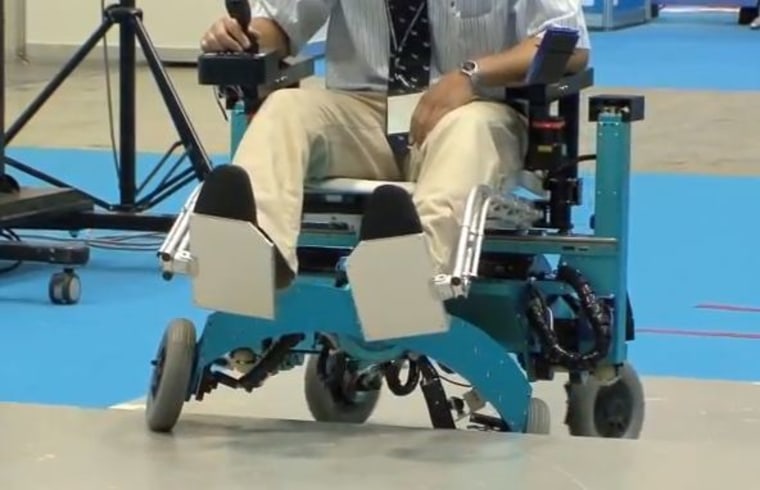 A robotic wheelchair with wheels that behave like legs can step onto curbs and up short flights of stairs. The technology could be revolutionary for people with limited mobility.
The wheelchair is under development at Chiba Institute of Technology in Japan. It looks like a typical wheelchair that rolls along on four wheels, but when it reaches a step, a suite of sensors assesses the obstacle, adjusts the chair accordingly and maneuvers its wheels like legs to get over the hurdle.
When moving on uneven ground, such as a bumpy lawn en route to meet friends for a picnic, the robot controls the seat to keep it level.
The chair also has a few other tricks, including the ability to line all its wheels and stabilizers up in a straight line in order to pivot in a tight circle. This comes in handy when a person needs to turn around in a tight hallway, for example.
For now, the wheelchair robot is exclusively a concept prototype. Going forward, the team plans to try out the chair with a variety of users and fine tune it for market, DigInfo TV reported. 
The video news website demonstrates the technology in the video clip below. Check it out.
The stair-climbing technology adds to a list of innovative wheelchairs, including the Tank Chair, an off-road wheelchair that makes getting around in the great outdoors easy and fun. 
And to make sure the ability to drive these chairs is open to as many users as possible, researchers at the Georgia Institute of Technology are working on a system that would control a wheelchair using just your tongue. 
 – via The Verge, DigInfo TV 
John Roach is a contributing writer for NBC News Digital. To learn more about him, check out his website. For more of our Future of Technology series, watch the featured video below.