The future of mass transit will come with sweeping views, private cars, and schedule-free travel if a proposed gondola-based system takes off from sketchpads at a design firm, which stands a shot at occurring in fast-growing Texas.
Gondolas are enclosed cabins that dangle from moving wires. They are commonly used to transport skiers and snowboarders up mountains and tourists around amusement parks. Michael McDaniel and his colleagues at  Frog, an international design firm, believe the ski lifts can improve transit in big cities.
"Just given that the technology was developed for traversing extremes in elevation, it actually makes itself very handy for navigating through the urban fabric," McDaniel told NBC News.
Construction costs for gondolas range between $3 million and $12 million per mile compared to $35 million per mile for surface rail, $132 million per mile for elevated rail and $400 million per mile for subways, according to Frog's calculations.
In addition, the cabins are always moving through the station. If passengers want a private car for themselves and their friends, they can wait a few seconds for an empty one. Gondolas also eliminate the need for riders to plan their day around a bus or train schedule.
"They are getting the same freedom that they would have with their own automobile but without the burden or complexity of having an automobile," McDaniel said. A hub-and-spoke design would permit a main line to circle an urban core and shoot out individual lines to more distant neighborhoods.
He and colleague Jared Ficklin came up with the concept while looking at a century-old photograph of their office building in downtown Austin, Texas. Rail tracks crisscross the intersection in front of the building. Today, the city plans to re-lay tracks for an expanded light rail system.
The designers saw irony in the fact that the future of their city's transportation was a recreation of what existed during their grandparents' childhood. There had to be a better way, they thought. 
Ficklin drew inspiration from his ski-bumming days in Colorado, where resorts such as Telluride now use chair lifts to move people around town in addition to up the slopes. Why not extend the concept to bigger cities?
To find out if the idea was feasible, the designers used it as a training exercise for junior designers at their firm. "About halfway through the research, we started looking at what we were discovering and were like, 'Wow this actually seems kind of feasible,' " McDaniel said.
He presented the concept, called the Wire, at a design conference in San Francisco in November 2012. An article about the presentation caught the eye of Alan McGraw, the mayor of Round Rock, Texas, an Austin suburb. He is on a transportation planning committee for the greater Austin area.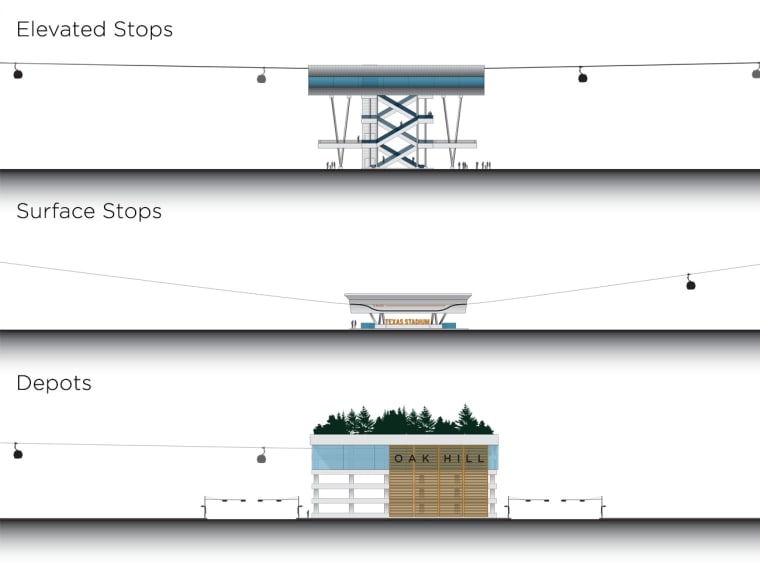 McGraw went to Frog's offices and met with the designers. He was impressed with the presentation and drawings, which show, for example, transit stations located in the top floors of skyscrapers and parking garages.
What's more, since most of the infrastructure is overhead, real estate costs and right-of-way issues are minimized. "You are going over all of your problems, literally," McGraw told NBC News.
McGraw, who is a skier himself, said he had often wondered why overhead ski-lift-like transportation systems were absent from cities.
"When I bring it up, people just laugh and then they just kind of move on," McGraw said. Dig a little deeper, though, and "it goes from giggles to 'Okay, why not?' " he added.
Some potential marks against the concept include unknown operation and maintenance costs, which could eat up the savings gained from the lower construction costs. 
In addition, the fastest gondolas move no more than 15 miles per hour. That's fine for dense urban cores in places such as New York City, but less than ideal for covering the wide open spaces of Texas.
"It is not the answer to all of the problems," McGraw said, but a gondola system is a potential piece to the transportation puzzle and worth considering, which he and his committee have begun to do. 
"From communication to the automobile, we are innovating," he said. "We are trying to make things work better and more efficiently. Well, why aren't we doing that with mass transportation as well?"
John Roach is a contributing writer for NBC News Digital. To learn more about him, check out his website. For more of our Future of Technology series, watch the featured video below.