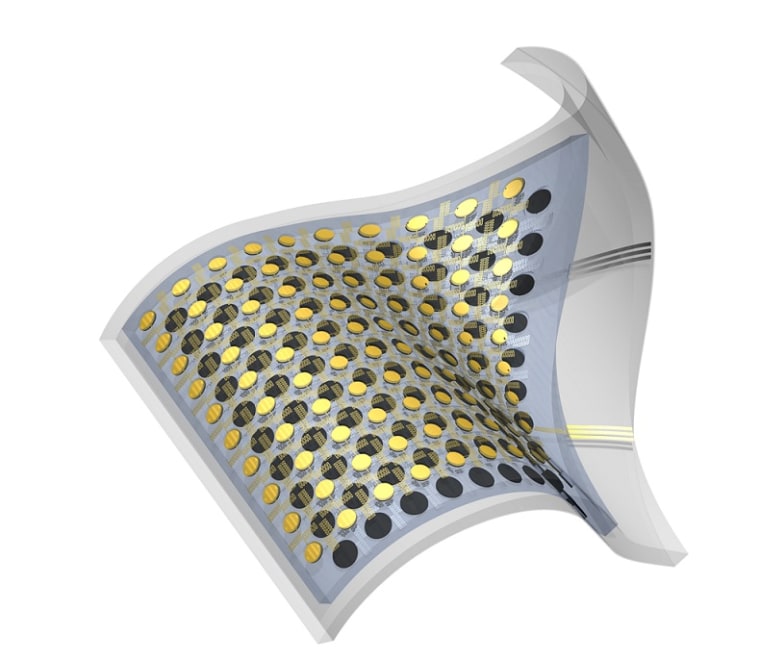 The next frontier in electronics are the flexible, stretchable kind. Yes, that means a rubber, bouncy smartphone (eventually), but it also means heart monitors threaded into cardiac tissue. For devices like that to work, they require flexible, stretchable batteries. And such batteries are here, according to researchers who just published their work.
Yonggang Huang, an engineer at Northwestern University, created the battery with materials wizard John Rogers at the University of Illinois, who received the $500,000 Lemelson-MIT Prize in 2011 for his work on flexible electronics designed for integration with the human body.
How much give and take does the invention allow? "We can stretch the device a great deal — up to about 300 percent — and still have a working battery," Huang noted. (Please don't try that with your smartphone's battery.)
"Such stretchable batteries enable true integration with stretchable electronics in a small package," Huang told NBC News in an email.
The background of the research team means that medical applications will be primarily targeted, but there are other applications for bendy batteries such as wearable solar cells and electric-eye cameras that make studio-quality photographs.

The flexible lithium-ion battery reported today in the journal Nature Communications completes the flexible electronics package with a cordless power source. When the battery runs out of juice after about eight hours, it is recharged wirelessly.

To make the battery, the researchers start with tiny, individual, rigid battery storage components arranged next to each other. The bendy and stretchy characteristics stem from tightly packed, wavy wires that connect these components.
"When we stretch the battery, the wavy interconnects unravels, much like yarn unspooling, while the storage components almost keep undeformed, because of their much larger rigidity than the interconnects" Huang explained.
The breakthrough was demonstrated with a light emitting diode that continues to work when stretched, folded and twisted on a human elbow. It continued to work well through 20 recharge cycles.
John Roach is a contributing writer for NBC News. To learn more about him, check out his website. For more of our Future of Technology series, watch the featured video below.