At a press conference in Santa Monica, Calif. Thursday, Amazon CEO Jeff Bezos revealed a slightly upgraded $159 version of the first 7-inch tablet, then wowed the crowd with 7-inch and 8.9 inch versions of the all-new Kindle Fire HD. 
Read our live coverage of Amazon's press event here
The entry level Fire will cost just $159, a $40 price drop from the first. Meanwhile, Amazon says it delivers 40 percent faster performance and longer battery life, with a faster processor and twice the RAM. You can order it today, and it ships Sept. 14.
But the bigger deal is Kindle Fire HD, which comes in two sizes, a 7-inch version for $199 (also available Sept. 14), and a 8.9-inch edition for $299 (available Nov. 20), each starting with 16GB of internal storage.
If you feel like spending more, there will be a $499 version of the 8.9-inch Kindle Fire HD that will run on a 4G LTE cellular data network, and come with a $50-per-year data plan that gives you 250MB of data access per month. It will have 32GB of storage.
Kindle 'Paperwhite' e-reader has higher resolution
The specs
The 8.9-inch model has 1920 x 1200 resolution with a dense 254 pixels per inch (just shy of the current iPad's 264 ppi). It's 8.8mm thick and weighs 20 ounces. (For comparison's sake, the iPad is 9.4mm thick, and 23 ounces, but it does have a slightly larger screen, measuring 9.7 inches in diagonal.)

Keen observers may note that Amazon went in Apple's direction with screen dimensions. Instead of going with a 16x9 ratio, which would only permit a 1920 x 1080 resolution, they went a little fatter, for a more pleasant portrait view, with those extra pixels.
The screen resolution on the 7-inch HD is 1280 x 800. This qualifies as "HD" because it will deliver 720p video natively, and it will look great on that smaller screen. The original 7-inch Kindle Fire display is 1024 x 600, so it's a healthy bump up from a screen that was already pretty easy on the eyes.
The Kindle Fire HD tablets get a new email app, a custom Facebook app, and a Skype app for video chatting. Which means, yes, the Kindle Fire HD tablets have a front-facing camera.
Bezos says that with dual-band Wi-Fi and stereo speakers, plus a powerful Texas Instruments OMAP 4 processor and a reduced-glare screen that is easier to see in sunlight, the tablets should give competitors such as the iPad and the Google Nexus 7 tablet a run for their money.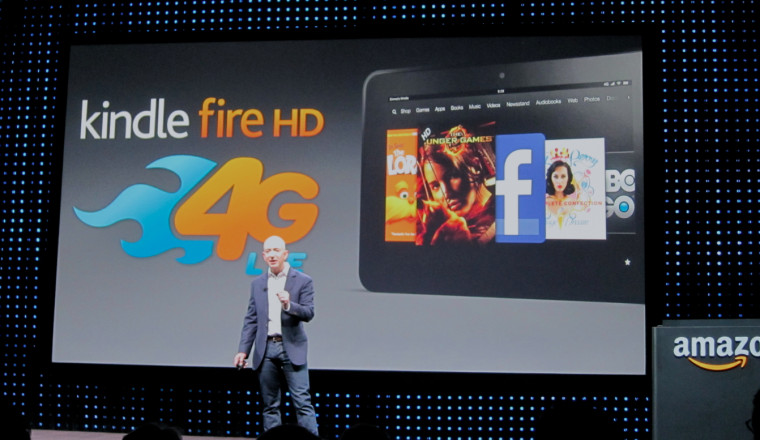 The standout $499 version, equipped with 4G LTE, may prove to be a solid value. It's not confirmed that the carrier is AT&T, though the logo matches the one AT&T uses. And though you may balk at only getting 250MB of cellular data per month, even on a plan that costs you just $50 per year, bear this in mind: Not only will you use your tablet mostly in Wi-Fi situations, but the deal itself comes with 20GB of Amazon cloud storage and a $10 Amazon Appstore credit. Just something to mull over.
The features
Rather than run through the long list of new Fire HD features Bezos revealed, I thought I'd just show you this video highlighting them all:

Wilson Rothman is the Technology & Science editor at NBC News Digital. Catch up with him on Twitter at @wjrothman, and join our conversation on Facebook.