Apple CEO Tim Cook took to the stage along with SVP of Worldwide Marketing Phil Schiller Wednesday at the Moscone Center in San Francisco, to announce the iPhone 5, a new iPod Nano, a new iPod Touch and new iTunes software. Here are the juicy details.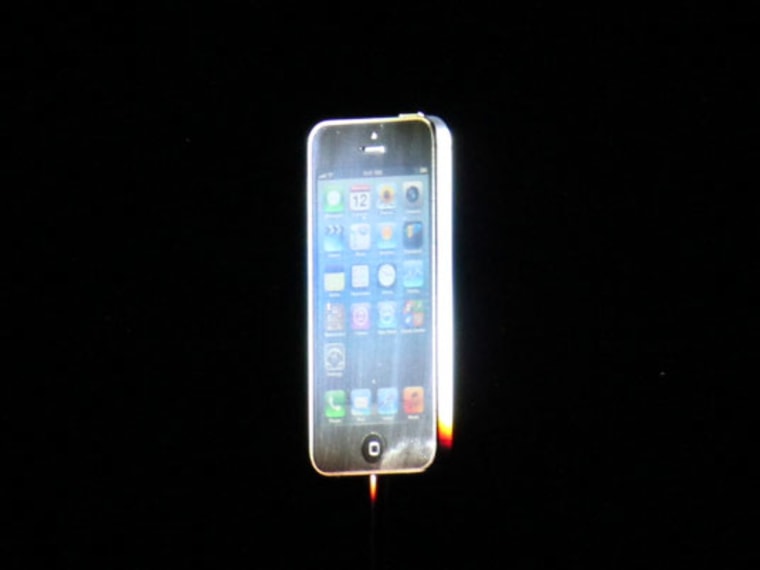 Made from aluminum and glass, at 112 grams, the iPhone 5 is 20 percent lighter than the iPhone 4S. Thinner too: at 7.6mm it's 18 percent thinner. As the rumors suggested, it looks like a taller version of the iPhone 4S.
You can pre-order the iPhone 5 on Sept. 14. On Sept. 21, it will be available. The iPhone 5 price is same as the old 4S, so in the U.S., $199 to $399, depending on the memory. The iPhone 4 8GB is now free with contract, and the 4S is $99. 
The 1136x640-pixel screen is more saturated, and the sensors in it are integrated right into the screen, for better viewing. It's now longer, matching the 16x9 rectangular dimensions of a high-def movie. Older apps run at the same size as they did in the previous iPhone, centered in place.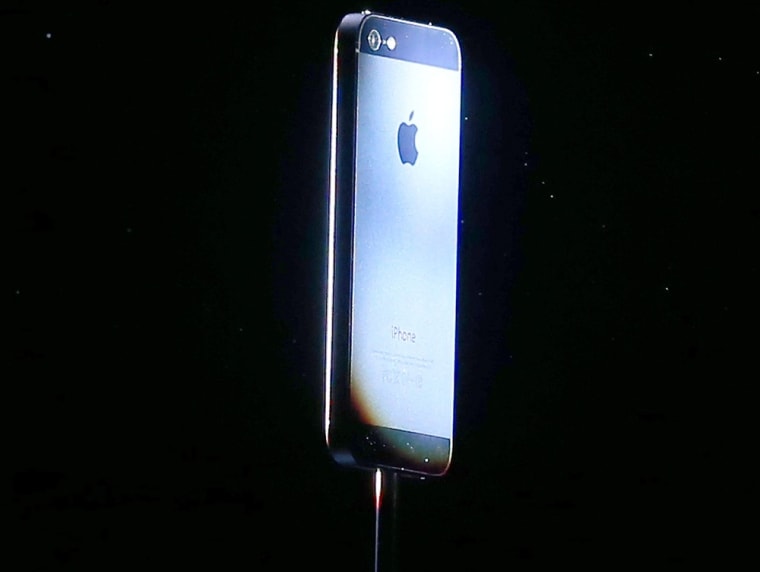 There is LTE cellular data connectivity, as predicted. It's a single chip that can deliver, theoretically, up to 100 megabits per second. (Generally, for now Verizon delivers 15 or so in ideal situations, so expect that.) AT&T, Verizon and Sprint will all support the LTE data link.
RELATED: Hands-on impressions and photos of the all-new new iPhone 5
There's a brand new chip: the Apple A6 chip. Twice as fast in CPU and graphics performance. You get 1.5 to 2 times better performances launching Pages, saving images in iPhoto, and loading music. 
Battery life is better than the iPhone 4S, says Schiller. You can expect 8 hours of 3G talk and browsing; 8 hours LTE browsing; 10 hours of Wi-Fi browsing and 10 hours of video. There will be 225 hours of standby. How many days is that? 9 and change?
The camera is similar in specs to the 4S — 8 megapixel, f/2.4 aperture — but made it smaller, and leveraged the processor to jack up the performance. There's a Panorama app that smart-stitches together beautiful, huge pictures.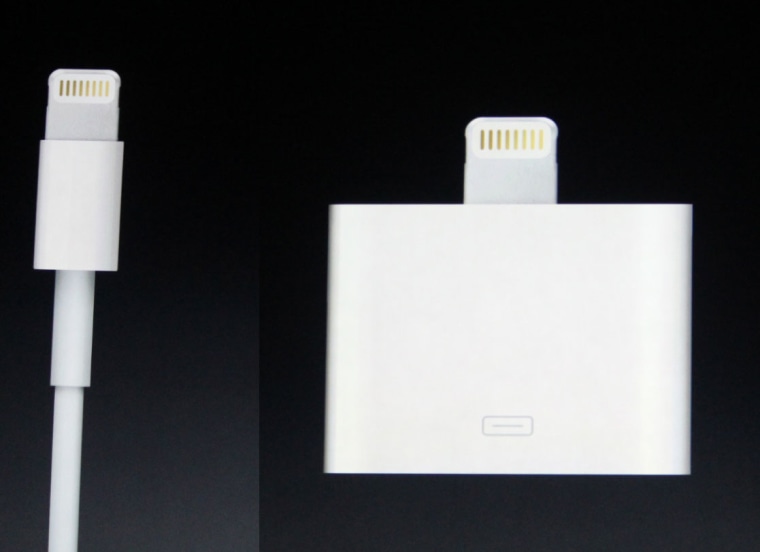 There's 1080p HD video on the main camera, like before, but now the front camera can do 720p. Schiller mentions that FaceTime will now work over cellular (but check with your carrier about that).

Audio-wise, Apple added some natural sound enhancements and better noise canceling in the audio system.
Apple is ditching the 30-pin connector introduced in 2003. The new connector is the Lightning, an all-digital "8-signal" design. It's way more durable, and 80 percent smaller. There will be a 30-pin-to-Lightning adapter available, so you don't have to ditch your old car charger. 

(Here's Apple's press release on the iPhone 5.)
An EA exec introduced "Real Racing 3" a game with such realistic detail, you can actually see what's in your rear-view mirror. It has a cool feature called time-shifted multiplayer, where you race, and someone else can race against you later. It's coming out "later this year."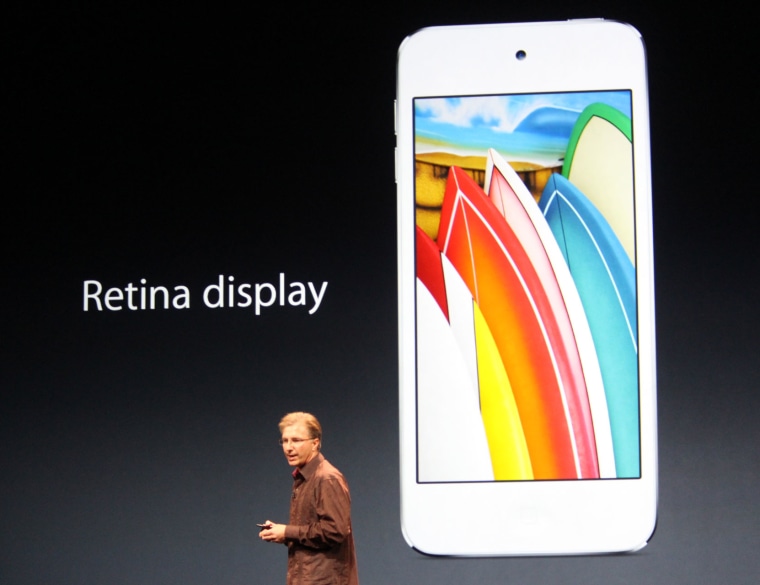 New iPods
Apple also introduced a new iPod Nano and new iPod Touch.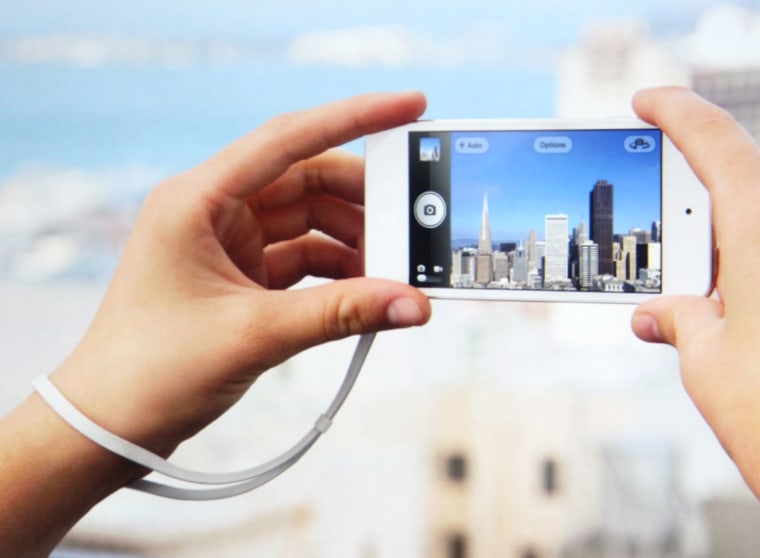 The Touch is 6mm thin and weighs 88 grams. It's got a 5-megapixel camera with f2.4 aperture and LED flash. There's 1080p video. It has the A5 chip that was in last year's iPhone, and gets the same 4-inch Retina display that's in the brand-new iPhone 5.
The Touch will come in gray, black, blue, yellow, red, each with a cute little color-coordinated wrist strap.

Best of all, the new Touch will get Siri.
RELATED: Hands-on photos and impressions of the all-new iPods
The Nano is 5mm thin, 38 percent thinner than older nano, and it's taller with nice big screen. It has new home screen and comes in seven colors: gray, black, purple, green, turquoise, yellow, red. There's no camera, but there's Nike+, Bluetooth and widescreen video. Battery life will be 30 hours.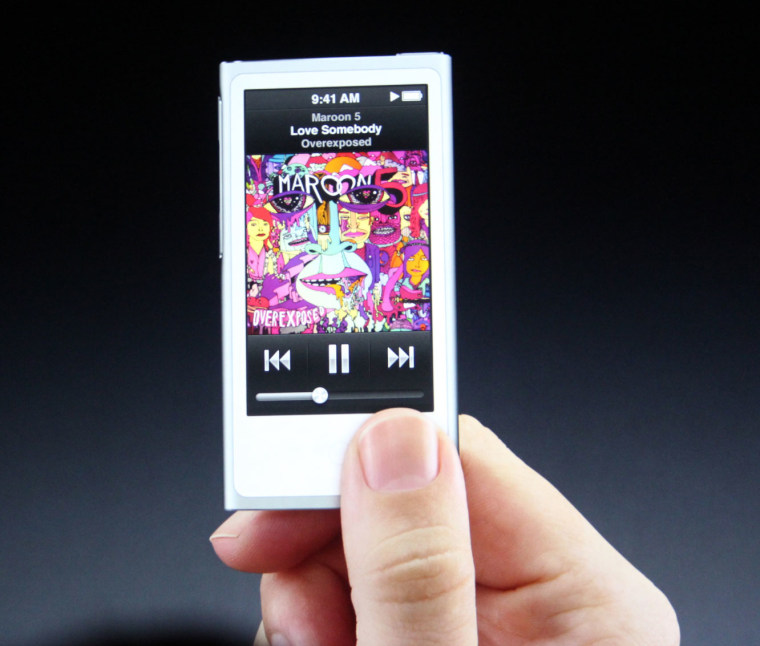 The new devices will come with EarPods, a newly redesigned white earbud. They're built for better comfort and improved sound. The bar was pretty low with the previous earbuds, but hopefully they really get somewhere. The EarPods will also sell separately, starting today.
(Here's Apple's press release on the new iPods.)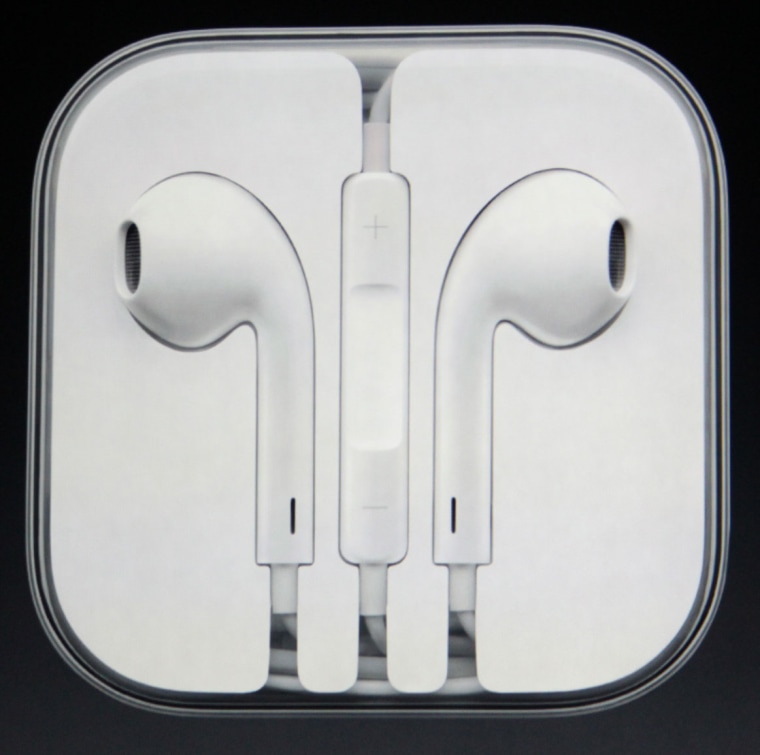 iOS 6
Apple's Software EVP Scott Forstall hit the stage to demo the new features of iOS 6, but it isn't anything we didn't learn about previously at the WWDC event last June. You can get a recap of iOS6 here. iOS 6 will be available for free download on Sept. 19, and will be compatible with iPhone 4S, iPhone 4, iPhone 3GS, the new iPad, the iPad 2 and iPod Touch 4th Gen. (Of course, the iPhone 5 ships with it, so no need for the upgrade.)

Read a full rundown of iOS 6 features here.
iTunes
iTunes is another big revamp of the day. You get more control of your music, by queuing up songs more easily, and by searching for stuff, even from an all-new mini-player. There's a redesigned iTunes store for both iOS and Mac. We've got more details on the iTunes announcements here.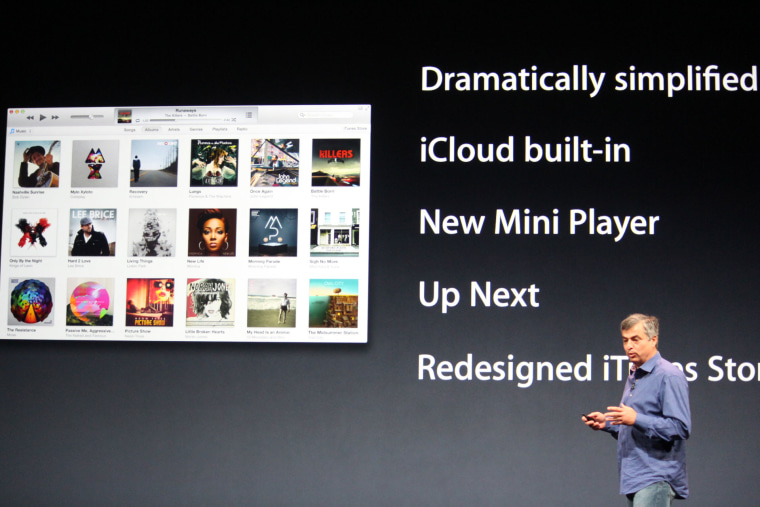 (Here's Apple's press release on the new iTunes.)
Cook kicked off the event, as he often does, discussing retail. Particularly, the launch of Apple's Barcelona store.
"We've had a very busy summer for the Mac," says Cook, discussing the sales of new Macs, including the MacBook Pro with Retina display. Apple is Number 1 in laptop market share in the U.S., he says. The Mac has outpaced PC growth for the past six years.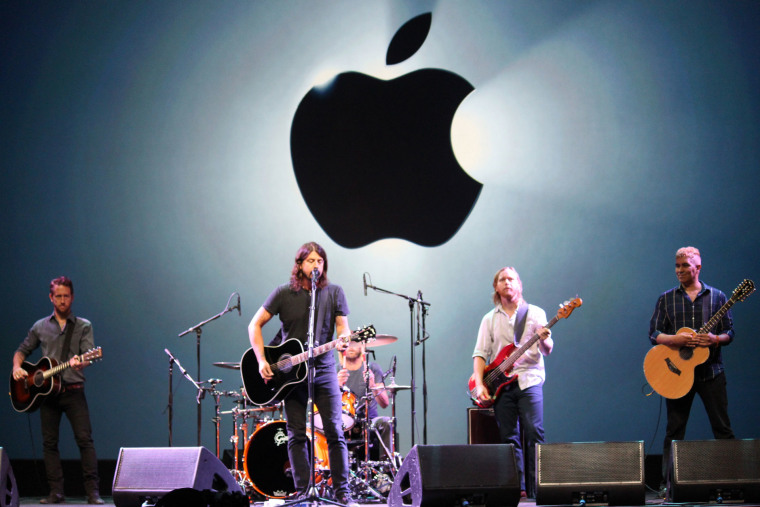 As for the iPad, "We sold more iPads than any PC maker sold of their whole PC line," says Cook. That's 84 million units to date.
There are now 700,000 total apps in the App Store, including 250,000 tailored for iPad. And the total number of iOS devices sold? 400 million.
The event concluded with a performance by the Foo Fighters.
Earlier: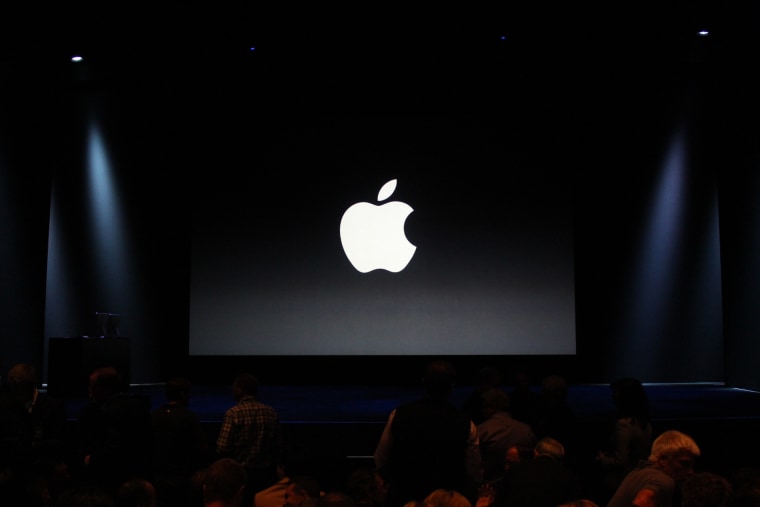 We're here at San Francisco's Moscone Center to witness Apple unveil a new iPhone — what we expect to be the first new design for the iPhone in nearly two and a half years. Will it be called the iPhone 5? Will it be a slightly elongated version of the current iPhone 4S? Or will it look completely different? We'll soon find out who wins in this epic battle of leaks vs. Apple secrecy.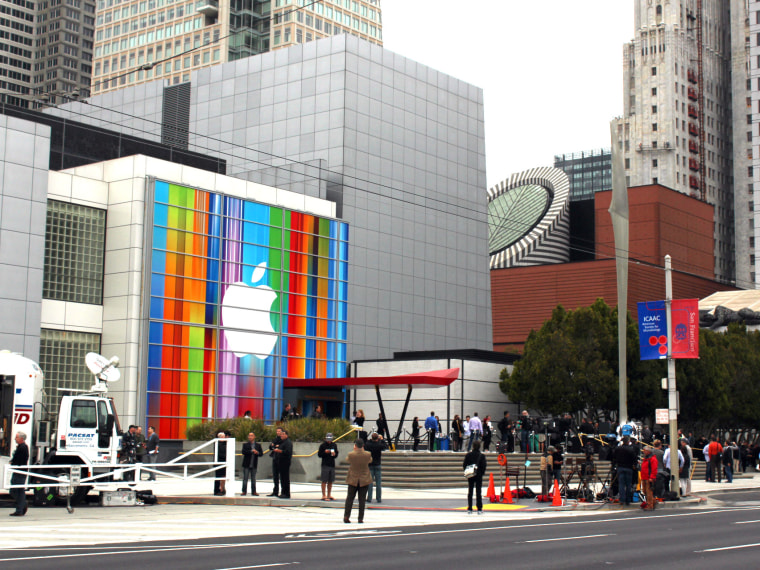 What else will Apple have in store? The best bet is on some new iPods, and perhaps a revamped iTunes and App Store experience. Apple will no doubt also walk us through many features of iCloud and iOS 6 that will become available in the coming weeks. (According to the best rumors, a mini iPad will see daylight in October, not now.)
I'll be inside the event, covering it live here in this story, and with real-time news nuggets on Twitter at @wjrothman. Follow me and keep refreshing this page for the news you've been craving.
Wilson Rothman is the Technology & Science editor at NBC News Digital. Catch up with him on Twitter at @wjrothman, and join our conversation on Facebook.