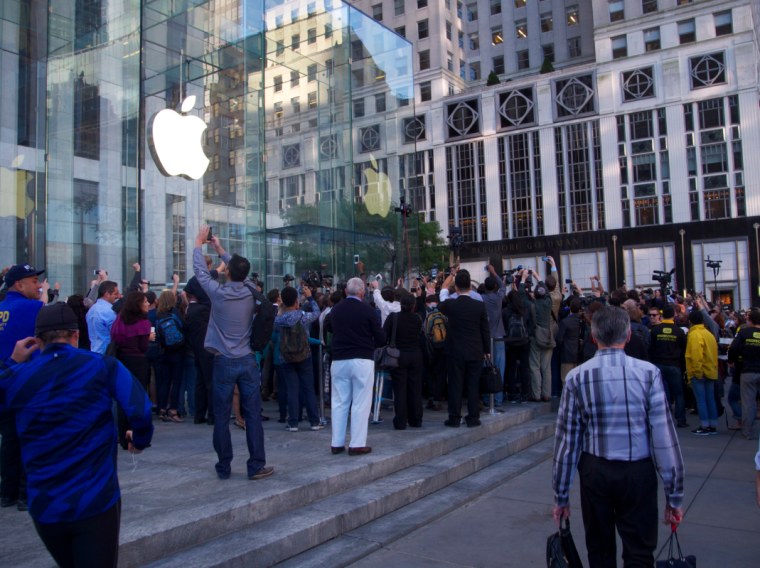 The iPhone 5 started shipping (and hitting store shelves) on Friday, Sept. 21. According to Apple, the company has sold more than five million of the new iPhone model in the three days since its debut.

"We are working hard to get an iPhone 5 into the hands of every customer who wants one as quickly as possible," Apple CEO Tim Cook said in a press release from the Cupertino-based company. "While we have sold out of our initial supply, stores continue to receive iPhone 5 shipments regularly and customers can continue to order online and receive an estimated delivery date. We appreciate everyone's patience and are working hard to build enough iPhone 5s for everyone."

Folks who try to order an iPhone 5 at this point will find that the device won't ship for three to four weeks, but based on calls to a random selection of Apple's own stores as well as several carriers' retail locations, there still appears to be a small amount of stock in the brick-and-mortar shops. (And as Cook said, stores are regularly receiving additional shipments of devices.)
If you are in a rush to get an iPhone 5, we suggest that you lace up your boots and pound the pavement. As Verizon Wireless spokeswoman Brenda Raney points out, you should not only get to a store early (in hopes of snagging a device from a recent product replenishment), but also strategize as to which store you will visit.

"Select a store away from the center of the city or places where commuters and shoppers congregate," she told NBC News. "A stand-alone store on the outskirts of town may be a better bet than the one in a mall.

In case you somehow missed all the excitement about the device, let's review the basics about the iPhone 5, the latest generation of Apple's popular smartphone. In appearance, it is similar to the iPhone 4S, its predecessor, though it has a 4-inch display (rather than a 3.5-inch display) and is a bit thinner. The iPhone 5 offers 4G LTE connectivity (meaning users will see faster data speeds), improved battery life, a faster processor, and a lighter body. 
Out of the box, the new smartphone will run iOS 6, the latest version of Apple's mobile operating system, which means that it will have an improved version of Siri, a new app called Passbook (which will store boarding passes, discount cards, and similar items), and about 200 other new features. 
Much to the dismay of many, the new operating system does not offer a Google-powered Maps app, but instead uses Apple's own creation (which is not earning much praise so far).
In better news, the iPhone 5 is considered to be "easier than ever" to repair, much to the relief of those who live in constant fear of dropping their iPhones and damaging the devices.
Want more tech news or interesting links? You'll get plenty of both if you keep up with Rosa Golijan, the writer of this post, by following her on Twitter, subscribing to her Facebook posts, or circling her on Google+.