We have found our way to San Jose, to see what Apple meant when it said, "We've got a little more to show you." Apple CEO Tim Cook took to the stage and presided over an event that launched a super slim new iMac, a 13-inch MacBook Pro with Retina display, a Mac Mini ... and two new iPads.
The fourth-generation iPad is an update to this spring's third-generation iPad with a Retina display, featuring a faster chip, the A6X  — delivering faster performance. "I can't see the competition in the rear view mirror," says senior vice president of worldwide marketing, Phil Schiller, who came on stage to show off all the new hardware.
There's improved Wi-Fi and, of course, a Lightning connector. The fourth-generation iPad (don't call it an iPad 4!) will cost the same amount as the current one. (No word on whether or not the third-generation iPad will be offered at discount, mind you.) This the first time, at least in recent memory, that Apple updated a core product twice in the same year.
But the bigger deal during this event was the smaller iPad, the iPad Mini. It's 0.68 lbs, and as thin as a pencil (7.2 millimeters).
Apple seems to want to explain the iPad Mini's 7.9-inch screen, in part because it's not a "Retina" display. It's a 1024 x 768 pixel resolution display, the same resolution as the iPad 2, so all apps look good and work. How does that compare to the 7-inch Android tablets, particularly Google's Nexus 7, though? With a diagonal screen of 7.9 inches, that translates to a huge total surface area advantage: 21.9 square inches for the competitor, versus 29.6 square inches on the iPad Mini.
The iPad Mini has an Apple A5 chip, FaceTime HD front-facing camera, a 5MP iSight camera on the back, LTE cellular wireless capabilities (in some models), speedy 802.11 A/B/G/N Wi-Fi, and, of course, a Lightning connector.
It's got 10 hours of battery life, just like fourth-generation iPad.
The iPad Mini will start shipping Nov. 2 (for the Wi-Fi only version), and will cost $329 and up. The LTE-enabled model will ship two weeks later. (See the above pic for all the prices.) You can pre-order the iPad Mini starting on Friday, along with the fourth-generation iPad.
As far as the rest of Apple's announcements on Tuesday go, the first news of the event was a new version of iBooks, with continuous reading, language support for Japanese and Chinese, and pages synchronized across iCloud, so that — as with Amazon's Whispersync — your place is saved no matter what device you're on. You can download the new iBooks today.
After iBooks, Schiller started his stage revue by revealing a 13-inch MacBook Pro with Retina display: It's got 4 million pixels, four times the pixels of its predecessor. To put that into perspective, consider that the average HDTV has a 1920 x 1080 pixel resolution. This means that the new MacBook Pro has almost double the pixels of an HDTV.
The 13-inch MacBook Pro with Retina display is .75 inches thick and weighs 3.5 lbs. — much more slender than the older model. There's no optical disc drive, of course.
The base configuration, which you can order today, costs $1699, and comes with a Core i5 dual-core processor, 256GB of memory and 8GB of RAM. You can custom order it with a storage array of up to 768GB of flash memory, and an Intel Ivy Bridge Core i7 processor.
Schiller also introduced a new Mac Mini with a neat removable bottom. A base configuration with a 2.5GHz dual-core i5 processor starts at $599, and a server model is available for $999.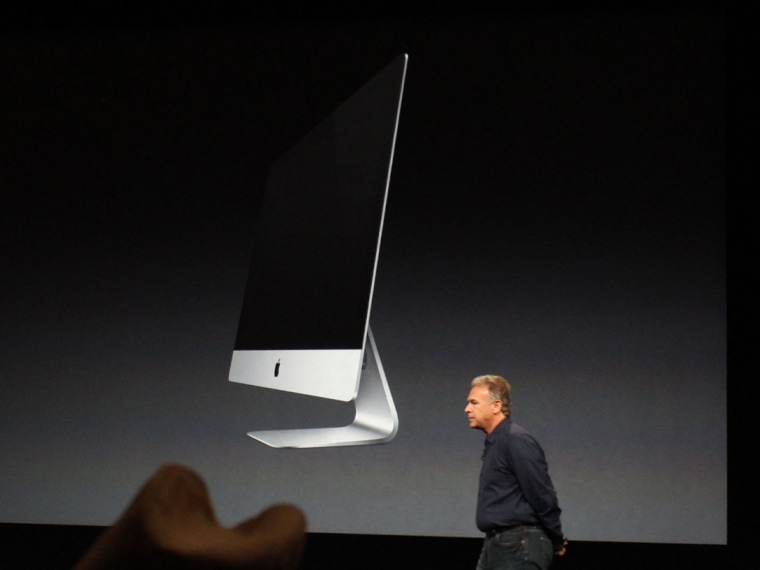 The star of the Mac show was the next-generation iMac, however. It's incredibly thin.
Apple got it so much thinner by laminating the display to the glass. It comes in two sizes: A 27-inch model with a 2560 x 1440 screen and a 21.5-inch version with a 1920 x 1080 screen. Schiller says there's 75 percent less reflection than on the previous generation, and from what I can tell after using a MacBook Pro with Retina display, that sounds about right.
This new iMac is 8 pounds lighter than its predecessor. Still, it's got all the jacks and speakers and cameras you'd expect.
The key under-the-hood feature is the "Fusion Drive," a hybrid drive that has 128GB of Flash memory, integrated with a 1 or 3TB magnetic drive. The hybrid drive is coded into OS X, so that your file management is speedy, delivering "nearly the performance of flash," says Schiller.
The base configuration of the new iMac is $1299, and you get a 2.7GHz processor, 8GB of RAM and regular 1TB drive. There's no optical drive on any configurations, just an add-on accessory. 
As usual, Cook started off the Apple event by recapping sales of all Apple products. There was a video of the iPhone 5 sales launch, naming it the fastest-selling phone in history. Next was a recap of iPod sales — over 3 million of the new ones sold already.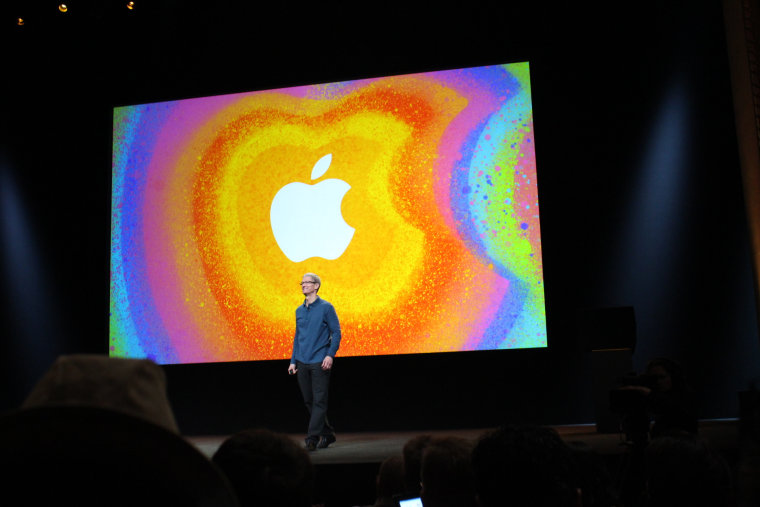 On to software, where Cook mentioned that iMessages have been sent 300 million times, at a rate of 28,000 per second. 35 billion apps have been downloaded from Apple App Store, and there are 275,000 titles in there that are just for iPad. Developers have made $6.5 billion from selling wares in the App Store. 
You can check out Apple's video recap of Tuesday's event, but pay attention to the system requirements.
Wilson Rothman is the Technology & Science editor at NBC News Digital. Catch up with him on Twitter at @wjrothman, and join our conversation on Facebook.