A British artist has created a pair of shoes that, like Dorothy's ruby slippers in "The Wizard of Oz," take you home with a click of the heels. But unlike Dorothy, you'll still have to walk — while the shoes point the way with GPS and a clever LED array.
"The Wizard of Oz" was actually the inspiration for Dominic Wilcox's project; he was commissioned by the Northamptonshire-based Global Footprint arts program to create a pair of shoes, a nod to the area's shoe-making history. He decided to create a pair of shoes that could get you home, or to any destination you choose, from anywhere.
Wilcox collaborated with another artist and a Northamptonshire shoemaker to produce what he calls the "No Place Like Home" shoes. A GPS receiver lives in the heel of the left shoe, with its antenna protruding out the back in the form of a tag. You activate it by clicking your heels, and it tracks your progress by satellite, giving directions through LEDs embedded in the shoes' tips.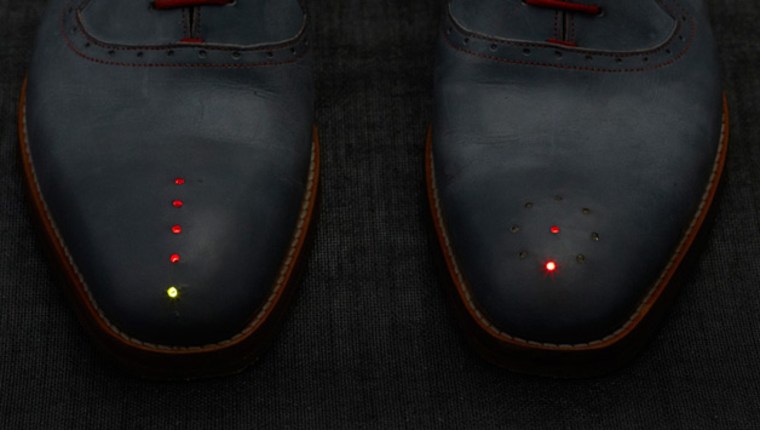 On the left tip is a circle of LEDs, one of which will light up to indicate the direction you should be going. A central LED shows a successful GPS connection. The distance to travel is shown on the right tip, with LEDs lighting up from front to back as you approach your destination.
It may be an art project and there's only one pair (and fine Oxfords at that), so it may not be the most practical invention. But it's not hard to imagine a similar, more everyday pair of shoes for children or navigationally-challenged adults and seniors — something they're unlikely to lose,  that will always point them homeward, and which can be tracked on a map as well.
The No Place Like Home shoes are currently on display in London. A short video showing the creation process and Wilcox putting the shoes to use can be viewed here.
Devin Coldewey is a contributing writer for NBC News Digital. His personal website is coldewey.cc.