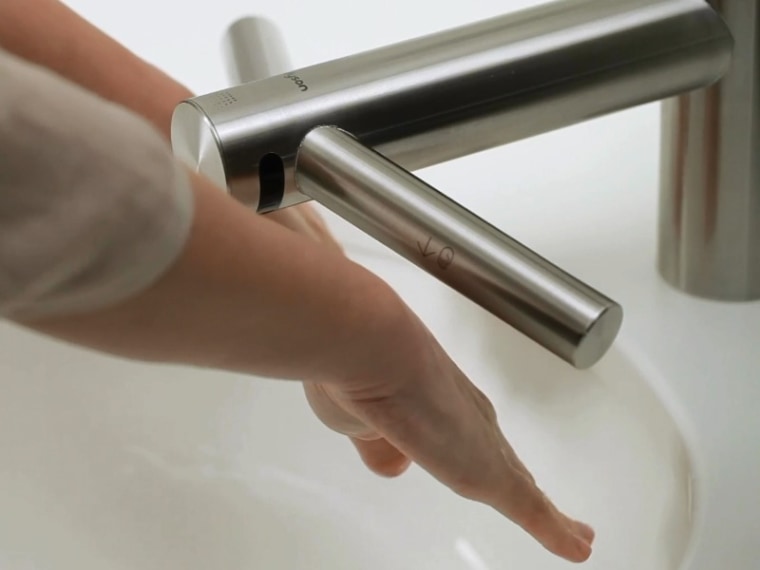 Dyson continues its streak of unlikely innovation in the world of hand-dryers with the Airblade Tap, which allows you to wash your hands and dry them without leaving the sink.
It may seem strange at first to focus so much engineering prowess on the question of how to best dry people's hands, but it's not a trivial problem: Paper towels are effective but wasteful, and other air dryers can be unhygienic, and power hogs to boot.
Dyson's latest device aims to solve all those problems — as well as that of having to carry your drippy hands over to the dryer, leaving the floor wet and slippery (and a haven for germs).
It's called the Airblade Tap, and it's essentially the well-known air-jet hand dryer built right into a faucet. You put your hands under the tap and it turns on automatically, then when you're ready to dry, you simply put your hands under the tubes that project outward, and the air starts blasting out.
The excess water is fired into the sink, which is much better than having it fly all over the floor or collecting it inside the dryer. And there's no need to touch anything throughout the whole process. With an estimated yearly running cost of $48, it should pay for itself in savings over paper towels in a few years.
Dyson also added a compact new wall unit to its line of hand dryers, and updated the existing Airblade with the motor they developed for the Tap. Expect these fancy new sinks to start popping up in hotels, airports, and other public places later this year — there's no US pricing yet, but the Tap will sell in the UK for £999, or around $1500.
Devin Coldewey is a contributing writer for NBC News Digital. His personal website is coldewey.cc.