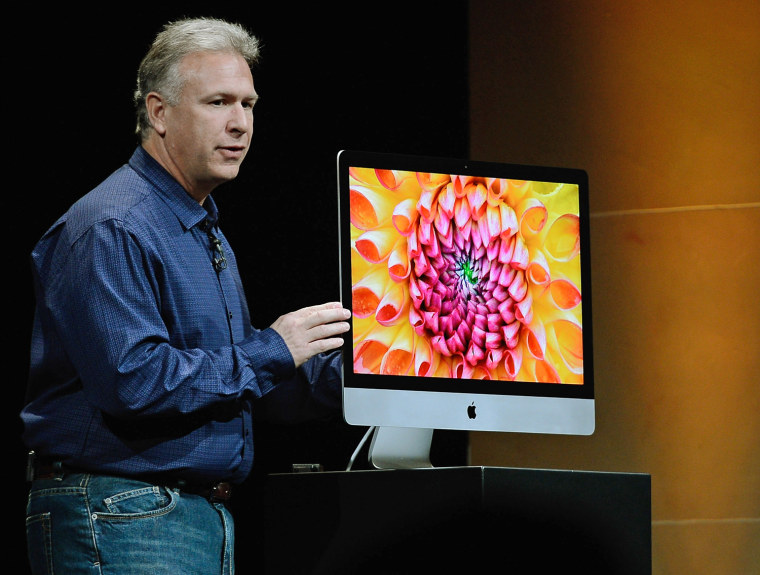 Mobile devices might be the biggest driver of Apple's business these days, but the Mac isn't a sales — or design — slouch. The electronics giant Tuesday announced a update to its popular iMac desktop computer. And like all of Apple's updates, this year's model is thinner than ever.
Apple's senior vice president of worldwide marketing, Phil Schiller, took a few minutes to introduce the new model.
"The number-one desktop model in the U.S.," said Schiller. "Many think of it as the flagship of the Mac product line."
The new iMac looks very similar to the previous generation of iMacs from the front, with a large silver "chin" beneath the screen. But from the side, the upgrade is apparent, with an edge that's just 5 millimeters thin. Do bear in mind that the middle of the back aluminum plate does bulge out a bit to give more space for its internal components, leaving the new iMac with 40 percent less internal volume than its predecessor, weighing in eight pounds lighter.
The new iMac will be available in two sizes, a 27-inch model with a 2,560 by 1,440 pixel display, and a 21.5-inch model with a 1,920 by 1,080 pixel display, available starting at $1,800 and $1,300, respectively.
Because there's not as much width on the side, the optical disc drive — for DVDs — is gone. (A USB SuperDrive is available as an option for those that still need to use DVDs.) The SD card reader has moved to the back.
Apple also put its marketing touch on the iMac's new hard drive, a hybrid flash and traditional hard drive technologies, which they've dubbed the "Fusion Drive." The Fusion Drive is formatted in such a way to keep frequently used software on the faster-performing flash drive, keeping data like photos or infrequently used software on the slower, traditional hard drive.
"It isn't amazing how something new makes the previous generation instantly look old?" asked Schiller.