Google's Chromebooks, laptops that run its browser-based Chrome OS, have always been both cheap and a little cheap-feeling. But the latest, called the Pixel, adds an excellent screen and premium hardware — for a price.
The main feature is definitely the screen: At 12.85 inches, it's not large, but at a resolution of 2560x1700, it actually beats Apple's 13-inch MacBook Pro in pixel density, qualifying this as a "retina" display. Not only that, but it's a touchscreen — reach out and click with your fingertip.
Unlike its netbook-ish predecessors, the Pixel has real laptop guts: A Core i5 processor and 4 gigs of RAM. You'll still be limited to 32 gigabytes of storage, though, so you'll have to rely on streaming media and cloud services — but that's what Chrome OS is built for. Like other Chromebooks, you can pay a little extra for a cellular connection, LTE in this case.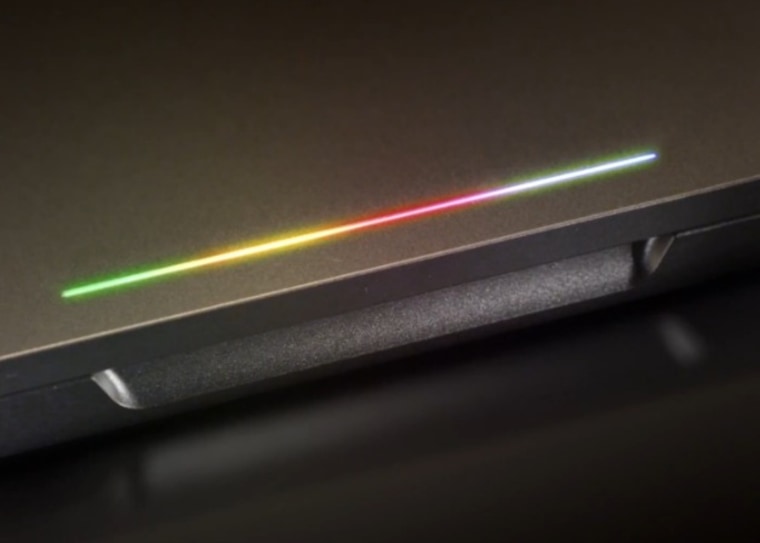 The design is very much inspired by Apple: The undecorated aluminum chassis, black display bezel, and backlit black keys are distinctly reminiscent of the MacBook Pro line. Even the colorful LED strip on the lid, meant to suggest the Chrome icon, may in some users evoke memories of Apple's original rainbow logo.
It looks like a solid laptop, but it's definitely being sold as a high-end offering. The Wi-Fi-only version will set you back $1,299, and the LTE version $1,499. Chromebooks may have a certain appeal, but it could be a tough sell when they're the same price as more capable laptops from companies like Apple and Toshiba.
The Chromebook Pixel is available for purchase on the Google Play store in the U.S. and U.K. today, and will soon also come to Best Buy and other retail stores.
Devin Coldewey is a contributing writer for NBC News Digital. His personal website is coldewey.cc.